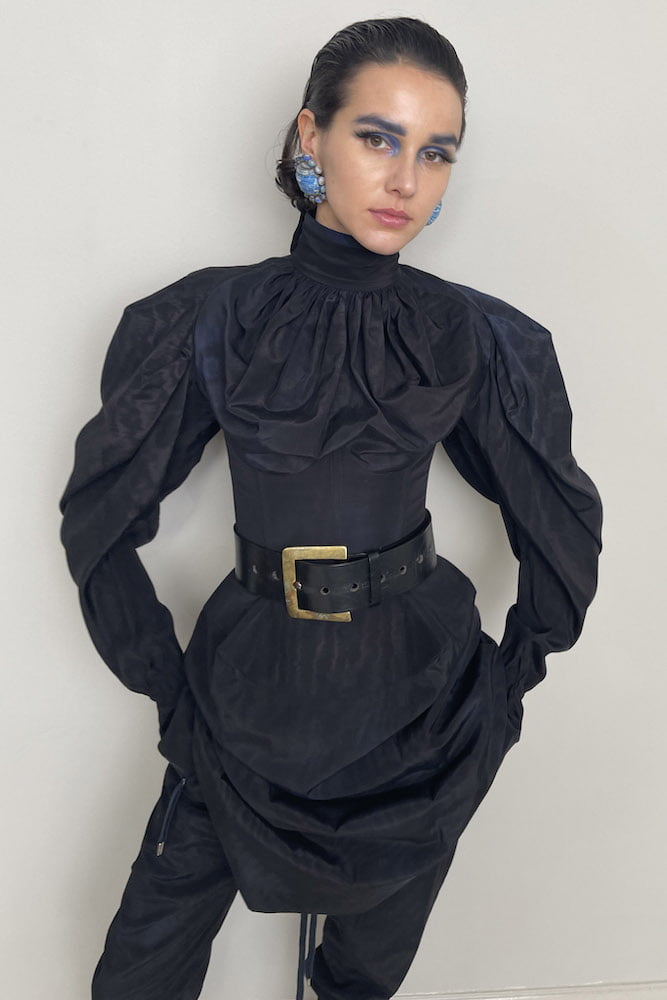 The bijou store in Mayfair, where Westwood's private clients come to buy gowns, provided the inspiration for Andreas Kronthaler. He spruced-up the elegant little space during lockdown and whilst cycling there from his Clapham home, found himself musing on the historic Mayfair location and George Cukor's My Fair Lady.
"I remember watching it as a little boy on television and it shaped my sensibilities," he says of the film based on the Pygmalion story, in which an artist falls in love with his sculpture. Kronthaler's collection film brought those ideas together. Filmed at the store and on the empty, lockdown streets of Mayfair, he and Dame Vivienne star alongside singer/songwriter Caroline Polachek and dancer/choreographer Malik Sharpe. They recite or sing lyrics from the My Fair Lady musical as they stride through the deserted streets.
Their looks veer between pomp and practicality. Swagged corset-dresses (made from certified viscose), and platform boots alternate with fine-gauge, argyle-knit leggings and matching tops worn like a second skin under voluminous army coats. All the things we love about the Westwood aesthetic were there from mini-kilts (for men and women) and diamond knit twin-sets to bodices and cherub tees.
Both he and Westwood use their fashion platform to campaign for action on climate change and his film ended with Westwood standing in her shop window, wearing a latex drape-front apron dress, reciting the lyrics to 'Without You'. The legendary designer, who turns eighty in April, bangs on the glass and sings, "there will be crumpets without you…there will be Windsor Castle without you.." Then says Kronthaler, "she twists it an makes it into an environmental hymn. There will be a world without us human beings. It's really quite mesmerising."
The collection reflects their principles using a host of sustainable fabrics including viscose that's produced without deforestation, bio-cotton, mulesing-free wool and undyed yak yarn. Holding a zip-top rice bag from Brixton market, that Dame Viv uses as her new handbag, he says, "I'm into things like that, that somehow means something."
Photography courtesy of Vivienne Westwood.