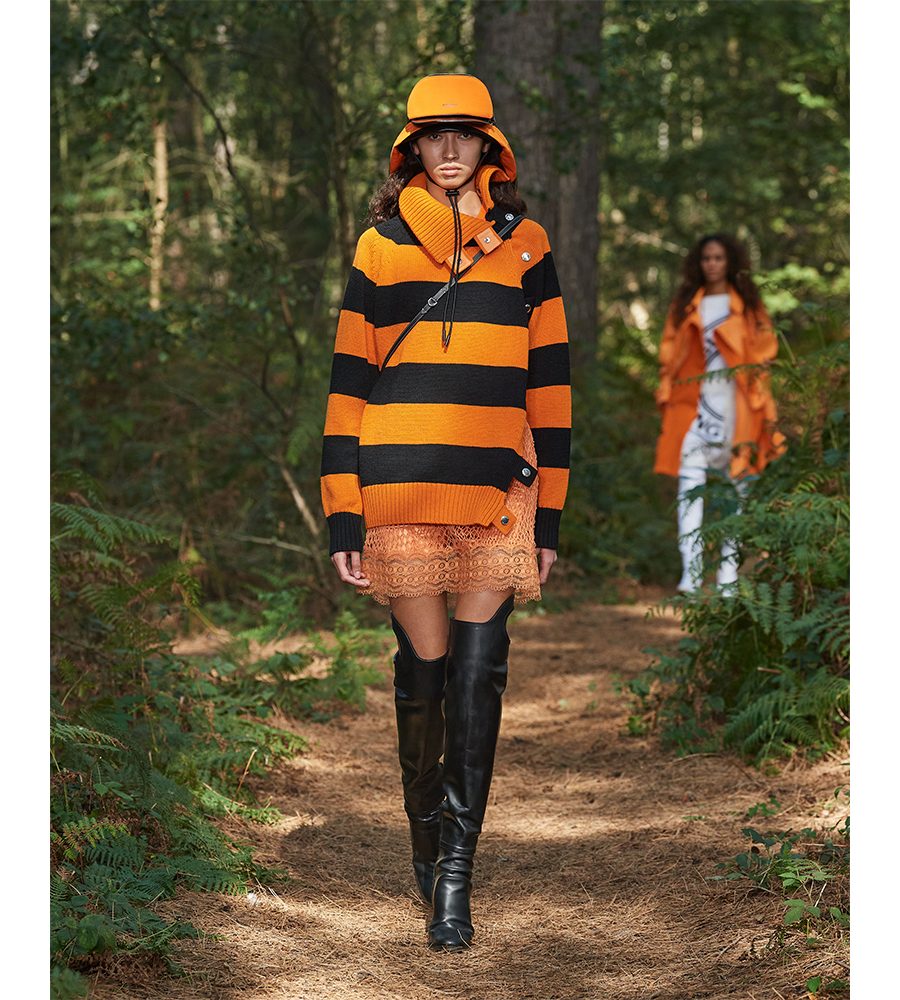 All week, Burberry has been trailing its epic outdoor SS21 happening with images that evoke the power of nature, including huge waves crashing on a lighthouse. "I have always had a very deep, emotional connection to nature. I grew up by the lakes in Italy and I have been so lucky in my life, travelling and seeing so much of the beauty of this world. And then especially recently, I have had these thoughts always in my head about escapism, wanting to explore and experience being outside again," said Riccardo Tisci ahead of the show.
That yearning for freedom was amplified by the fact that he designed the collection during lockdown, drawing every outfit himself rather than delegating to his design team (which is normal practice for creative directors of big houses).
This collection, entitled In Bloom, was his most personal yet for Burberry, presented in an unprecedented way: a live event, held in nature, but streamed live on Twitch. There was even a Superbowl-style, pre-event chat show featuring 10 Magazine's current cover star Erykah Badu, Rosalia, Steve Lacy and Bella Hadid to help stoke Burberry's the global audience.
The show began with models, accompanied by mysterious black-suited bodyguards, walking through the woods to take their places around a specially constructed metal mesh cyclorama where they – along with the audience at home – watched a mesmerising performance-art piece by Anne Imhof, with live music provided by the androgynous tones of Eliza Douglas.
All of these threads tied into Tisci's narrative of the ocean and the land and a mythical love affair between and mermaid and a shark. This played out in the clothes which flipped between the rugged and the romantic. The sou'wester hats, ponchos, hardy denim and striped knits of the seafarer's wardrobe contrasted with the gleaming crystalline finery, hybrid tailoring, allegorical prints and wave pattern trench coats of the mythical mer-people.
The trench played a central role with sculptural cut-outs and hybrid patchworks taking it way beyond the classic. If the focus was on the ebb and flow of the artist's bodies, more than the static models who stood like a Greek chorus, spectating – then perhaps this was a comment on the place of fashion in a pandemic.
In Tisci's hands, fashion will always be a platform for something more than just clothes and when you have a platform as huge and global as Burberry, the message is further amplified. "I have always looked back to nature to inspire me creatively. There is this power and purity in nature and you know that sense of coming back to yourself and what is important in life," says the designer. "I wanted to bring our community together in a creative experience in nature – it's about reconnection."