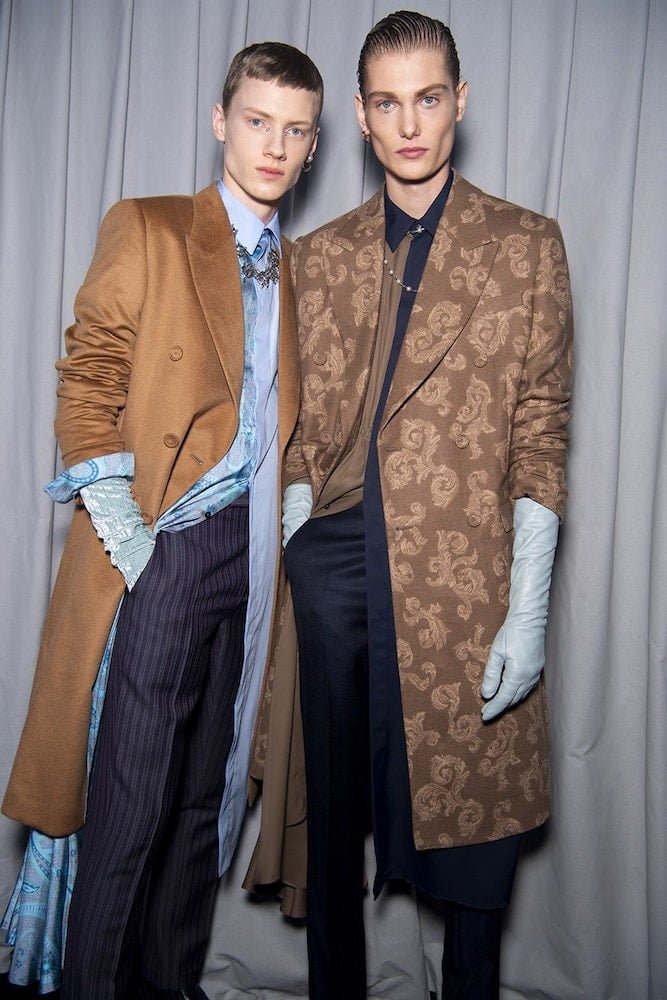 On February 19th, it will be two years since jewellery designer extraordinaire, style icon and fashion revolutionary Judy Blame left this world. Way too soon, in our and opinions of many others, he had so much more to share with us. Last night, Kim Jones paid tribute to Blame in the most extraordinary way – by dedicating the whole of his AW20 collection at Dior to the man he was proud to call his friend. On the Parisian catwalk at Place de La Concorde, this was a true reincarnation of Judy Blame's personal style and spirit. Even to those who only knew him through Google Image search, the chockies dangling off the suit jacket lapels (here reinterpreted by Yoon Ahn of Ambush), elbow-length opera velvet gloves and embellished head-pieces (created by fellow Buffalo pioneer Stephen Jones) were instantly recognisable as his. But there were plenty of more subtle nods too – most of the looks had their sleeves pushed up, just like Blame used to wear them.
Soundtracked by Fleetwood Mac's Big Love, Jones' homage elevated his traditional codes into the heights of haute couture which looked utterly modern, proving just how much of a pioneer Blame was. The suiting was, as always, made impeccably, with details making you appreciate the garments up close as much as you do their silhouettes from afar. Trench coats and trucker jackets dominated along with the usual Kim Jones outerwear staples – all easy-to-wear and easy-to-dream-of.
The colourway was a murky combination of beiges, blues and greys, developed in the finest moiré silks and wools, enriched with heavy embroideries. In its seasonal evolution, the Dior logo was pierced with a safety pin this time round, once again referencing a signature of Judy Blame's. The final look – a heavy black Swarovski crystal-encrusted coat walked straight out of our Jones' mind and into our hearts. Judy Blame will never be forgotten, and neither will this fabulous collection. Bravo! 
Photographs by Jason Lloyd-Evans.