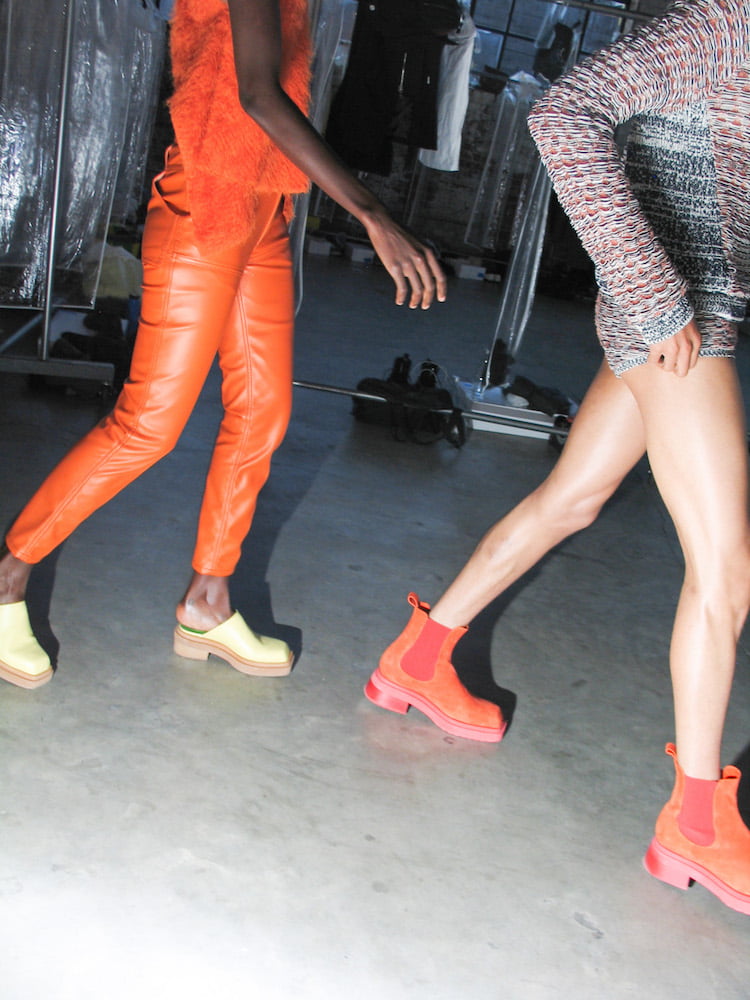 Has it been 10 years already? This weekend, Eckhaus Latta staged its 20th catwalk show. Finding out the New York label is a decade old might leave you scratching your head in disbelief. And that's OK, we were too. The brand feels as youthful and energetic as it did back in 2011. Whilst Mike Eckhaus and Zoe Latta have done some growing up (Zoe's just had her first baby!), the pair still have a finger on the pulse as to what their New York community desire in their everyday wardrobe.
Whilst the brand's contemporaries turned to fashion films during the pandemic, Eckhaus Latta managed to stage IRL fashion shows – the first to a crowd of nine, the second in a gloomy, audience-less warehouse. Last Saturday, the pair made their way back to Bushwick, where the likes of Rosalia and Troye Sivan watched on as models strode in sheer combo trousers, woollen twinsets and sexy, Helmet Lang-esque, leather get-ups. While knitted numbers in purple, green and putty brown signalled a more mature Eckhaus Latta – seen across the brand's most recent collections – barely-there dresses, whispy shirts and sensual cut-outs signalled a pent up libido, probably from all that time in lockdown. Judging from the brand's raunchy escapades in the past – remember that campaign? – don't expect that side of Eckhaus Latta to disappear anytime soon.
Photography by Rob Kulisek.