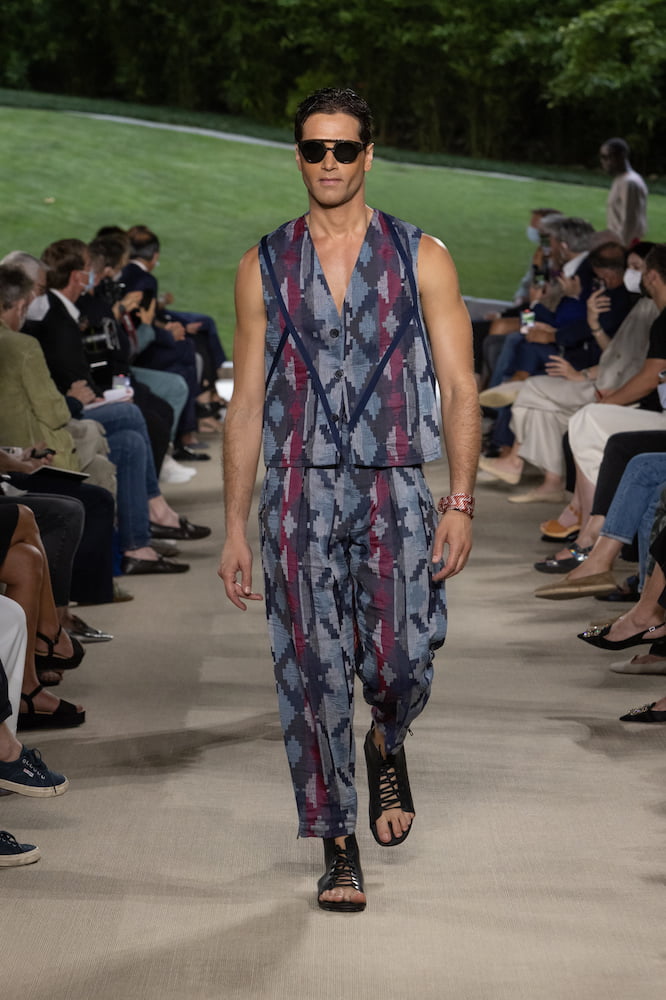 King of Italian fashion, design legend– Mr Armani can add Trooper to his already long list of accolades after rocking up to his show on Monday evening in Milan after a nasty fall 20 days ago that left him with 17 stitches in his left arm.
Post his finale bow, which he took with right-hand-man of 60 years Leo Dell'Orco, the 86-year-old designer explained that he took a tumble after his first post-lockdown trip to the cinema (to a film he "didn't even like" although he wouldn't disclose which one). A spell in hospital later and wanted us to know "if he's not 100%, that's why". 
For Armani, it was important to be back holding a physical show. Digital is important in reaching the wider world, he told reporters, but better for "afterwards, to push it, to do events, to show people who can't be here. Seeing the textiles, how [clothes] move; in digital you don't see that. It's not the best way." 
It's true in his case. Armani said that he "sometimes scared he is too safe and [we] won't be able to write enough," but to appreciate an Armani collection is to see it in person. The weightless drape of the silks and linens, the ease of a pinstriped suit (all seen here), and the models he casts who carry it with an easy-elegant swagger that is so distinctively, tangibly, Armani. "I don't want to follow what's in at the moment," he explained. "I don't know where my ideas come from but they come, and they're different to everyone else's."
Following a challenging year and a hard last few weeks, no one is happier than the designer to be back. "I love it! I love it here! This is where I started," he enthused. What's that old adage again? Oh yes, the show(s) must go on.
Photography courtesy of Giorgio Armani.