After the global Covid-19 outbreak forced all menswear shows to be cancelled early last summer, a rescheduled and fully digitalised Paris Fashion Week Men's, July 2020, was to be the guinea pig of what is now considered the new normal in our industry. Five days of solely URL fashions – where the kitchen table became the new front row and ticket-less shows democratised the catwalk – showcased the city's menswear talent to an entirely new audience. Digital fashion week meant these designers were now operating on a global stage. The possibilities were limitless.
We've picked the Paris menswear designers who have taken virtual fashion in their stride, who have defied convention and used this state of flux to tear out pages from the rulebook and completely rewrite it. Each has made navigating this strange, on-screen fashion world we now reside in all that more exciting. Long live these digital shapeshifters.
Against the backdrop of global Black Lives Matter protests, Serhat Isik and Benjamin Alexander Huseby, the designers behind Berlin-based label GmbH, used their spot on the inaugural digital Paris Fashion Week to screen an existing film. Called Season of Migration to the North (2015), the VHS footage – directed by the Norwegian artist Lars Laumann – depicted a fashion show held in Khartoum. The event had been organised by Eddie Esmail, a gay asylum seeker from Sudan, who narrates the film.
Esmail says he and several others were arrested after the show for looking "too gay", revealing that he eventually had to flee to Oslo, Norway, where he was ostracised due to his sexuality and religious beliefs.
Although the film wasn't made for the label, and didn't feature any GmbH clothing, it encompasses the values Isik and Huseby have built their brand upon. Both designers are children of immigrants, and use their club-ready garb and immensely diverse fashion shows to strike up long-needed discussions on queerness, migration and race, as seen with their SS21 collection. GmbH is not merely a brand but a creative platform that amplifies the voices of marginalised communities.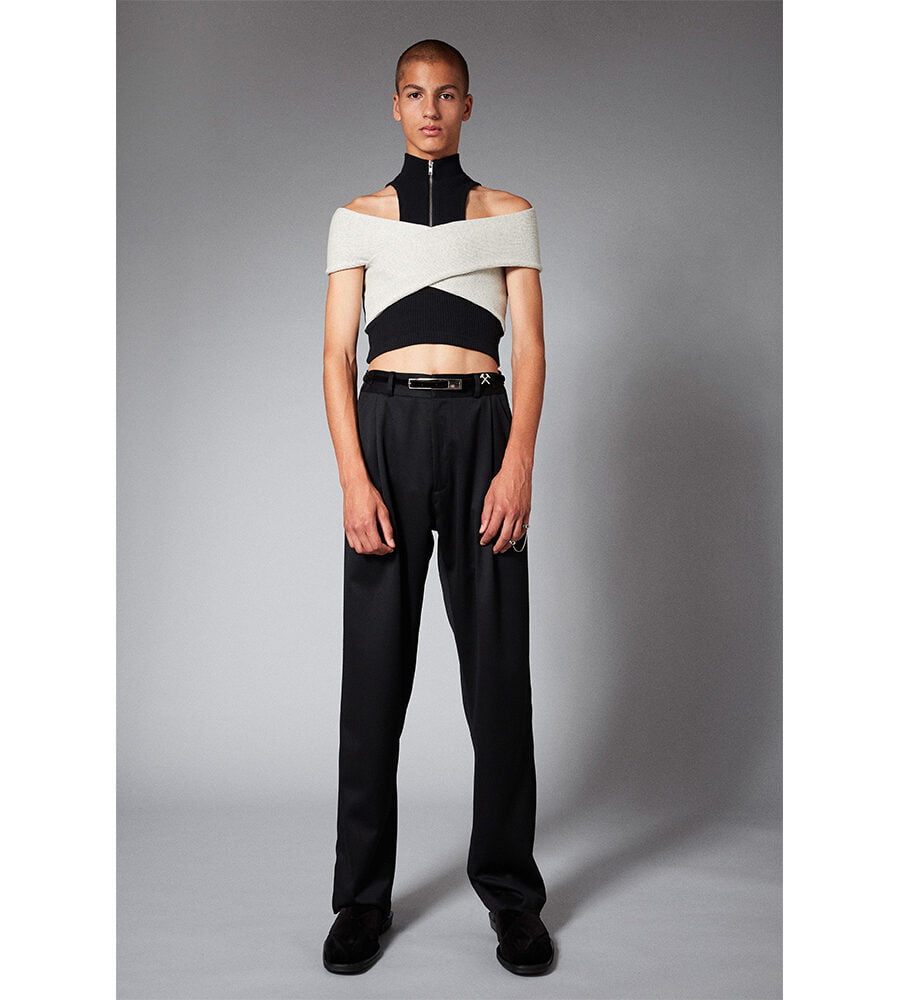 Please talk us through your SS21 collection.
"We made the collection under extreme financial and time restraints. The uncertainty made us focus on the core values of GmbH, as we had to find the simplest way to make a collection. It was all made from fabrics we already had in the studio. The collection was a distillation of the codes and fetishes of clothes and uniforms we have always worked with."
Which of your fellow menswear designers in Paris do you admire?
"Kim Jones, because of his ability to tell a story with clothes by connecting it to music, culture and history in a very personal way."
What is the best thing about showing in Paris?
"Although we're outsiders in so many respects, Paris gives us a kind of connection to the history and craft of fashion. We are still a Berlin brand, though – just like the Belgian and Japanese designers [are able to] fully retain their identity."
What does home mean to you?
"Family, both chosen and biological."
What one thing would you say your home country does better than anywhere else?
Serhat Isik: "Opulence [Turkey]."
Benjamin Alexander Huseby: "Nature [Norway]."
Portrait by Joseph Kadow. Taken from Issue 53 of 10 Men – NO PLACE, LIKE, HOME – order your copy here.