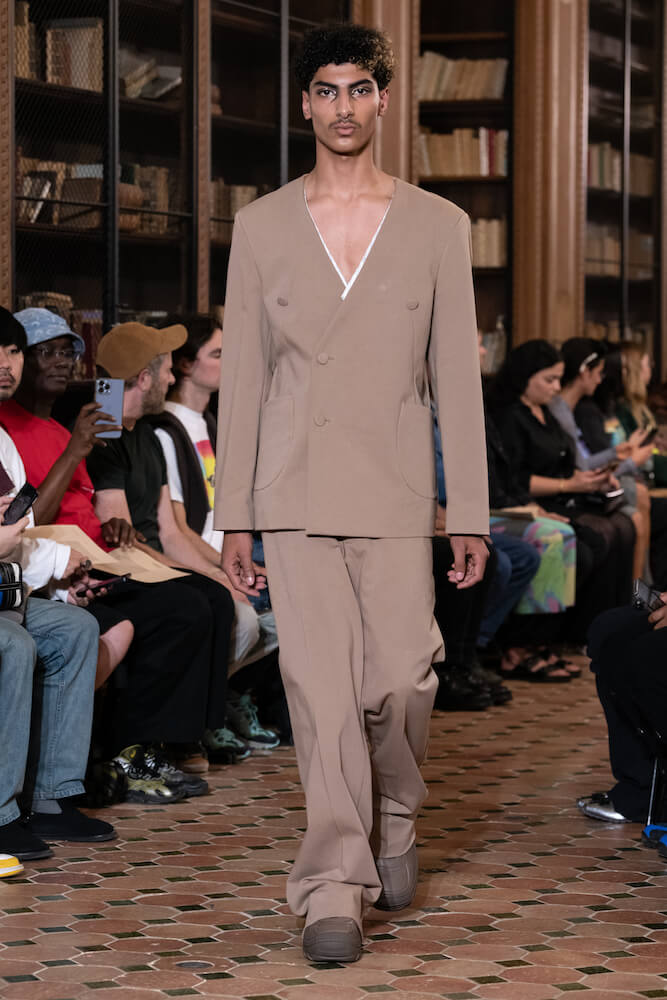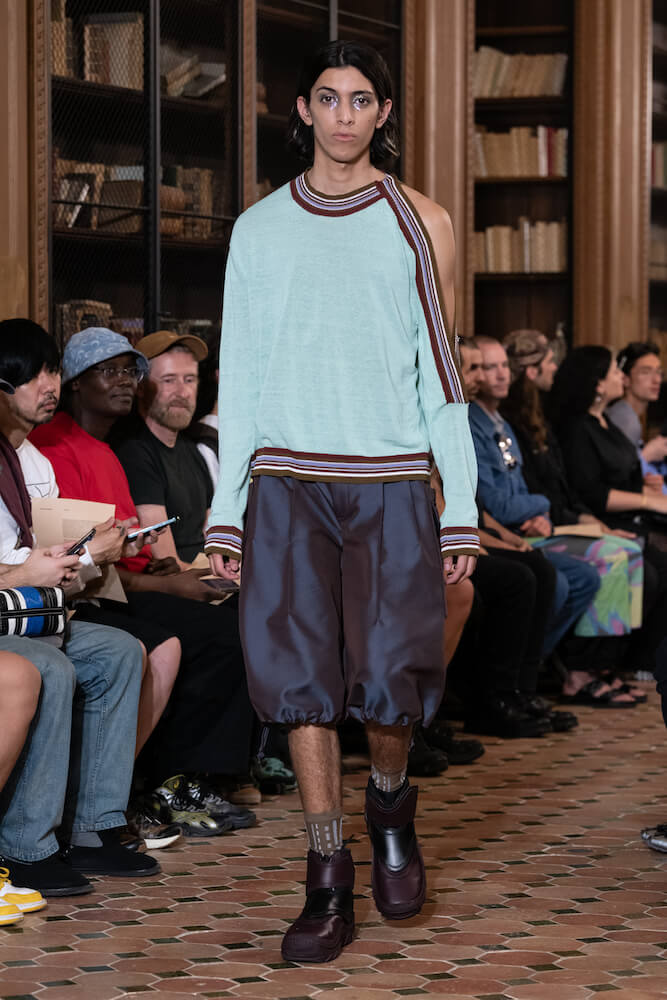 Confined behind metal grates within the Lycée Henry VI, dusty bookshelves weighted by historic volumes surrounded the Kiko Kostadinov catwalk. The occasion was the London-based eponymous label's first-ever showing on Paresian soil and headed by Kostadinov himself, effortlessly blended sportswear with workwear and masterful tailoring for a perfectly pragmatic menswear offering. With an undeniable knack for interlocking references to historical movements and the literature of centuries come and gone, the spring/summer 2023 collection enters a bid to rewrite history.
Confronting intergenerational pain and the tenets of war with the stoic lightness of seersucker, the collection stems from a sartorial exercise exploring the Ottoman Empire's fraught rule of Kostadinov's native Bulgaria. Picture this: out of the black, single breasted coats, snapped trousers and drapery emerged, informed by Janissary uniforms, while the agrarian landscapes of Zlatyu Boyadzhiev's mid-century oil paintings became apparent in the deconstructed tunics and ragged Bulgarian-made knits on display. 
A trio of streamlined collarless suits set the show in motion, closely followed by cropped jackets, layered cargo pants and bomber jackets that bared shearlings reimagined in alpaca and chenille alongside iridescent twill, Suri alpaca, calf leather, striped poplin and dry cotton towelling. Iridescent and distressed, there was an ethereal aura to the garbs, deeply entrenched in military influences with swallowtail butterfly motifs throughout. Not to mention, because craft doesn't require colour, it was a demure assortment of clobber bursting with luxury flavour. 
If you're anything like me, then you've spent the past year gagging over the brand's link-up Asics. That's why when a brand-spanking new edition of the shoes stomped out onto the runway I was elated. Set to fly off the shelves – and into my closet – they're laced, tongue-less trainers with saffiano detailing and clunky Asics soles inspired by Mediaeval moccasins and boots. 
As the promenade came to an end, Vietnamese artist Dahn Võ's criticism of America and his reappropriation of Vietnamese history, in a sculpture called We The People, laid the groundwork for the foiled hexagonal ornamentation that infiltrated subversive suiting. Put plainly, if there was any lingering doubt that Kostadinov is a menswear maven of the highest regard, this summer edit surely puts it to rest. 
Photography courtesy of Kiko Kostadinov.