In his work, Christian Dior was extravagant, but when it came to his own conservative dress – suit (regulation pleat-front trouser), white shirt and tie – although not frugal, it was certainly spare in character. Dior wore practical and exacting day clothes – clothes that freed his mind and hand to consider a new and elevated language of fashion design.
It's to this imagined and intertextual relationship between Dior's early womenswear practice and his own austere dress codes that designer Kim Jones turned for inspiration for his autumn collection of Dior menswear looks. For men this season, Jones suggests a double-breasted wool and mohair canvas jacket with peak lapels and a drape-effect sash. The sweeping satin uptick wraps and threads in and out of the jacket – you'll see it on these pages. Inside, the jacket has three pockets: the standard left-side one and two more – a ticket pocket and a deeper passport pocket. The latter two enable personal freedom – Jones is hooked on escape through travel. The sash is detachable and buttons in. "That sash idea came from looking at the cut of a Dior couture dress from 1955," says Jones, who spent hours walking the temperature-controlled corridors at the house's underground archive in Paris.
Studio Life
Jones works from his central-London studio, found up a discreet flight of stairs. It's here that he and his team create and deliberate but mainly "dialogue" about what's next for the Dior menswear line. Since his arrival at the house in March 2018, Jones, now 40, has injected his collections with the kind of cool modernism imagined by car designers. His own practice has come to define a genre of fashion design that has found its place in the first two decades of the 21st century. It's one where all things, from all eras, coalesce at once. It's fun, chaotic (in a strategic way) and always researched.
Open to the influences of sportswear and streetwear, he has a pin-sharp understanding of contemporary product design and a reading list that incorporates contemporary art and architecture, producing an output that has caught the imagination of and introduced a newer look to a global shopping elite. Jones's new Dior chimes with a new era. It's particularly caught the attention of the Southeast Asian consumer – China is the world's biggest luxury market. It's here, where a streetwear look – one that combines luxury brands with sportswear and skatewear – is seen by shoppers as a way of expression. Jones's Dior is at the heart of this exciting new status mix. His young customers shop with the fervour of Dior's fashion-hungry socialites of the 1950s – the likes of the high-spending and improbably chic Lady Marriott and Dior's ever-faithful, eye-wateringly rich American-tycoon wives, who felt that "keeping up" was do or die, often ordering multiple outfits from his collections. This same money-no-object enthusiasm lives on in Dior's new menswear shoppers, who believe in everything Jones does and have the receipts to prove it.
"It's all a team effort," says Jones from behind his desk, keen to mention his collaborators. "Lucy, Edward, Brian, Alex. There are a lot of people involved and everyone feeds off each other." The studio dynamic can be as simple as an ideas swap, where things just come together. Or don't. But then do. "It all clicks into place eventually," he says. "It's really about clicking a lot of the time. You're like, 'This works, this works, this works, what do we do with this and what do we do with that?' There are quite a lot of Brits here, and it's quite an English way of thinking."
Across from his desk is an area where models wear the latest looks against a white Colorama backdrop, various things are shot, then dissected and reassessed. Jones even asks the models what they think: "Would you wear that jacket?" Everything is accounted for, everything has its place and purpose. There's no fantasy fashion, nothing is hysterical, it's pragmatic.
"Everything is for sale and everything sells," adds Jones. "I love sales figures and look at them all the time, and they're really good, so I can't complain." Neither can we. "You know, the autumn show is probably one of my favourite shows I've ever done," he says. "All of the elements just work really well together."
The show really was incredible. A 76-metre-long conveyor belt fed out models who Jones wanted to "look like statues". "It went from the story of a giant statue (the 10-metre-high, Kaws- designed, flower-clad statue at Jones's SS19 show, his debut for Dior) to the models turning into statues, like the couture salon shows that Christian Dior did," says Jones. "The models just standing there."
And on they came: 49 day-through-evening, street-meets-suiting looks with next-level bags and shoes, all on moody-looking and slightly menacing statue-models, standing rigid as a Honey Dijon-produced soundtrack played. Suiting came worn with… Were they flak jackets? Rumours soon spread after the show that these were, in fact, some kind of political statement by Jones about the "yellow vest" riots that were taking place in Paris at the time. The show itself moved from its initial slot of 5pm on January 19 to 6pm the day before due to the "ongoing anti-government protests". So were they a political statement? No. "We looked at pictures of Dior sitting near two statues," says Jones. "We looked at the armour the statues were wearing and decided to make ours into tactical-vest versions." These tactical vests – sold separately and in store now – are already on re-order, say shop staff.
But a suit and a suit jacket? You'd think Jones would have a job convincing his customers to start dressing up in a world where "the suit" translates as "boring corporate man". But Jones is speaking to an audience with an entirely different and refreshing perspective. A suit, specifically a suit jacket, is just that. No agenda, no nothing. Through his treatments and tweaks, Jones has taken a "mature product" – market-speak for established – and reissued it. The jacket works. The jacket is the kind of garment passe-partout that gets you places. It's the white lab coat of the corporate world, if you will. Wear a jacket and you feel taller, are presumed successful, perhaps rich, certainly respectable. In the main, anyway.
But Dior's sash jackets are an altogether different proposal – "Elegant, sophisticated and romantic, too," says Jones. Staff on the shop floor of the New Bond Street boutique talk of a huge new occasionwear business, with repeat buys of the sash jackets for "billionaire weddings". "Every one of the colours from that show were all Dior's favourite colours," Jones adds. "We went through every single collection and pulled out the ones that he used time and time again. The collection was really just looking at everything that was pure Dior but then making it modern."
Inside His Head
Jones is delighted to see how his customers reinterpret his designs. "The amount of people I see wearing this stuff, whether I'm in New York or LA, London, Paris, Tokyo, Shanghai. That's my favourite thing, seeing someone I don't know wearing them. I think it's really great." His jackets have caught on. It is rebellious to wear a smart jacket or suit now in a sea of hoodies, jeans and trainers. Is it punk? "It is. The thing I like about Dior is that it is a natural place to have a suit. Other companies push tailoring, and it's like, 'But why? Your customer likes comfortable trousers, they like a nice zip-up bomber.' They shop for something that's comfortable, practical and has a little bit of branding. But Dior is not like that."
It's accepted that, within both the menswear and womenswear markets, a house is either an accessories house (a specialist in leather goods, handbags, luggage, and so on) or a ready-to-wear house. In menswear that can be further split into tailoring specialists or fashion daywear specialists. A house is rarely a specialist in both. Granted, a house can offer all the above, and they often do, but having more than one very special niche in the same business is rare. Jones's Dior is changing that, because he can. He learnt his tailoring skill during his time at British luxury-suiting house Dunhill, and garnered an unparalleled knowledge of fine luggage and accessories at Louis Vuitton, as well as an understanding of the sportswear market while at Umbro. And let's not forget Jones's own label and his time at streetwear brand Gimme Five. This lends him an unmatched overview and extensive knowledge of menswear design.
Does he look back and think, "Wow"? "I was sitting next to someone who asked if I was 30 and I was like, 'If I'm 30, how could I have done everything that I've done?' But I thought that was quite a nice compliment. I think it's just energy, isn't it?" Is he a grown-up? "Not really," he laughs. "On the outside maybe. I couldn't imagine going to a nightclub any more. I like going to bed at 10.30 with a bit of TV. I like a night out if it's a special occasion. I'm jet-lagged quite a lot as well, so sleep is something that is always on my mind." So how old are you on the inside? "I don't think you ever get past 19, do you? I think that's what creatives are like – it's generally because you're looking at everything and you're excited by stuff."
And music? "I wake up with different music in my head every morning and it's what I listen to while I'm getting ready. Quiet time is important. I remember telling my friend I love being on a plane because it's 12 hours of uninterrupted [peace], and they go, 'Isn't that fucking sad?' But it's quite nice. I quite like it." Is that when all the ideas happen? "You know, the thing is, I wake up with tons of ideas and I have to write them all down on my phone. Things just come out of nowhere sometimes." Is this quiet time, this morning ritual, a chance to be spiritual? "I'm not religious in any way, but I think we are a part of something, and I think that things come to you because they are put in your direction. For me it's always been a very positive thing, where you think about something and it's there. It's a weird thing."
Doubting Thomas
But it can't all be straightforward all of the time. What happens, when, God forbid, nothing happens – when there are no ideas, no inspiration? "Oh, you always have those days," laughs Jones. It's during these off moments that he escapes to the countryside, goes back to nature, something he calls his "pause moment" – "You just want to get away from it all… It's not like it's a stress moment, it's more about clearing your head. You have so much going on – design isn't just design any more, it's doing a billion things a day."
Jones and his team have always used boards: visual guides for each collection – a kind of picture narrative. There can be multiple boards in use at any point for any of the multiple collections he and the team are working on. "I like to see it all in one place," he says. "Everything has to be visual for me because I'm dyslexic, so that's the reason for the boards. Thank God for predictive text! I can see things much quicker visually and faster on boards and I'm more decisive, which is something that everyone is so shocked at."
Jones is notorious among his staff for his ability to cut through to find a story. What he lacks in his ability to see words he overcomes with an intimidating visual focus. "I think some people think I may be a bit flippant when I'm looking at the boards because I am really fast, but I know exactly whether it's a yes or a no. I think that's one of my strengths. At Saint Martins I was good at editing, so it's always been a part of the process."
The Art Aspect
Between the wars, Dior ran the lauded Bonjean art gallery in Paris, specialising in contemporary artists such as Picasso, Miró and Otto Dix. "Dior was a gallerist for 20 years before he was doing couture, and then he was doing couture for 10 years. So it's a big part of his life that you shouldn't really ignore," says Jones of his art collaborations. For autumn he teamed up with Raymond Pettibon, whose best-known work is for the punk band Black Flag (Pettibon's brother Greg Ginn is the band's founder). Pettibon is recognised as the foremost image-creator/artist of the LA punk-rock scene, exploring text, drawing and typography, melding history, historical art imagery and more recent icons of contemporary culture. His radical vision seemed an obvious next step for Jones's new Dior, yet there are some perhaps hidden similarities between Monsieur Dior's own oeuvre and that of Pettibon. Look closer: in parts, Pettibon's art has the appearance of tapestries. Is this a happy coincidence? We know Dior taught himself to weave during the Great Depression while recuperating on Ibiza. "I discovered a new and profound desire to create something of my own," said Dior of his new enthusiasm for design.
"I met Raymond in a sports bar with Stella Schnabel in New York," says Jones, who is a huge fan of the artist and has a collection of his work. Their initial conversation of Dior's leopard print sparked ideas in Jones, a keen conservationist. He invited the artist to choose which pieces of his were to be worked into the clothing – "The more romantic and almost Parisian-looking works," says Jones. "And we did them in the beading and in the cashmere with the hand embroidery." These pieces are extraordinary seen up close, and they're surprising; it's fitting that aspects of Dior's own work should be reimagined and refashioned at the very next level. The intricate hand-beaded pullover, for example, shows Jones's huge ambition for the house, incorporating as it does the technique and skill of the Dior atelier with an ice-cool modernity. The interwoven practice of Kim Jones for Dior menswear is a junction of all our nows. Get involved.
Taken from Issue 50 of 10 Men – BOYHOOD, MAN, EVOLVE – on newsstands now.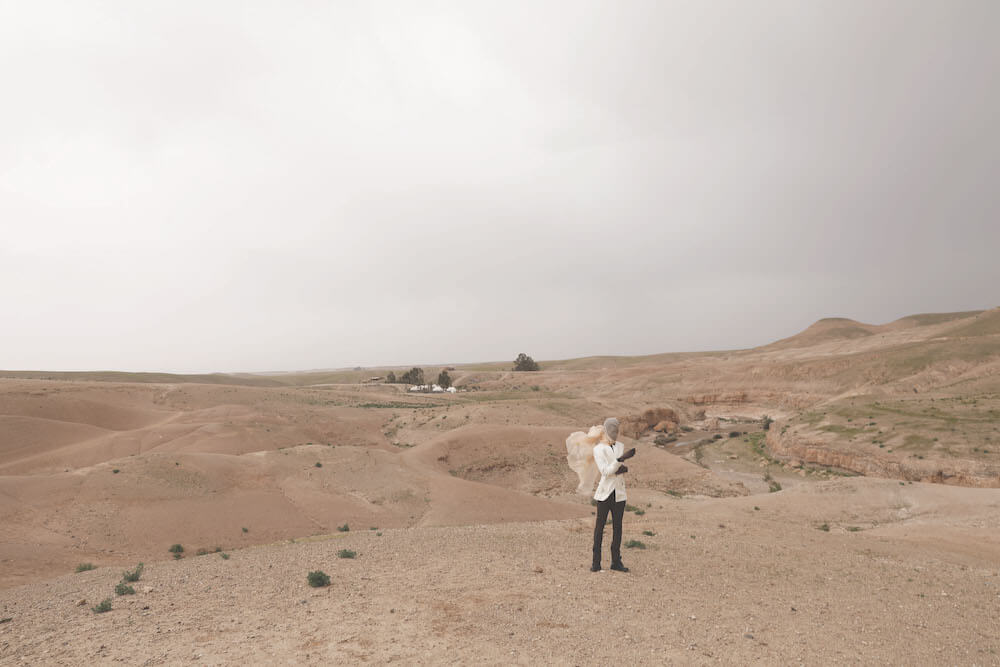 DIOR: THE DESERT IS AN OCEAN 
Photographer
Tierney Gearon
Fashion Editor
Garth Spencer
Grooming
Kim Rance
using Pai Skincare and Moroccanoil
Model
Babacar N'Doye
at Elite Paris
Casting
Arianna Pradarelli