Milan Fashion Week may be in full swing, with Paris just around the corner, but we're still hungover on how great the London part digital, part physical showcases were. Despite the unprecedented times we're currently living in, the capital's cohort of designers showed up and showed out – proving once more that this is the most exciting city to be in when it comes to fashion.
From Halpern's ode to frontline workers and Christopher Kane's lockdown masterpieces, to Charlotte Knowles' flower power and Burberry's show in the great outdoors – both emerging and big-name brands crafted their distinct ways of catapulting their collections into the URL stratosphere.
Yet amidst all this digitalised fashion content, it's quite easy for a collection to fall under your radar. We've put together a list of five designers (four of whom showed off schedule) whose collections you can't miss out on.
Supriya Lele 
Upon returning to her South London studio after lockdown restrictions were lifted, Supriya Lele began crafting her SS21 collection – using deadstock fabric from previous seasons and fitting each look on her all-female team. A notable shift to a more dramatic sense of style from her staff after months stuck working from home inspired the designer to craft a relaxed yet sensual wardrobe, tapping into not only her Indian heritage but her heavy metal days as a teen. A noticeable standout from the collection is a graphic Indian print which has been recontextualised as a heavy metal band emblem of sorts by artist Will Bond; spraypainted onto fitted outerwear, darted sequin skirts and a button-up vest with 1990s Helmut Lang sensibilities.
Photography by courtesy of Supriya Lele.
Yuhan Wang 
Fashion East alum Yuhan Wang showed her second standalone collection via lookbook format; perfectly encapsulating her tender take on femininity that blends inspirations from both the East and the West. Working predominantly once more with her ruched satin dresses, this season the designer took inspiration from Strange Tales from a Chinese Studio, an 18th-century book that explores feminine power through illustrations of female demons and spirits. Tulips and various other floral arrangments blossom across draped gowns, tube skirts and jacquard jackets with poetic shoulders – each worn with delicate fabric pumps.
Photography by Amber Pinkerton.
Av Vattev
For his sophomore collection, Central Saint Martins grad Antonio Vattev prepped a 'Generation in Rehearsal', reflecting on the environmental and social damage inflicted on the world this year, and how tomorrow's voices will spearhead substantial change. Split into three chapters – past, present, unknown – Attev crafted an optimistic uniform that revolved around the brand's flower motif, painted in a way akin to that of Henri Matisse. The designer appliquéd hand-cut, raw-edged embroidered flowers to A-line shorts and tailored trousers, as well as button-up shirts and single-breasted overcoats – creating "a dialogue between colour and line in a mission to produce an art of balance, of purity and serenity," says the designer.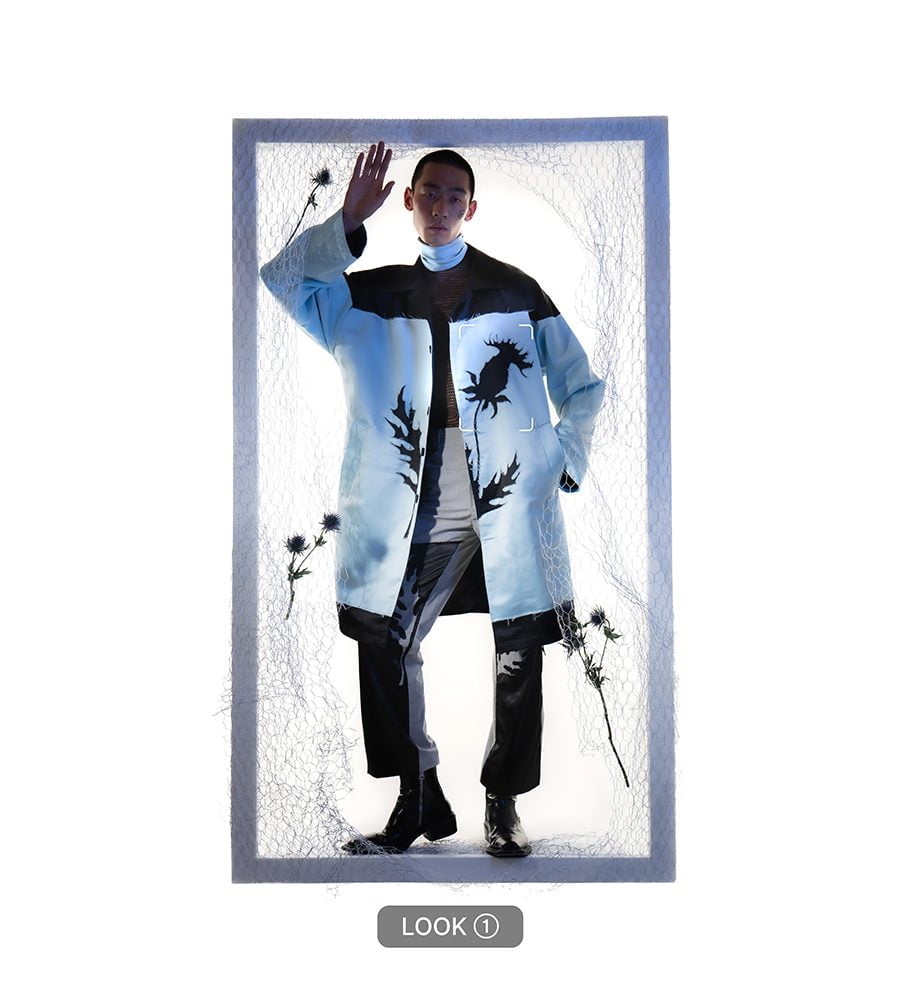 Photography by Moritz Tibes
Xander Zhou 
Xander Zhou has always had one foot into the future, and has been embracing the URL world long before forced-digital catwalks and presentations. The designer's SS21 collection – dubbed Real Virtuality – was entirely made remotely, meaning Zhou could only direct his design team through a screen, not seeing the actual garments till earlier this month. The relaxed collection is dotted with light-up acupuncture points, dragon motifs and a series of elements tied to traditional Chinese dress, including Melon skullcaps, belly covers and knotted-button-and-loop Frog fastenings across garments.
Photography courtesy of Xander Zhou.
Adam Jones
Welsh designer Adam Jones unofficially closed out London Fashion Week with an off-schedule catwalk down in Peckham Liberal Club. Famed for his beer towel vests inspired by his adolescence spent in working men's pubs, this Judy Blame protegee continued his witty exploration of all things (un)great about Britain with union jack sweater vests and seventies jeans with snooker balls on the waistline, footy scarfs collaged into jumpers and creased school shirts stamped with "Broke in Britain". Models, with Dennis the Menace spikes and gelled-up bed heads, came sporting rubber washing up gloves, loads of leopard print and baker boy hats adorned with the Welsh dragon – made in collaboration with Benny Andallo. Proper camp, indeed.
Photography by Verity Smiley Jones.
Top image: Adam Jones.