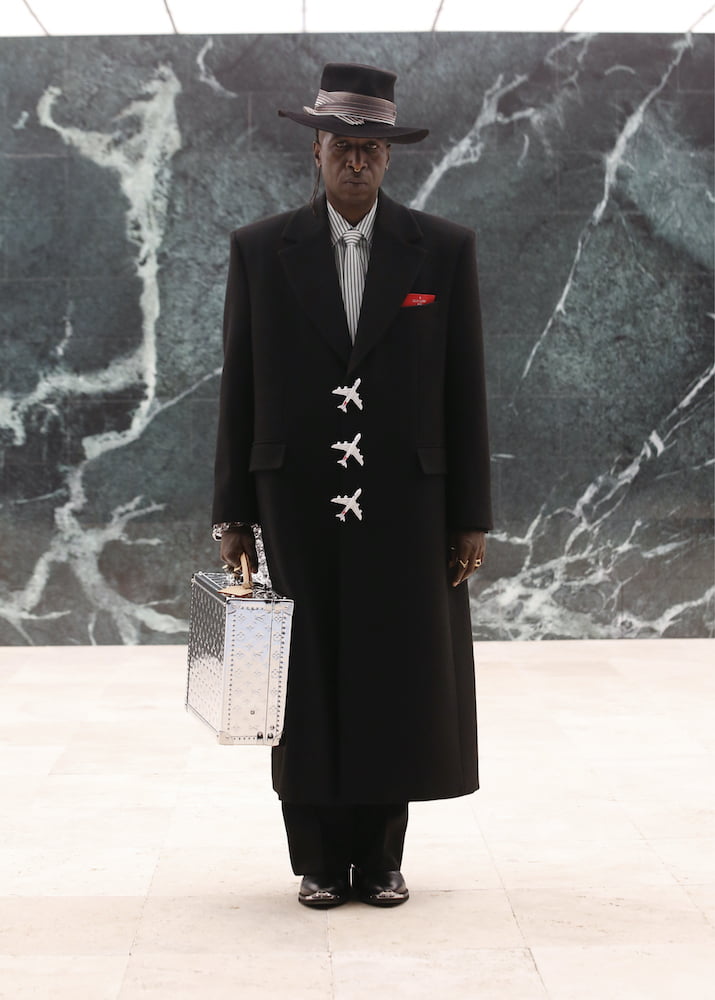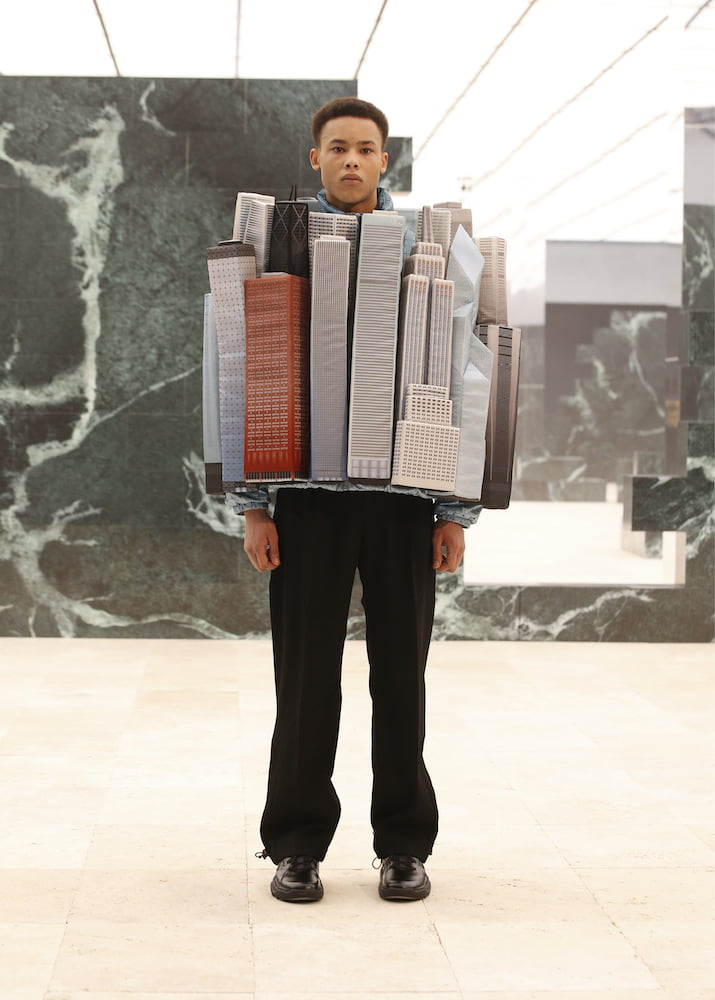 Since joining Louis Vuitton in 2018, Virgil Abloh has shown himself to be not only a great designer, but one of fashion's most prolific storytellers, too. After taking his SS21 collection for the house on a globe-trotting tour last year – with stops in Paris, Shanghai and Tokyo – Abloh began to re-imagine the world we inhabit. His vision this season was to re-define the 'normal' characters of day-to-day life. Characters synonymous for their uniforms. "As children, our dreams and aspirations are personified by archetypes: the Artist, the Salesman, the Architect, the Drifter," read the press release.
It's a journey that began with the house's Pre-Fall collection, where Abloh set upon transforming mundane dress codes into "symbols of inclusivity". Today, he takes it a step further, navigating the presumptions we make about people from the clothes on their back, whether it be about their gender, sexuality or cultural background.
Abloh was inspired by James Baldwin's 1953 essay Stranger in the Village, where the novelist parallels his life as an African-American man in a Swiss village compared to his experience living in the States, whilst also detailing what it feels like to be a Black artist in a world of art created from a white European perspective. In homage, the designer split the collection's multi-dimensional, just-over-13-minute-long, film between the Swiss alps – where proceedings began – and Paris, inside a marble laden airport waiting-lounge scenario.
Soon came passengers/travellers/commuters who appeared to be going nowhere. (Very à la mode, with the global pandemic and all.) They wore floppy hats, see-through monogrammed suits and carried newspapers, along with oblong bags and luggage shaped like aeroplanes. Abloh used these characters to explore global crossovers. Some wore varsity jackets, others floor-length furs. Some wore baseball caps, others cowboy hats. One model wore a puffa made from Parisian landmarks (where Abloh lives), whilst another wore the Chicago skyline (where Abloh's from). At one moment, a traditional Kente cloth – native to Abloh's Ghanaian heritage – came fused with Scottish tartan. 
Legendary rapper Mos Def provided a solid soundtrack, accompanied by a poetry reading from current 10 Magazine cover star Kai-Isaiah Jamal, who became the first Black trans model to ever walk in a Louis Vuitton show, wearing a sublime pinstripe Zoot suit.
There was a lot going on, and even more to take in. But that was the point. Abloh was set on confusing, re-shaping and totally obliterating sartorial codes and pre-conceived notions, not just in fashion, but through everyday life. He achieved his mission, and in doing so, produced his strongest collection to date.
Photography by Ludwig Bonnet, Styling Ib Kamara.