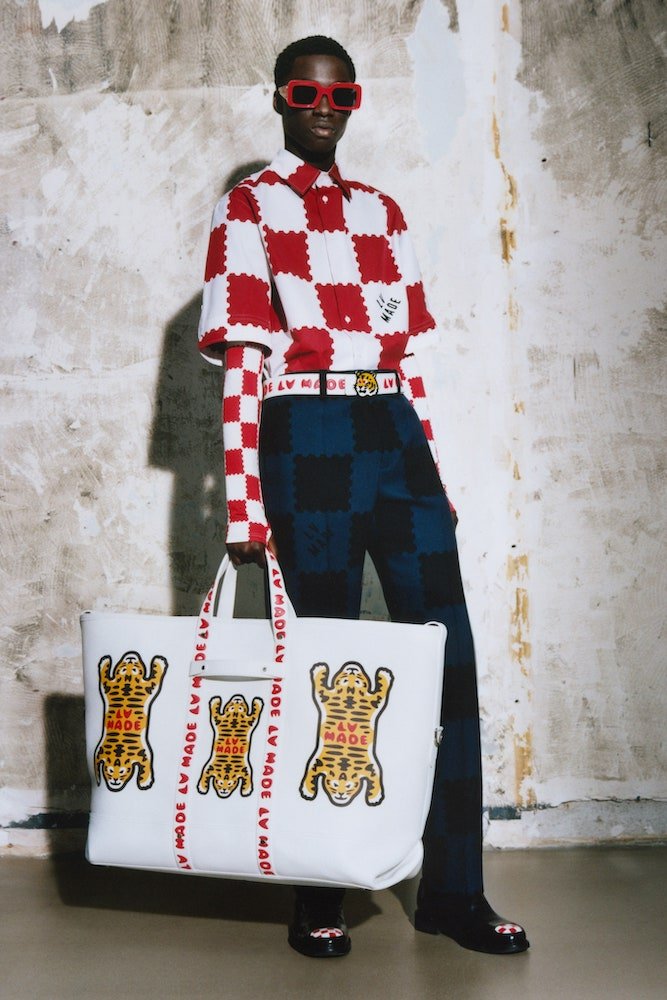 Very few in the hypebeast world acquire godly status quite like Virgil Abloh and Nigo. So when the duo came together for last year – collaborating on the first LV² (Louis Vuitton squared) collection – it's a bloody miracle the world didn't implode on itself.
The collaboration between the two streetwear titans is built on the concept that "one idea can co-exist with another," fusing Nigo's disruptive takes on subcultural dress with the codes of the Louis Vuitton house. The sophomore outing from the pair, released for pre-spring 2022, takes a look inwards, charting Nigo's wardrobe growing up in Japan to see how a leaning towards Western men's dress had been instilled in him since boyhood.
Throughout the collection, nods to sixties tailoring are subverted with a Japanese sensibility. Preppy schoolboy uniforms come coated in a muted Louis Vuitton monogram, worn alongside fluffy quarter-zips encased in Louis Vuitton's Damier check pattern; akin to that of a post stamp.
Menswear staples like the suit jacket have been cut to fall like a kimono, worn with chinos cropped just right above the ankle, and relaxed jeans stamped with cutouts of the LV monogram. Odes to Nigo's childhood, in the form of cartoon animal motifs – first used by Nigo's label Human Made – appear as duck-shaped buttons, tiger-clad tote bags, and cracking leather jackets that house a flock of lovable creatures. Quack, quack.
Abloh and Nigo have developed a collaborative rapport, driven by culture, which is desirable across continents, whether it be Tokyo, Paris, or anywhere in between. You can't help but feel giddy about where the design duo is heading next.
Photography by Winter Vandenbrink.