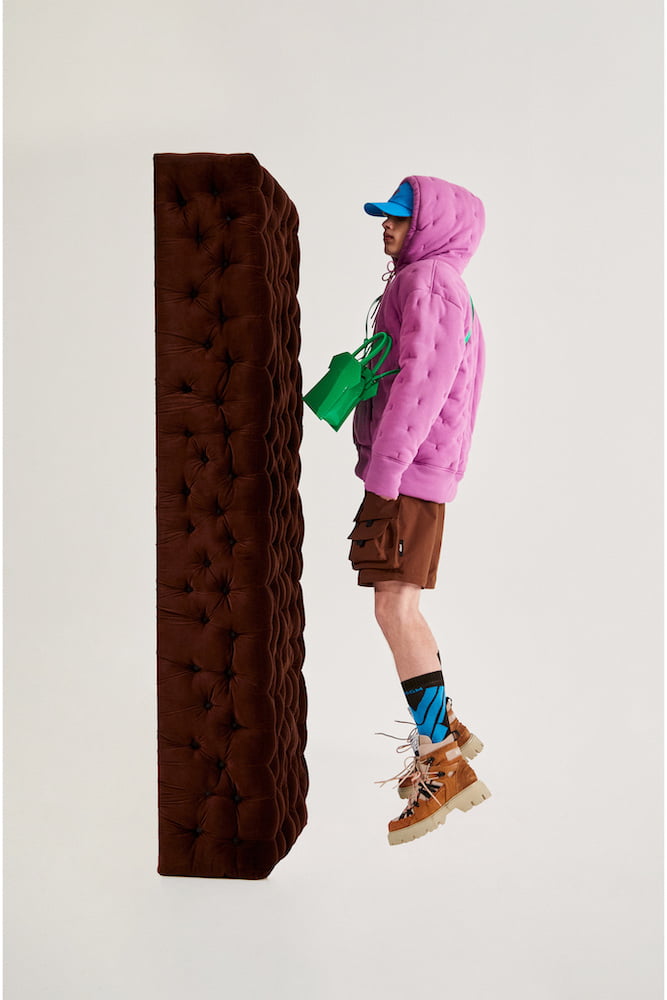 We're going on a trip in our MSGM drip, ready to lose yourself? Forced to axe his physical fashion show in the face of Omicron, MSGM's Massimo Giorgetti called upon director Luke Abby to create a fashion film that drips in psychedelic splendour. A fluid group of hazy-eyed young people gather in clustered formations, peeling their clothes off and playing with each other's hair. With their inhibitions nowhere to be seen, their frames come draped across the furniture of Italian designer Gaetano Pesce.
"I have been obsessed with Gaetano Pesce for a long time," said Giorgetti in a studio walk-through of the collection. Gaetano was nice enough to lend MSGM full access to his archive, with the designer creating padded hoodies made using the exact same technique as Gaetano's abstract couches.
The final result is a psychedelic party, costumed in marble-print twinsets, neon suiting and T-shirts stamped with the word 'Fluidity'; the brand's manifesto. "We have to stay young by keeping up to date with new cultures, with the new generations," says Giorgetti, channelling the freedom of Gen Z via trippy motifs, like magic mushrooms across silky twinsets, or hemp flowers stamped across denim. "This is the DNA of MSGM."
Photography courtesy of MSGM.