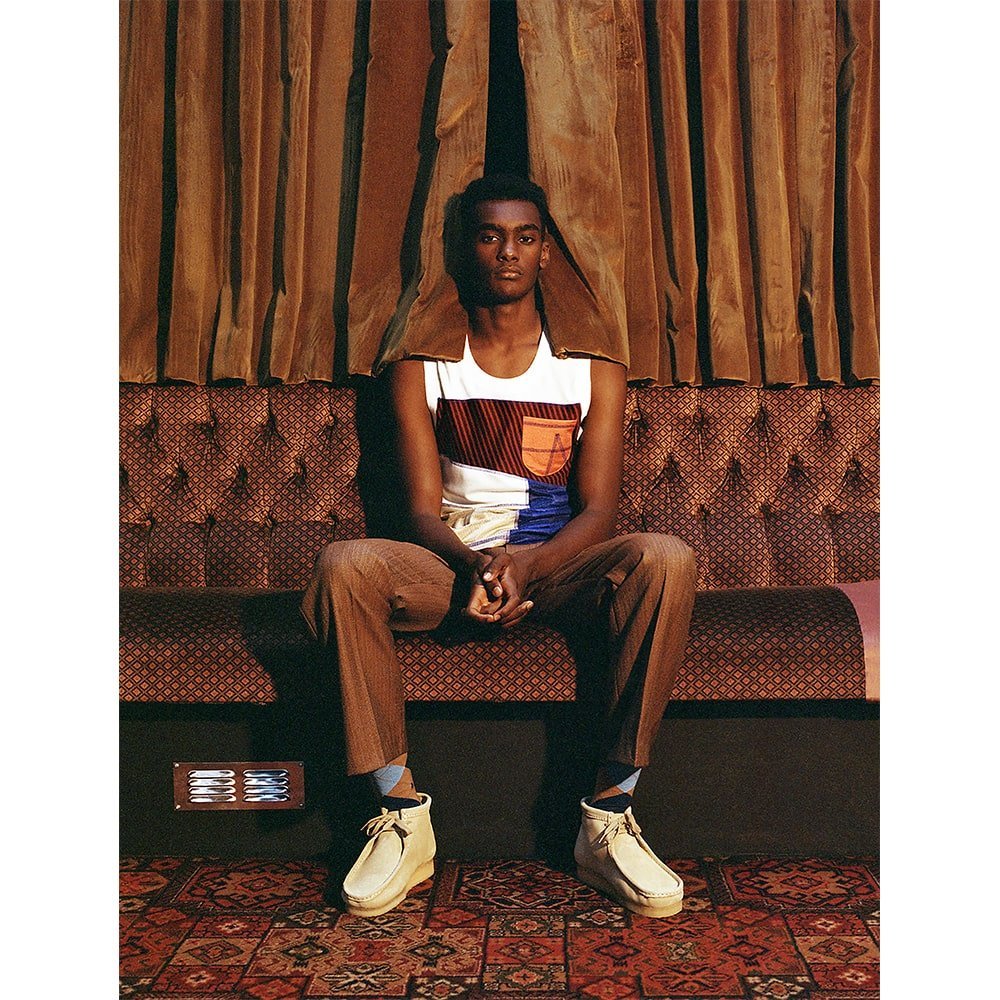 Finding that perfect cut of a jacket or pair of trousers in your mum's/ dad's/ grandma's/ *insert family member*'s wardrobe equals an unrivalled emotional blend of excitement and nostalgia. That undiscovered gem then enters your wardrobe with a rich lifetime behind it which somehow comes back to you – it's like charity shopping but with an added element of personal connection. But how do you recreate that emotion while shopping for luxury fashion? That's the challenge Priya Ahluwalia set herself with when designing her SS20 collection, which was shown at London Fashion Week Men's in June. For the show, which was one of the clear standouts of the season, Ahluwalia used her family as a source of inspiration in more than just one way. "My direct heritage is Indian and Nigerian but I also have some family Jamaica, Ireland, Canada and America amongst other places. With the brand, I have really delved into my own heritage but recently I wanted to look at others around me and the nuances between them," explains the University of Westminster graduate. As part of her debut show, photographs became prints blown up across garments, while a particular suit found in her grandad's wardrobe transformed into a new one, the classic brown check fabric now intertwined with panels of vintage scarves. We became instant fans and apparently, so did the menswear buying crowds at Browns Fashion.
Launching tomorrow via the retailer is Ahluwalia Studio's 10-piece exclusive collection using the designer's signature upcycling techniques in merging traditional tailoring with contemporary sportswear. The inspiration for the capsule, which is one of the highlights of Browns' Berlin pop-up space running until Saturday, comes from literature that has long inspired Ahluwalia's creativity. Looking at The Black House by Colin Jones, she continued her design focus on reinterpreting British Black male style and identity. "The photos in the book are from 1970s London, and depict black youth who are beautiful, gracious and the epitome of style even in the face of abject poverty. The photos inspired fabrication and silhouettes as well as a huge feeling of pride and power," Ahluwalia says. All of the looks in the Amber Pinkerton-shot lookbook are completed with legendary Clarks desert boots, which have been taken from another one of designer's favourite publications – Clarks in Jamaica by Al Fingers. "The book is a beautiful celebration of the vibrancy of Jamaican culture and how a British staple shoe has become so iconic there," she tells us. The outcome is a poetic interpretation of the past with a radical vision of the future – it's what Priya Ahluwalia does best and exactly the reason why we continue to fall in love with he so fiercely.
Ahluwalia Studio's exclusive capsule collection is available to shop online as well as Browns Fashion boutiques in London and Browns Berlin pop-up which is running from today until November 16th.
Creative Direction & Collection: Ahluwalia Studio
Photography: Amber Pinkerton
Styling: Riccardo Maria Chiacchio
Casting: Troy Fearn
Model: Samer Rahma at Kate Moss Agency
Assistant: Leonie Haass
Shoes: Clarks