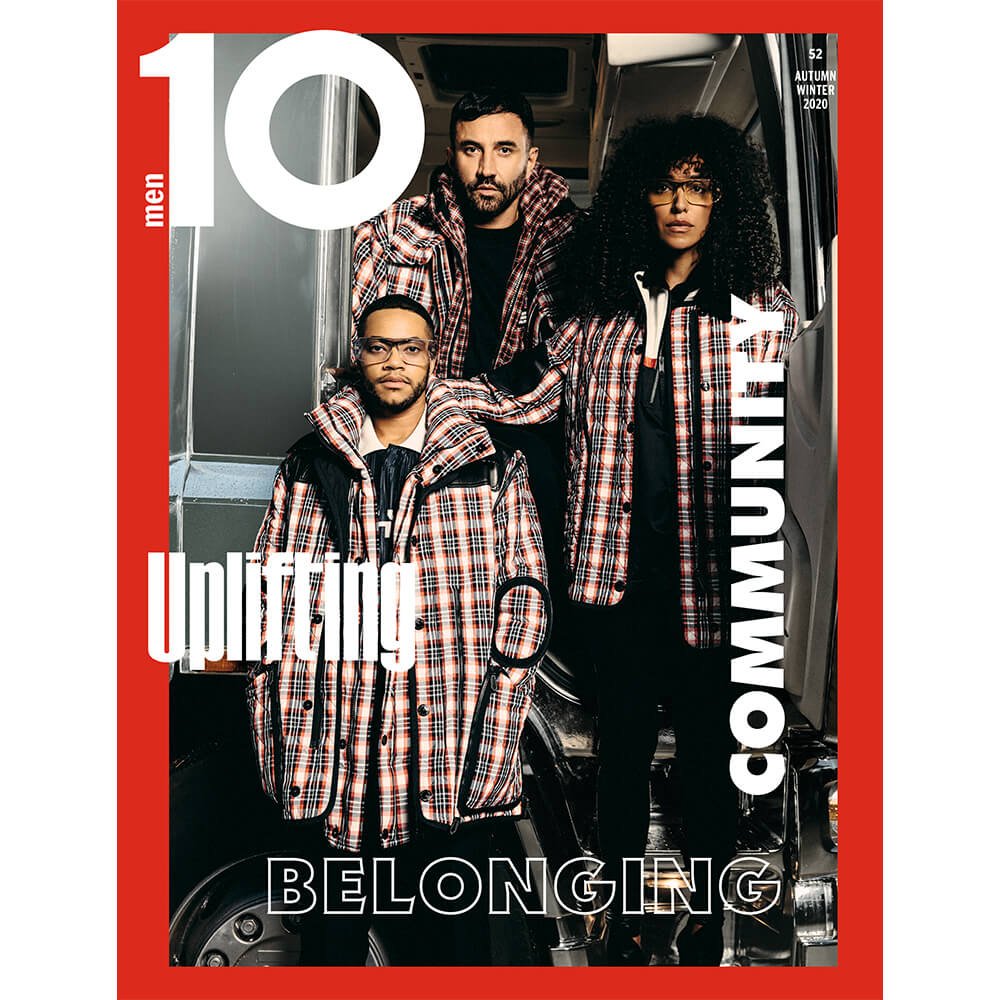 Taken from 10 Men Issue 52
This is the age of pandemic and protest, of rage and reset. A new world is emerging. What a time to be alive. What a time to be a designer – especially one with a global audience. Burberry's Riccardo Tisci is ready for this moment.
Tisci has always put his passions and politics into his work, whether it's shifting the bar by championing Black and trans models in his high-profile campaigns, or by fostering a diverse, creative community whose members lift each other up. "I was the one left out of society," he says while on a Zoom call from Italy. "When I was younger, I was the one that could not study because we didn't have money. People didn't care about what I wanted to say." Despite growing up poor, gay and marginalised, in the province of Como, northern Italy, his creative talent opened doors. "I had the chance, from being an outsider, to be inside, so I tried to bring a lot of people from the outside inside with me," he says of his journey from Central Saint Martins to Givenchy and then Burberry.
From LGBTQIA+ rights to racial justice, he's been speaking about so many of today's most pressing issues since the start of his career. "And I fight for it. When, today, I see other fashion houses using Black girls I'm happy. But it cannot be for the next six months, it has to be forever," says the designer, who went on Black Lives Matter protests in Italy and London over the summer. The next step in the campaign, he says, should be the decolonisation of curriculums.
Tisci has never designed in a bubble. His signature dark beauty has always been connected to the story of his life and the significant people in it. He tunes in to emotion. His glamour is soulful. He is guided by love. The youngest of nine and the only boy, his father died when he was four. His mother, Elmerinda, raised her family alone. They had no money. Tisci often wore his sister's hand-me-downs and went to work at the age of nine, helping his uncle, who was a plasterer. "I couldn't have video games when everyone else had video games, I couldn't have really good clothes. I wore the clothes of my sisters, passed down and readjusted for me. There were many other things I didn't have that a normal child has. But the word family has been tattooed on my skin, because they make me fly," he says, explaining that his mother and his sisters unlocked his imagination and always supported his creativity. His early difficulties bred resilience in Tisci and his eight sisters. "It seems like we went to a survival school because we have been taught by my mum to be strong people out there and soldiers surviving in the jungle. Then we can come back home and take off our armour."
His mother, now in her nineties, remains the most important person in Tisci's life. He spent three months of lockdown living with her and one of his sisters and described the enforced slowdown as "the biggest gift I got in all my life". His routine, he says, was simple. "I would sit down in the garden and read books to my mum, like she used to read books to me when I was a child." It was also an intensely creative time, during which he drew the entire SS21 Burberry collection. In those precious three months, the Tisci-family dynamic also shifted. His success in fashion had changed things. "I became a father for everybody," he says of the responsibility to his family that came with his financial good fortune. "And then I came back and finally I could be a son again."
Tisci believes in love. He tells the story of how his mother ran away to marry his father. A suitable husband had already been chosen for Elmerinda by her family, as was the tradition in post-war, southern Italy, where she's from, but on a trip to the local launderette, she met and fell for his father. "The family of my mum is more like an elegant, classic family, and the family of my father, the Tiscis, they were a family of – let's say – the beautiful and the dangerous," says the designer. Faced with following her parents' wishes or her heart, she chose the latter. The couple eloped, leaving southern Italy behind and settling in the north, near Lake Como. "It's a beautiful story. She believes in love and it's why I believe in love," says Tisci.
It was love that drove him to accept the job at Givenchy, because it enabled him to buy his mother a house. Twelve years later, it was love that impelled him to leave the brand at the height of his success, to spend more time with his ageing mother and recently widowed sister. Tisci was at his brother-in-law's funeral when the realisation came. He looked around at his grieving family and understood that time spent with them was precious. The journey back to Paris, to present what turned out to be his final Givenchy Couture collection, was, he says, "the longest flight of my life, and it was only 1 hour 10 minutes. Because, during that time, I decided. I did my couture show and then I said, 'I'm leaving. I need time off for myself to spend with my mum.'"
His return to fashion, a year later, also had a family connection. Other brands had offered him tempting roles, but when Marco Gobbetti, newly installed as CEO of Burberry Group, called, it was different. "Marco is like the father I never had. He is the person that changed my life," says Tisci of the executive who gave him his first big job, at Givenchy. The idea of helming such an iconic British brand also appealed. "It's not fashion, it's lifestyle. It represents a country and a style. It was very epic," he says and admits to feeling overwhelmed at first. "At the beginning it was very big. You are wearing a wool coat and you throw yourself in the water – it was that kind of feeling. Not because of anyone else but because of myself."
More than two years on, he's found his groove and a new perspective. A decade ago, if you were to describe British style, wellington boots and a beautiful floral dress and a trench or a classic suit might fit, "but today it has changed," says Tisci, who eyes a new generation of stylish Brits who listen to punk and hip-hop and wear their trenches with trainers. The way the teenage sons of his close friend and collaborator Katy England wear Burberry is, he says, "Insane! The young generation, they are British but they bring their own flag."
Tisci left home at 17 and came to study in London. Alone in an unfamiliar world, his instinct was to recreate the sense of love and safety that his family in Italy gave him. So he began to nurture his chosen family of close friends and collaborators. "I tried to build a group of people like a tribe, like a family. I can take off my armour with them and be myself. I can cry, I can talk. I can fight. I can have a terrible time, I can ask for help. That is family. They are not only there in the good moments and gone in the bad ones," he says.
Social climbers, beware: entry into Tisci's close circle, which includes Mariacarla Boscono, his friend of more than 20 years, and the artist Marina Abramovic (who calls herself his "adopted mother") is not easy. "Rarely does somebody come inside my second family, because to get in is very difficult," Tisci says. The quality he admires most in people is civility. Newer members of the clan include FKA Twigs and Sade's son, Izaak Theo Adu, who transitioned last year, walked in Burberry's February show and poses with Tisci on the cover of this issue. "He's young and new and fantastic, and I love his energy," says Tisci.
They are joined on the cover by Lea T, a long-time member of the Tisci family. She paid for her gender-reassignment surgery with the money she earned after Tisci cast her in his 2010 Givenchy ad campaign. "When I did it, people literally spat in my face because I used a Black trans woman in a campaign," remembers Tisci. He didn't do it for the shock value. He did it to help T, who had considered turning to prostitution to pay for the surgery she so desperately needed. "She was my PA when she wanted to change sex," says Tisci. "She changed and became a star. She became one the most amazing Black Lives Matter, Black Trans Lives Matter women in the world, and that is very important," he says with obvious pride.
Emotion and empathy are his superpowers, allowing Tisci to cut through the white noise of 2020 and get to the heart of things. Whether it's putting on his SS21 fashion show against the backdrop of the British countryside – "There is this power and purity in nature and, you know, that sense of coming back to yourself and what is important in life" – collaborating with Abramovic on costumes for her latest art project, or giving voice and visibility to marginalised communities, it's always been about more than clothes for Tisci. When it comes to the place of fashion in our lives, he says, "I think now, more than ever, people want to find an emotional connection with a brand – especially the younger generation. They want to understand and believe in an identity and a purpose. So, for me, I need to show them how they can dream and journey with Burberry." The dream is real.
BURBERRY: COME AS YOU ARE
Photographer Danny Kasirye 
Fashion Editor Garth Allday Spencer
Text Claudia Croft
Talent Riccardo Tisci
Models Izaak Theo at Next & Lea T at Women
Hair Ali Pirzadeh at JAQ Management using Bumble and bumble
Make-up Joey Choy
Nail technician Loui-Marie Ebanks at JAQ Management
Retouching Jody Brock
Production Cameron Carswell
Photographer's assistants Henry Hewitt, Neal Jackson, Nick Collins & Jamie Sinclair
Fashion assistants Zac Apostolou & Frankie Reffell
Shot at Gunnersbury Park, London
Thanks to JJ Locations