It's a known fact amongst us fashion folk that Selfridges' Corner Shop is enduring, consistently quenching our thirst for style with a brand new, innovative installation at its Oxford Street flagship space on a near monthly basis. Now, Casablanca has hijacked the state-of-the-art space and unveiled its cutting-edge, collaborative, in-store pop up – a distinctive aviation inspired installation – and it's called Casa Airways. With Casablanca in the pilot seat, we hope you're prepared for the ride of your life. 
As with many of us, Casablanca prides itself on its turbulent love affair with travel, and yet, the collection on offer and set accessories on display simultaneously pay subtle homage to the city of love – Paris: Casablanca Creative Director Charaf Tajer's home city – with France's tricolore scheme weaving its way into all that occupies the room. That's why, with a nostalgic touch of the golden age of aviation, the Parisian designer has brought the insatiable allure of jet setting, not just to the centre of London, but to life itself. "The collection is inspired by my hometown, and the elegance of the golden age of travel in the nineties when every single detail was carefully curated," Tajer said.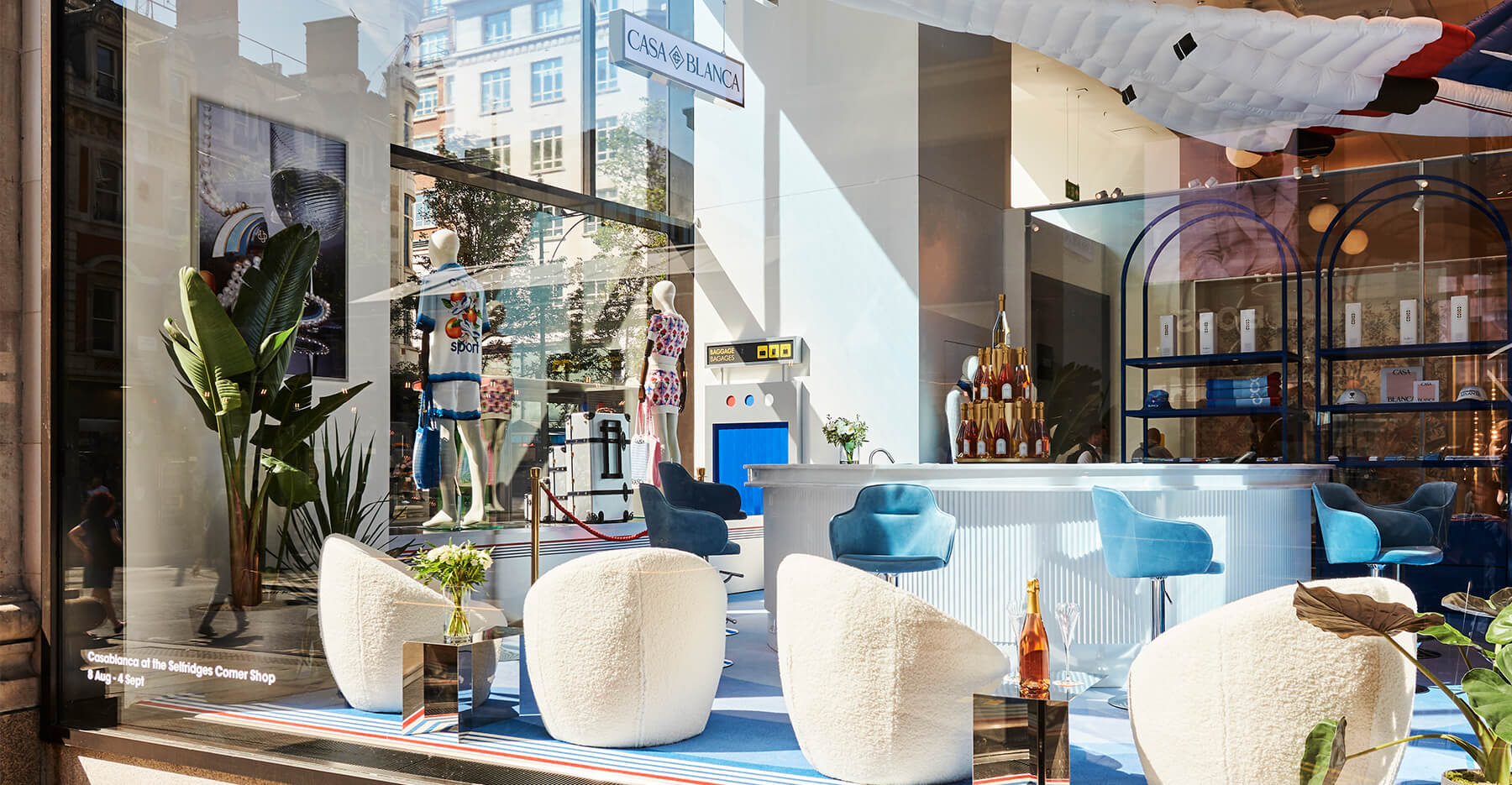 To commemorate Casa Airways, the interactive installation gets the VIP treatment. From the street, you'll see a window to a world where beauty, technology, hullabaloo and elegant high altitude aesthetics evoke the zeitgeist of an era wherein supersonic air travel had reached a pinnacle. Across the three central window displays you'll spot lush egg-shell swivel-chairs, baggage conveyor belts, and tempered glass portholes that depict a skyview of the setting sun within the picturesque international departure lounge. Once you head aboard, it's smooth, effortless flying from there. After passing through the exclusive-to-Selfridges' airport security, you can kick back in the first class flyers lounge, complete with graphic 1990s airport signage, aeronautic customs and private jet set pieces.
To experience the sensory installation in entirely, immersive HD, sit back, relax, and slowly sip on Casablanca's special edition branded champagne at the annular bar, offered in Rosé and Blanc de Blanc – have one to many drinks and you might even want to join the mile high club; ooh la la!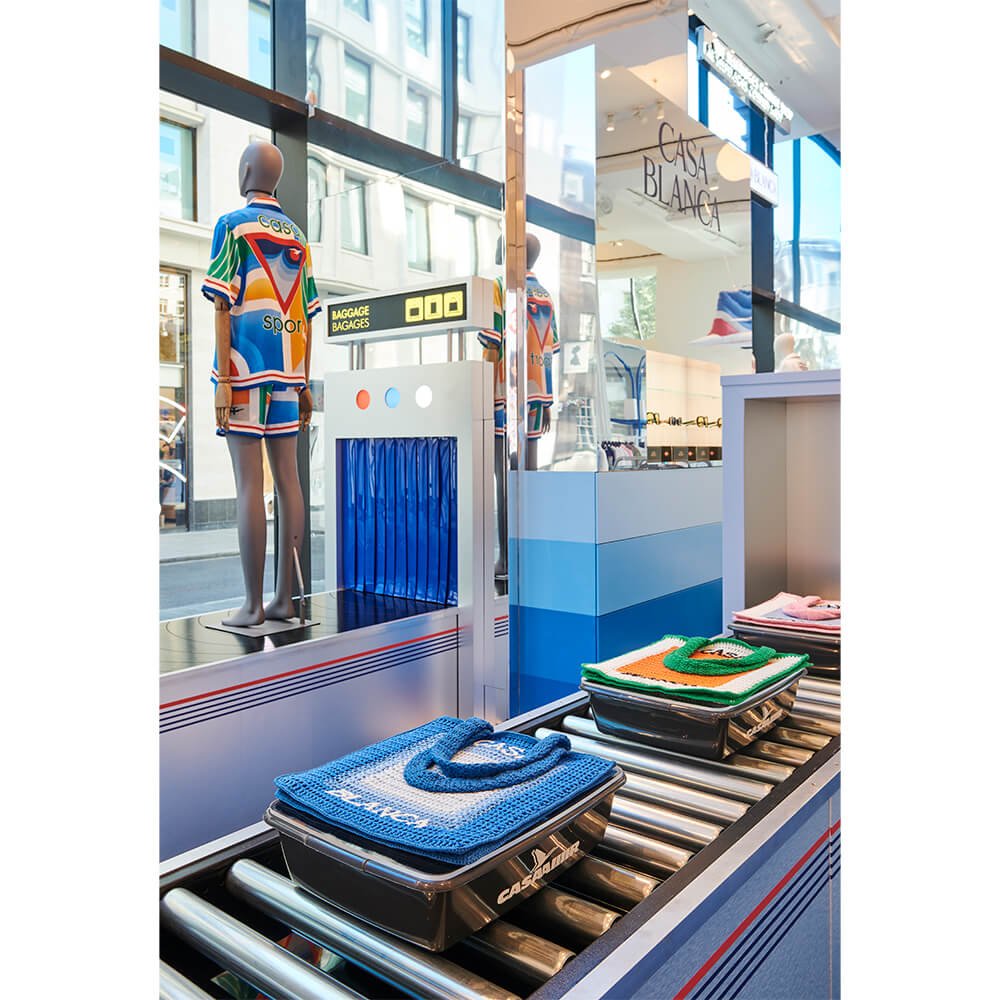 Afterwards, we suggest you peruse the premium air-travel garments that litter the racks and rails. Here, an exclusive 45-piece capsule collection is yours to take on your next trip. Featured is an array of limited-edition azure bikinis, beach towels, eccentric silk sets, crochet twinsets, and skillful tailoring alongside a select spectrum of garments and accessories from the AW22 collection, Le Monde Diplomatique. Plus, the pop-up is set to ply an exclusive pre-sale of Casablanca's collab with Globetrotter and an extremely limited run of luggage ahead of the official cargo launch across the globe later this summer. So, before you take off, consider doing it in Casablanca.  
On display at Selfridges' Corner Shop now until September 4, get ready, set, go jet set; we hope you enjoy the flight! Thank you for flying with Casa Airways. 
Photography courtesy of Casablanca.