Ten Craves is our online series that rounds up all the best product launches and must-know fashion happenings week in, week out. 
The clocks are going back, Halloween's tomorrow and it's about to get a whole lot chillier outside. Here's how to dress up for winter.
Moose Knuckles and Telfar come together to combat the cold weather
Inspired by his NYC roots, Telfar Clemens has joined forces with Moose Knuckles have come together to craft a capsule collection that will keep you extra cozy this winter. The capsule collection includes classic bomber jackets, hoodies, sweatpants and boot-cut nylon puffs that pay homage to outerwear seen on the streets of Brooklyn, Manhatten and beyond. There's even a Puff-Telfar version of Telfar's signature shopper thrown into the mix. Shop the collection on November 1 here.
Tommy Jeans honours the history of music with a new capsule collection
Since its inception in 1985, music has played an instrumental role at Tommy Hilfiger. From collaborations with hip-hop to rock 'n' roll artists, Tommy Jeans now takes a step back in time with a new vintage merch-inspired capsule collection. The Tommy Revisited: Music Edition collection includes 16 different styles of unisex tees and sweatshirts that highlight memorable on-stage moments of music legends including TLC, Backstreet Boys, Britney Spears and the Rolling Stones. The collection mixes together tour-inspired artwork with classic Tommy Jeans streetwear. Shop here.
Photography courtesy of Tommy Hilfiger
Adidas introduces three new wireless headphones
Acting as new additions to its game-changing audio line, Adidas and Zound Industries have crafted three new wireless headphones that simultaneously offer enhanced performance and all-day comfort. The new models have been developed to deliver the perfect combination of performance, design, functionality and innovative technology, all in one. Shop the Adidas Z.N.E. 01 ANC, Z.N.E. 01 and pre-order the FWD-02 SPORT here.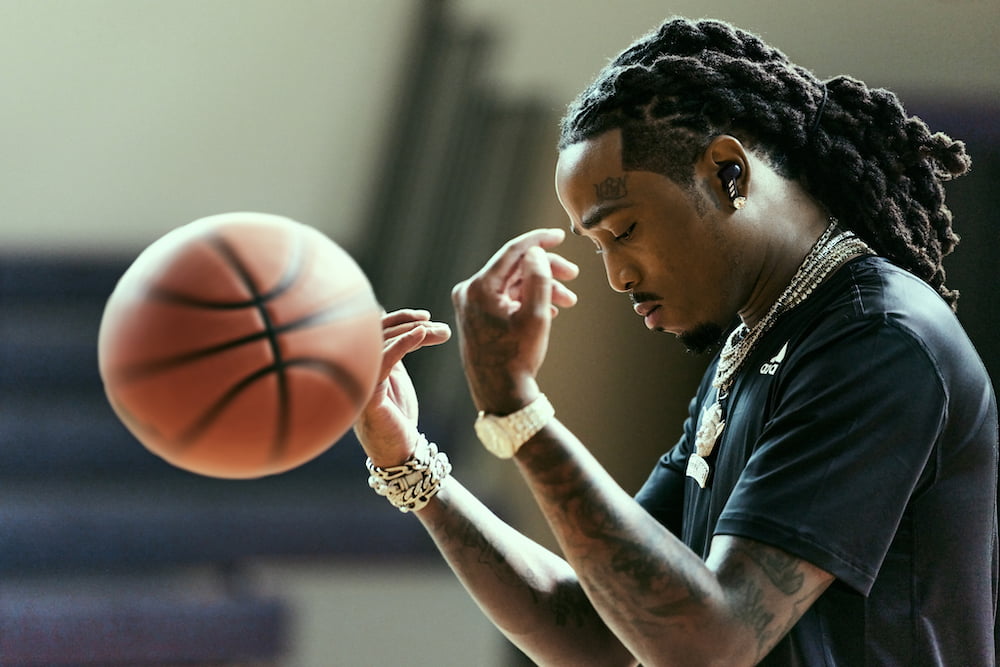 Photography courtesy of Adidas
S.R. STUDIO. LA. CA. gets buggy
Inspired by American traditions, culture and craft, S.R. STUDIO. LA. CA. bridges the gap between form and function. Designer and artist Sterling Ruby's latest capsule collection dubbed Insect Index is inspired by the wild bug world. The capsule collection comes covered in graphics which brings a functional representation of insect species by merging text from Animalia taxonomies with captions from biological diagrams. The collection includes jacquard wool sweaters and reappropriated washed denim sets. Shop here.
Fila and Flock Together head outdoors
With urban exploration and mountaineering in mind, Fila and Flock Together have joined forces on a new outdoorsy capsule collection. The collection consists of two new shearling fleece designs featuring panel overlays crafted for outdoor life. The collaboration also includes a redesign of the Fila 1990 Trailblazer shoe, covered in bright hues of blue, green and orange inspired by the exotic Kingfisher bird. 15 percent of all sales will be donated towards the Flock Together community fund. Shop the collection here.
Poldo Dog Couture and Dsquared2 collaborate on a collection for your four-legged friends
Who doesn't love a good dose of cute animal love? Well, now you can dress up your four-legged best friend in Poldo Dog Couture and Dsquared2's FW21 collaboration, crafted for dogs of all shapes and sizes, from teacup chihuahuas to majestic Weimaraners. The range includes black nylon raincoats, bomber varsity jackets and special edition hoodies, along with accessories including baseball hats and bandanas that will keep your pet in the cutest style imaginable (Alpacas, included). Shop here.
Loewe supports the animation world
As one of Japan's most beloved creative institutions, the Ghibli Museum symbolises the world of director Hayao Miyazaki and shares the excellence of animation work. The Loewe Foundation has partnered with the Tokuma Memorial Cultural Foundation for Animation to bring three-year-long financial support to help the Ghibli Museum continue to spread its artistic craft to the world. Loewe Foundation will support museum operations including cultural activities and museum exhibitions so that Ghibli can spread its distinct charm with Japan and beyond.
Balenciaga introduces Crocs 2.0 with custom art
Over the years we've realised that Balenciaga and Crocs are a match made in meme-able heaven. The collaboration between the two brands now introduces the Crocs Boots and Crocs Madame with a custom art campaign created by Berlin-based artists Anna Uddenberg and Kristina Nagel. For Balenciaga's Crocs 2.0 launch, Uddenberg has created sculptures utilising upcycled Balenciaga materials wearing Balenciaga's latest Crocs collaboration whilst Kristina has staged and photographed the project on the streets of Berlin.
Tom Ford provides the arm candy
There ain't much you can say is more glamorous than a Tom Ford watch. The brand has unveiled N.0003, a new piece that blends the elegance of previous watches from the brand into a new iteration. Available in black, white and chrome hues, Ford says the watch "exemplifies the craftsmanship and simplicity I was looking for in the next evolution of Tom Ford Timepieces. I wanted to bring the focus back to the elegance of the watch face by stripping back the numerals and emphasizing the clean, sophisticated design." Shop here.
It's time for more More Joy goodies
For the latest More Joy drop, Christopher and Tammy Kane takes to the streets of East London, scouting this season's models around their Dalston studio. Inviting each model to pick which piece from the collection matched their style the most, the cast wear bucket hats, crop tops and T-shirts stamped with signature More Joy taglines. Shop here.
Photography by Sarah Stedeford
Top image courtesy of Telfar.