For Chanel Cruise 2024, Virginie Viard homed in on LA's 'let's get physical,' era, embodied by workout queens Jane Fonda and Cindy Crawford and the 1980s parade of beautiful bodies,…
Nothing stuns quite like a pair of Chanel glasses. They're the one thing everybody needs when that big ball of fire in the sky starts beating down so hot hot…
From an orderly queue. Tickets went on sale early today for the blockbuster Gabrielle Chanel. Fashion Manifesto exhibition which opens at the V&A on September 16.
Our second cover delves into the dark allure of Chanel's SS23 collection. Shot by Mariano Vivanco and styled by Anders Søelvsten Thomsen.
UK (2-3 days) – £3 Europe (3-5 days) – £8 US (5-7 days) – £25 Rest of world (7-9 days) […]
Peak is perhaps best known for her role as Zoya Lott in the 2021 Gossip Girl reboot, and starring in Hocus Pocus 2.
You don't have to be in Monaco to know that destination fashion shows are roaring back – but it helps. The fashion circus is flying again and Chanel, the house…
Following hot on the hooves of the Schiaparelli show, the Chanel spring couture show 'trotted' out on wheels with an orchestrated performance, choreographed by French artist Xavier Veilhan.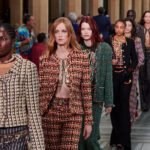 When Chanel showed its Métiers d'art collection, in Senegal's capital, Dakar, it was a historic moment not just for Chanel, but for European luxury fashion.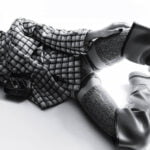 For her AW22 collection, Virginie Viard paid tribute to Chanel's timeless fabric of choice with an entire collection made of the finest tweed around.
Make-up bag in need of a pick-me-up? The latest delights from Chanel Beauty are about to bring new life to your daily routine. Pictured inside 10 Magazine Issue 69, the…
Virginie Viard gave us a meditation on allure – that elusive quality of all iconic Chanel girls. What is allure and who has? Coco Chanel had it in spades, dictating…
Kicking her way onto the fifth cover of 10 Magazine Issue 69, Bibi Hoad wears Chanel's AW22 collection, shot by Vanina Sorrenti and styled by Sophia Neophitou.
What does it feel like to wear a heavenly star? This is the kind of thing that Patrice Leguéreau thinks about daily. As the director of Chanel's jewellery creation studio,…