Dior: Menswear SS20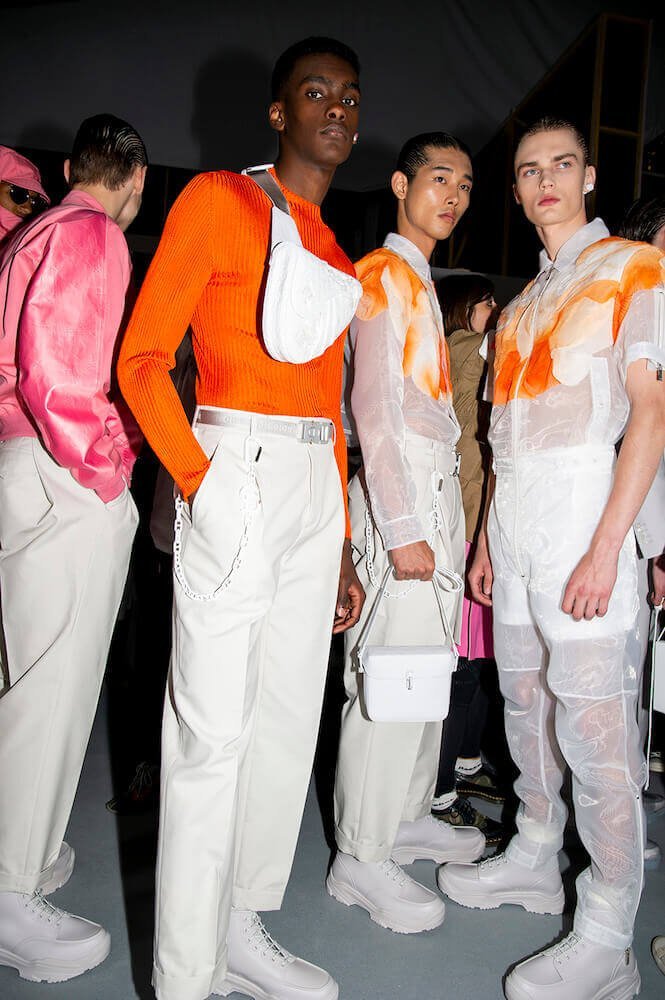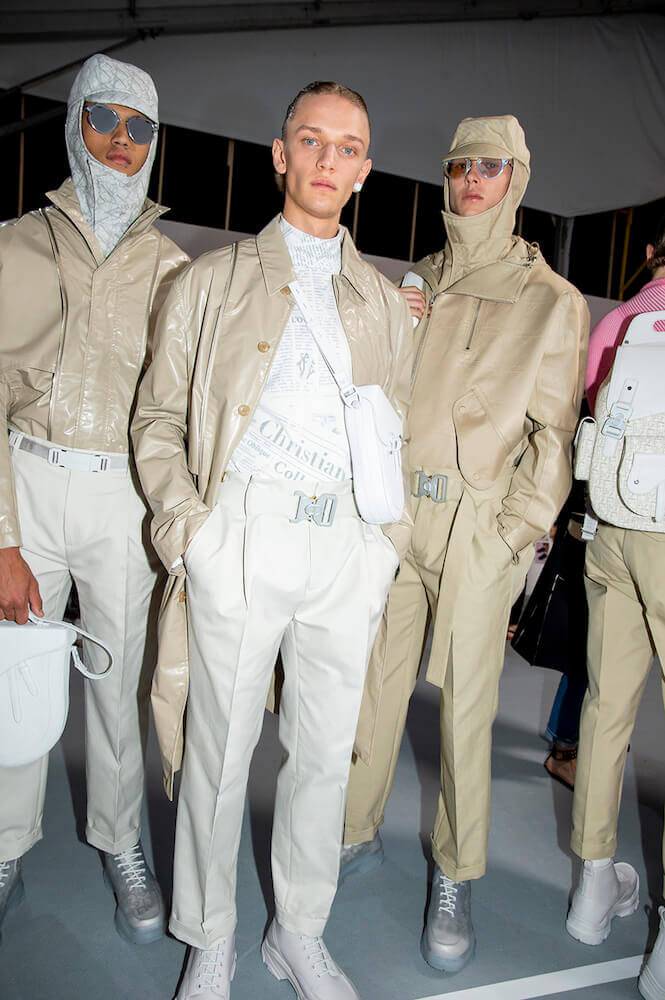 Upon walking into the Dior runway venue for designer Kim Jones' SS20 show, guests were greeted by a reimagining of Christian Dior's world and personal ephemera including his desk and a fireplace. These were created by the American artist Daniel Arsham. These "personal relics" were made to appear dusty as if entombed for millennia. It was a hint of Jones' clothes and accessories to come. Inside the huge venue, and tracing the edges of a square made entirely from pink sand, 49 models walked 49 looks past huge letters spelling out DIOR. The letters were cast to look like decayed concrete with huge crystals poking through their broken surface.
The clothes were pink desert-proof: scarves and hats – the kind to keep the sand at bay – wrapped models faces. Their eyes protected by future-world sunglasses. The M. Dior-inspired suiting (the designer was famous for his classic but beautiful grey-suit-uniform) was cut in the lightest fabrics Jones has used thus far. Cloths like this are "particular" they don't like to be moved to much. They're difficult to work and hold. They mark like silk and move like water. But this is Dior.
Together with Arsham, Jones worked to imbue his new Dior with "a past of the future" and "now becoming then". What would future peoples think of our relics he asked. Take time to study those incredible suits – the feeding, for example, of a sash from inside a jacket out and wrap the waist or to trace a lapel. The pitch of the trousers: immaculate! According to Dior HQ customers are buying Jones' suits for weddings and special occasions it's a "whole new sector" for the business.
The business will thank him for his new collaboration with the German luxury luggage company Rimowa. Thanks to Jones, the classic ribbed aluminium (formerly untouchable) now comes with a unique reflective finish in a clutch; a backpack even a champagne case. They're the kind of new-look accessories guaranteed to trigger his younger fans into frenzy. For these same fashion shoppers, Jones resurrected Dior's own archival relics: the house Toile de jouy print became a boiler suit; the "John Galliano for Dior" newspaper print became a see-through shirt, matching trousers and saddle bag; even socks. But one piece, in particular, spoke strongest of the collection: a concrete-coloured long-sleeved sweater with 'Dior' printed on the chest. Jones had – someway, somehow – and using a particular technique, created "cracks", which ran down the front and through the logo. A future relic for sure.
Photographs by Jason Lloyd-Evans.