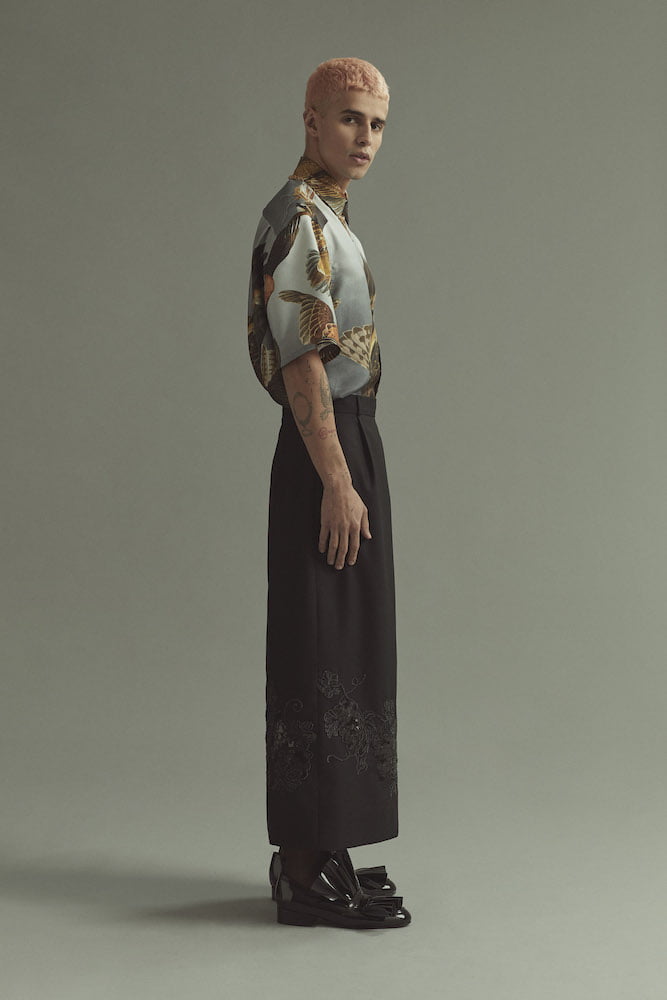 It's grim up't North, well not according to Edward Crutchley. The London-based designer, who grew up in the Yorkshire Dales, hasn't been home for a year and countryside life has been on the brain. "Although I would never describe myself as a 'professional northerner', it is a part of my identity and this felt like the right time to talk about that," says the designer. His AW21 collection is called Florizel – named after the original title that was given to Coronation Street in the 1960s – and pays homage to the cultural iconography of the North.
The collection is neither fetishisation nor commentary of Northern life, explains Crutchley, but a "back-to-source character study in Northern grit and glamour." Each look is peppered with a gutsy sense of humour integral to the North. Crutchley's lads wear farmer-inspired garb – flat caps and tweed-looking jackets made of cashmere – and leopard print jacquard overcoats which nod to the formidable drag legend, Lily Savage. The girls share a similar wardrobe, dazzling in embroidered silk pyjama sets, mannish shirts and coats, as well as frilly going-out heels.
The look is completed off with hair rollers, Stephen Jones-designed head scarfs and a pack of fags – a tribute to the designer's Nana Lorna. "Women started wearing rollers out while they were working in factories during the second world war, so they kept their hair away from machinery, but they were ready to go out for a drink straight from work," he says. "This collection feels more mature, I think that has perhaps given me the confidence to make something a little more honest and personal."
Photography by Gomez de Villaboa.