Fendi: Ready-To-Wear SS20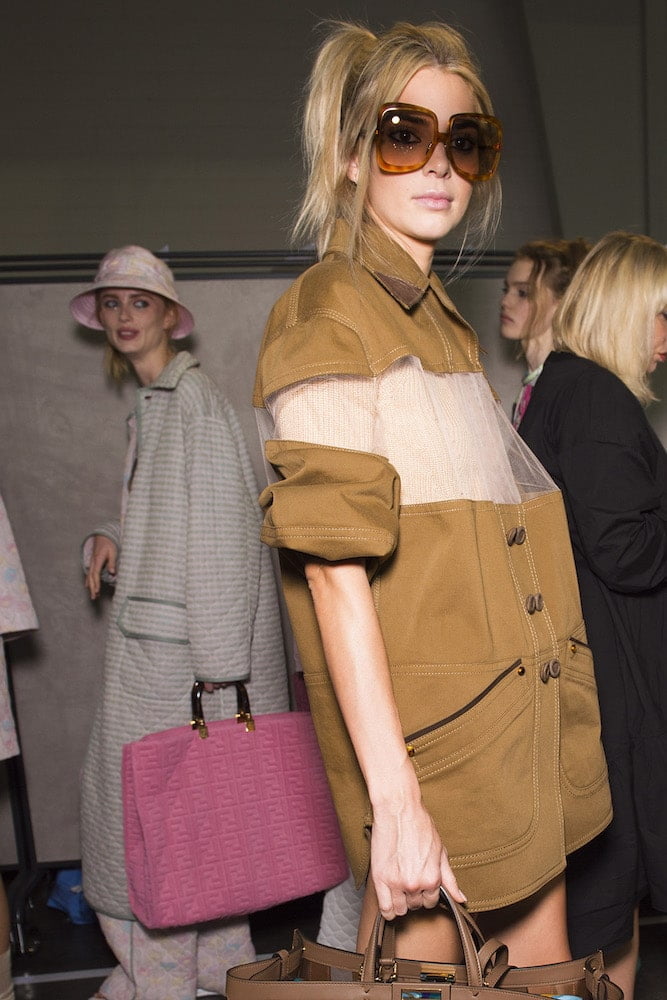 This was the first Fendi women's show for fifty years that would not have the hand of Karl Lagerfeld on it. The legendary designer died whilst working on the AW19 collection and this new SS20 dawn, designed by a solo Silvia Venturini Fendi was aptly represented by a rising sun framing the catwalk.
So what does Fendi post-Karl look like? It's bright and optimistic with a 1970s twist and plenty of cool girl quirks. The first look out – an oversized quilted dog walking jacket worn with a matching mini skirt set the tone. The big jacket, small skirt proportions looked fresh. A workwear thread ran through the collection with heavy cotton carpenter pants, overalls and bucket hats. The Fendi craft was on show with check fur lumberjack coats, perforated suede kaftans and chiffon gathered into organic folds on a jacket as well as chevrons of floral fur seamlessly melded to matching chiffon. The couture level craftsmanship at this house is second to none but it never got prissy or fussy. Even the eveningwear was casual and riffed on the quilted opening looks of blousons and maxi skirts. As for those all-important bags, choose between the vast logo-embossed, candy coloured shoppers, or teeny tiny necklace purses that doubled as jewellery.
Photographs by Jason Lloyd-Evans