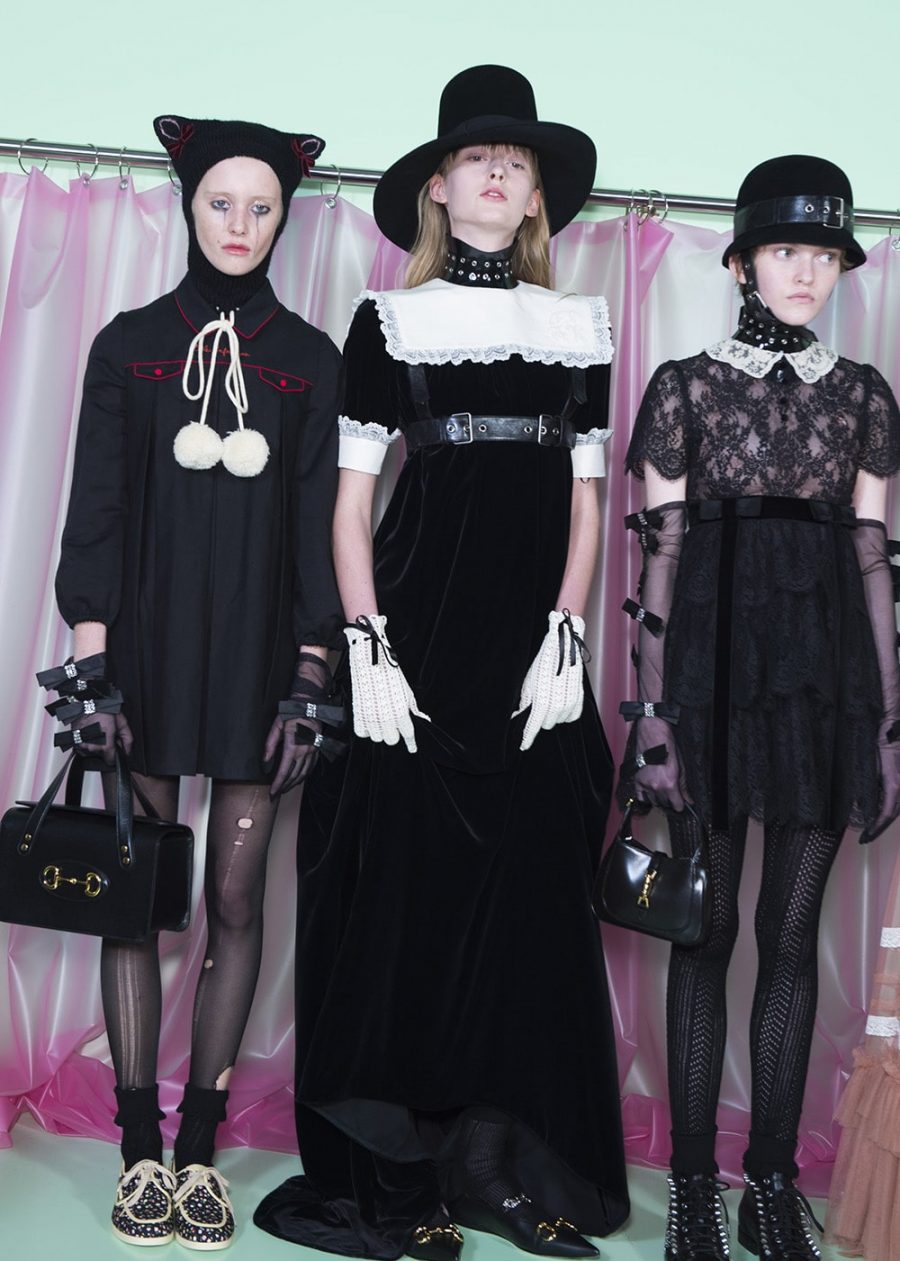 When Alessandro Michele himself sends you a voice note inviting you to the Gucci Hub, you get moving. And so, we arrived to the Hub, ushered backstage, where a brilliant sterile turquoise carpet lay, on which the models lounged in hair and makeup and white robes. The good Gucci life. Michele wanted to reveal the behind-the-scenes that makes up the enchantment of a fashion show. "I decided to unveil what lies behind the curtains," he wrote. "May the miracle of skillful hands and holding breath come out of the shadows. May the collective intelligence that takes care of gestation be visible, as shivers rage on." Yes, this was the birth of Gucci autumn/ winter 2020. We sat in front of a looming pink curtain, smoke billowing and music simmering softly. Italian director Federico Fellini's voice came over the speakers: "a movie camera, some friends around willing to help, a crew, an extraordinary crew. A circus crew, really… This is a declaration of love to cinema, maybe a little too private, maybe narcissistic  – I repeat – shameless, limitless. But, anyway, it's what I did." And it was what Michele did. The models marched inside, the curtain fell and the dressmakers assumed their role, dressing the models behind a screen as the stage slowly turned. We watched the ever precise Gucci circus in action, and when they were ready, the models walked to the edge of the stage to present us with their ringmaster Michele's genius.
The women of the Gucciverse glided in tiered, tulle, lace-edged billowing dresses and the boys stood tall in tailored trousers and snakeskin-printed vests with frilly sleeves. It got gothic, leather bras buckled up and latex chokers paired with sweet dusty pink skirts cascading to the floor and jet black velvet dresses were belted around the ribs and layered with white laced bibs, hole-punched collars peeking out from under. One does not mess with a Gucci girl. Tights were laddered and leather gloves firmly held onto simple little leather handbags that came in black, powder blue, baby pink and the faintest yellow. Oversized crosses hung from their necks across double G motif, double-breasted coats and seriously baggy, ripped denim. Hell yeah. The sweeter side of Michele's Gucci flowed on Liberty print floral dresses and modest suiting, pants flared and platforms sky high. Crystal headbands and earrings glimmered as they marched out, pleated skirts swishing over the top of knee-high socks and bow-tied sandals and loafers.
The dressers then came forward, taking their place as the Gucci Hub filled with a round of applause. It was thrilling, as a great show – whether it be fashion, cinema or the circus – always is. As they left, Finelli's voiceover continued: "Cinema was just that, it was a hypnotic suggestion, ritualistic, something religious… Everybody queued for all the ritual processions… Then the lights dim, the cinema screen turns on and the revelation begins. The message. An ancient ritual same as it ever was: you are there to listen." We came, we saw, we listened, we loved – hard. And we can confirm that all revelations are best had in Gucci.
Photographs by Jason Lloyd-Evans.