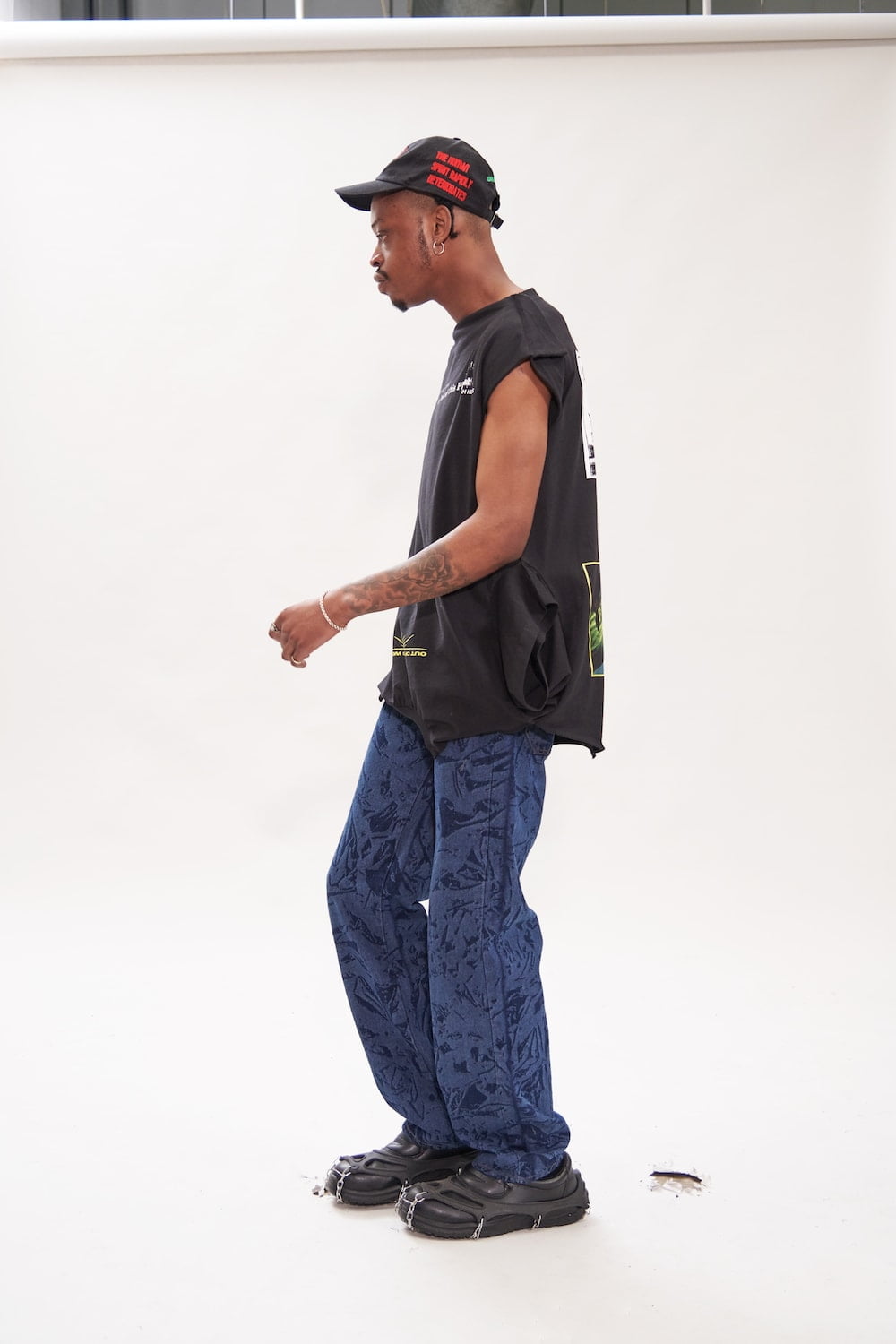 There was a Liam Hodges-shaped hole in the London schedule this season. Just across from the entrance of the Truman Brewery aka the unofficial HQ of LFWM, the designer opted to shoot a lookbook (styled by our very own Harry Lambert) and take preview appointments instead of doing his usual catwalk, before showcasing the collection in Milan. Alongside Lucien Clarke's DCV'87, Hodges presented his AW20 outing in a fun-fuelled presentation-cum-party at Fashion East and Slam Jam's on-schedule event at Artifact ℅ Spazio Maiocchi during Milano Moda Uomo.
Titled Brave Old World, New Ideas, the collection's name simultaneously plays on the title of Aldous Huxley's 1932 dystopian novel and questions fashion's fetishisation of newness. Quotes from Huxley's Brave New World appear in the form of retro-futuristic graphics and text alongside verses from Shakespeare's The Tempest. Hodges asks us to take a moment to reflect on the reality of the environmental impacts of consumerism, with an extraordinary focus on craft. Crochet features heavily and manifests in statement jumpers and hand-embroidered cardigans as well as the decorative patches on jackets, sweatshirts and trousers – all made using yarn made from recycled factory offcuts. And a show-stopping shaggy coat is the product of 106 shredded  D-grade flannel shirt, then rugged into a woven base, which evokes childhood memories of braided rag rugs.
Hodges' eco-consciousness was pervasive, flowing through the entire collection. Past season stock was used to make vests and hoodies; joggers were created as patchworks of overprinted thrifted collegiate t-shirts. Shearling offcuts that embellished the garments were sourced from a network of London leather manufacturers. The bags were the product of a collaboration with Barcelona-based brand Nukak – oversized totes crafted from reconstructed truck tyres and backpacks morphed out of a pastiche of bygone advertise banners. Using unwanted pieces from the past, Hodges is creating streetwear to consciously combat the present.
Photographs by Ellis Scott.