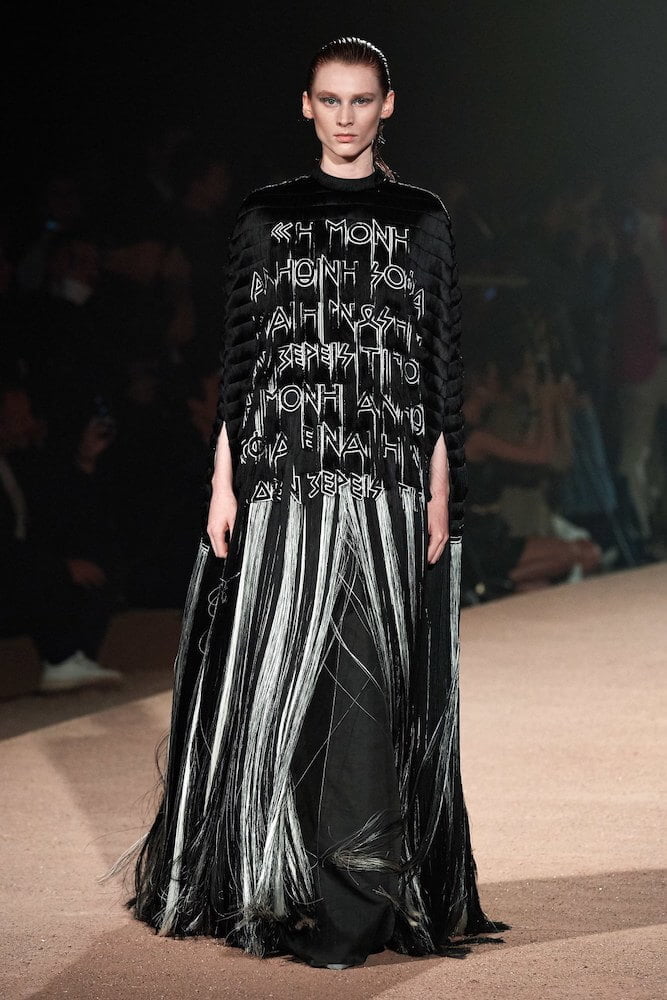 The setting couldn't have been more spectacular. Mary Katrantzou showed her SS20 collection at The Temple of Poseidon, high on cliffs of Cape Sounion, just outside Athens. Today it's one of the most precious archaeological sites in Greece. In the 5th Century BC this place was the centre of the known universe. Katrantzou's collection celebrated all the intellectual concepts and disciplines that emanated from Greece at that time: mathematics, philosophy, medicine, astronomy, typography, cartography, number Pi, Golden Ratios, Pythagorean theory, has Harmony, Chaos and Imagination… Entitled 'Wisdom Begins In Wonder', this was couture-level stuff. Each of the 38 looks dress was a hand-beaded work of art.
The show opened with a hand appliqué column gown bearing a quote from Socrates: "the only true wisdom is the knowledge that you know nothing." The embroidered numerical sequence of Pi spiralled over one gown. The scales of the Greek goddess Nemesis, daughter of justice were beaded into a bustier. 'Radiance' was represented by a golden plissé gown glittering with crystal embroidery, 'Love' was a hand draped satin gown, beautifully set off by vintage Bulgari jewels. The Italian jewellery house was founded by a Greek-born silversmith, Sotirios Voulgaris in 1884. With their shimmering make-up and wet-look hair, the models looked like goddesses emerging from the sea to pay homage to Poseidon, the God of the sea.
Other, much bigger global brands had tried and failed to show at this historic site. That a young Greek, London-based designer could pull off a destination show and compete with the global mega-brands deserves special recognition. Katrantzou is no ordinary designer. Her ingenuity and persistence, her force of will combined with her ability to dream big, and rise to the occasion all paid off. The event doubled as a charity fundraiser for ELPIDA, a children's cancer hospital. At the end, many of the young survivors shared the bow with the designer who was visibly moved. She produced the show of her career, in a sacred place, in her home country, for a good cause. There wasn't a dry eye in the Temple.