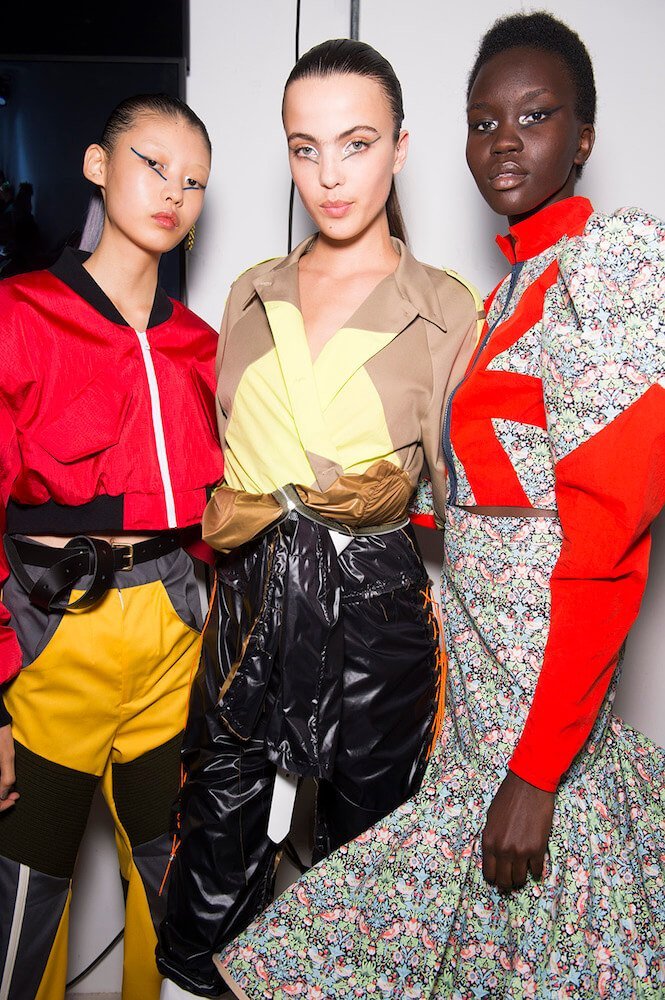 First look out: a geometric twinset of a shirt with leg of mutton sleeves and a slim pair of trousers in contrasting colours. Streamlined. Sleek. Simple? Showered in red lights, the look seemed like the beginning of a new vision for Matty Bovan. Second look continued the graphic storyline, slightly more loose and bohemian but keeping in with the retro-futuristic ideas cemented with a Stephen Jones visor distorting the face of its wearer. Soon enough, these clinical looks became embellished with bric-a-brac pendants hanging off belts. Frayed edges replaced the precisely-cut ones, and volume grew steadily. Surely, by the end, the explosion of Liberty fabrics in mad, historical silhouettes turned into the monumental costumes Bovan is known and loved for.
So, what was on his mind for SS20? First-up: uniforms. "It's something that I'm quite interested and it never came into my world," the Yorkshire-based designers shared backstage post show. No-frill, flat clothes that could be found in hospital wards and factories were elaborated with his love of the Arts and Crafts movement. There were traces of both William Morris in the colours and bolts of wallpaper fabrics, as well as Tracey Emin through the mattress-like forms intertwining with corsetry, creating sculptural shapes out of human bodies. A bit of Victorian history, a bit of 1980s sci-fi. Without a place or time, these clothes just made total sense as the next chapter in Matty Bovan's brand. Whether you're looking for something wearable with a bit of character or just want to wrap your head in a padded loaf of paisley fabrics – look no further.
Photographs by Jason Lloyd-Evans.