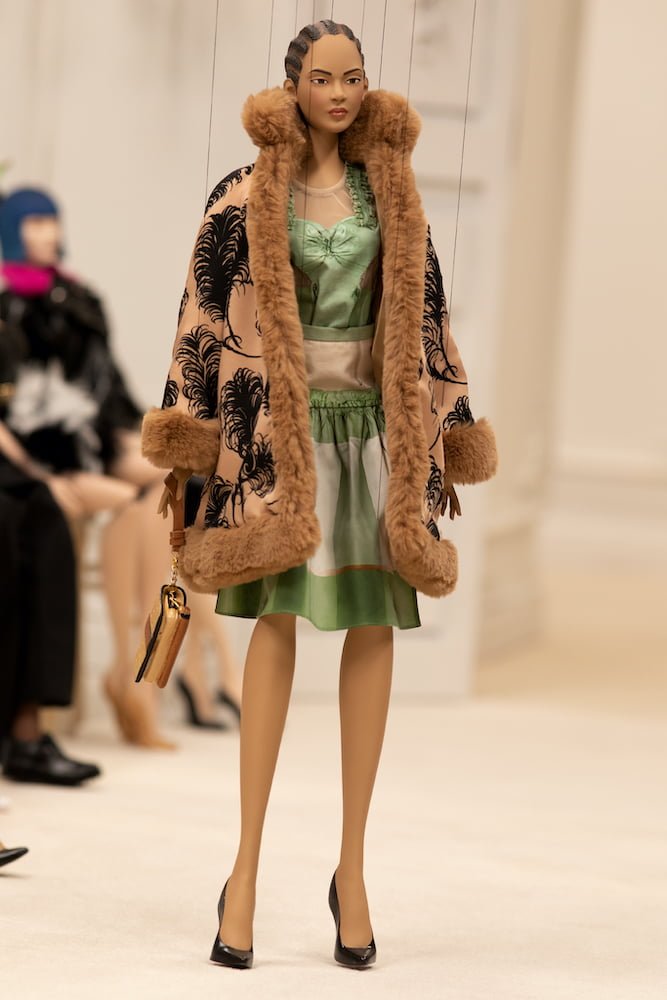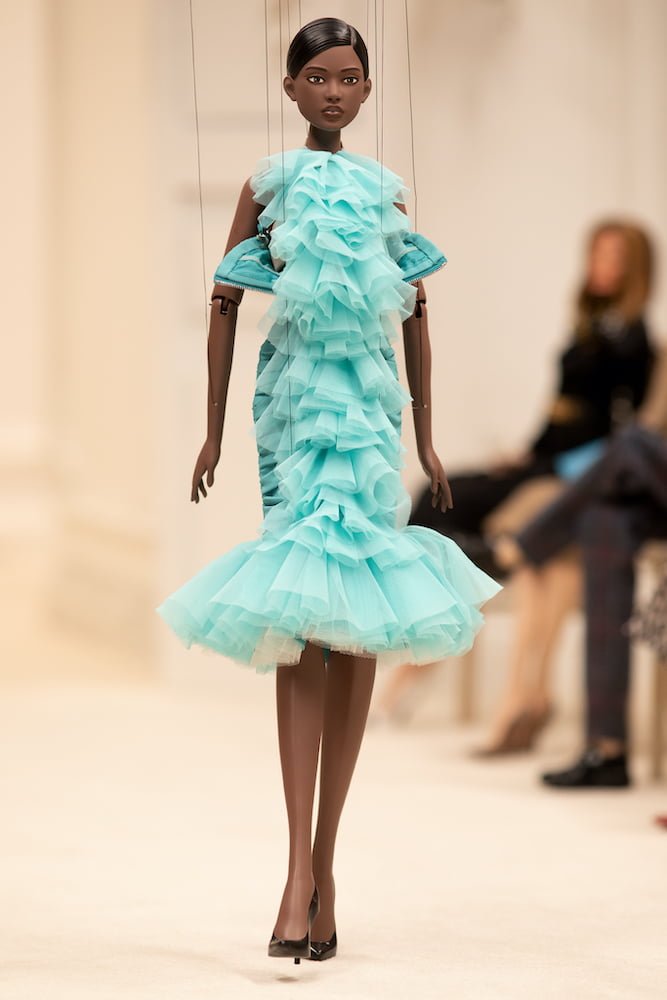 What makes a great fashion show in the Covid era? Ask Moschino's Jeremy Scott. Out of necessity, the catwalk has moved online and onto film. Some designers have revelled in the new format, others have floundered, but Scott has an advantage over the competition. One of the industry's great storytellers, he's always understood how to meld fashion and entertainment. So when he decided, deep into LA's lockdown, to do a fashion film instead of a live catwalk extravaganza, he knew exactly what he wanted.  "My biggest desire is to put a smile on people's faces, to transfix them and transport them and transform everything," he said on a Zoom call before his film was released.
But how do you elicit what Scott calls "warm fuzzies," when as, he says, "we are living in the upside-down, the inside out?" His answer was a wonderfully witty and elegant puppet fashion show created with Jim Henson.
"At the beginning of lockdown, I was thinking about theatre de la mode," said Scott, referencing the showcase of marionettes, dressed in exquisite, miniature French Couture designs, that toured the globe in the wake of World War Two. Many Paris houses had closed during the Nazi occupation and global clients couldn't travel because of post-war restrictions, so this stunningly successful roving exhibition was a way of telling the world that Paris fashion was back in business.
Scott couldn't help but draw parallels with the restrictions of the Covid era. Taking Theatre de la Mode as his starting point, he then thought: "What if the marionettes came alive?" And so, the idea of a puppet fashion show, set in an elegant atelier (complete with puppet versions of Edward Enninful and an imperious Anna Wintour in the front row), was born. Scott could marry his love of nostalgia and childhood references with something elevated, elegant and clearly high fashion. "I wanted to create something that was elegant and a love letter to fashion. I love fashion. I love fashion history. I love our industry and I love being able to tell stories about it."
The LA-based designer found himself in the perfect place to make a fantasy fashion movie. "The most amazing people are here in Hollywood and the most epic of all of them would be Jim Henson and the Jim Henson Creature Shop." It helped of course that Scott had worked with Henson already. "I had dressed Miss Piggy, back when I first moved to Los Angeles. They knew me and they know how passionate I am about what I do and how creative I am and they were really on board."
Realising the project during lockdown was not easy. Henson's studio worked on the puppet supermodels, which are 30 inches tall and as, said Scott, "an amalgamation of all the girls that I love. There are even bits of Peggy Moffat and you'll see little elements of iconic models from different periods." Meanwhile, over in Moschino's Italian atelier, Scott's team re-made his life-size designs in perfect miniature. "They brought all the jacquards down in scale, reweaving everything to match the scale and making all the purses, and handbags in scale, to make everything fit exactly right," he said.
The clothes themselves are a joyful celebration of traditional couture silhouettes and dress making techniques. "All the passion that is put into it. It's such artistry and craftsmanship and it is about the human touch," said the designer. The fittings process was like nothing Scott had experienced before. "It was like having a child and watching them walk for the first time," he recalls, of going to Henson's studio (in the building where Charlie Chaplin made his greatest movies) and seeing the puppeteers move the marionettes for the first time. Like all good Hollywood directors, Scott wanted his audience to, "forget about all the other things, all the doldrums, all the troubles, all the little annoying things that had happened." And like all good Hollywood movies, this one has a happy ending. Smile. You won't be able to stop yourself.