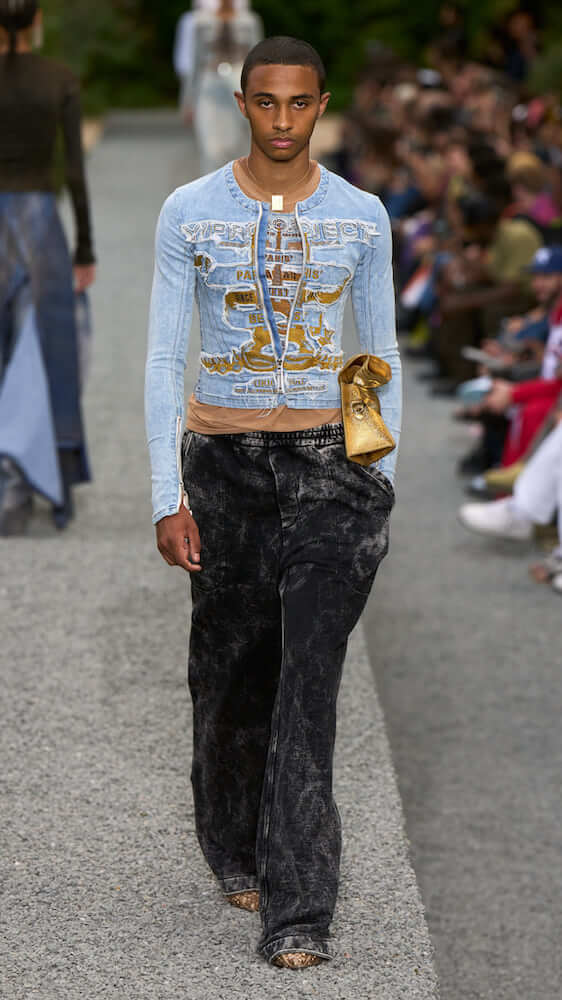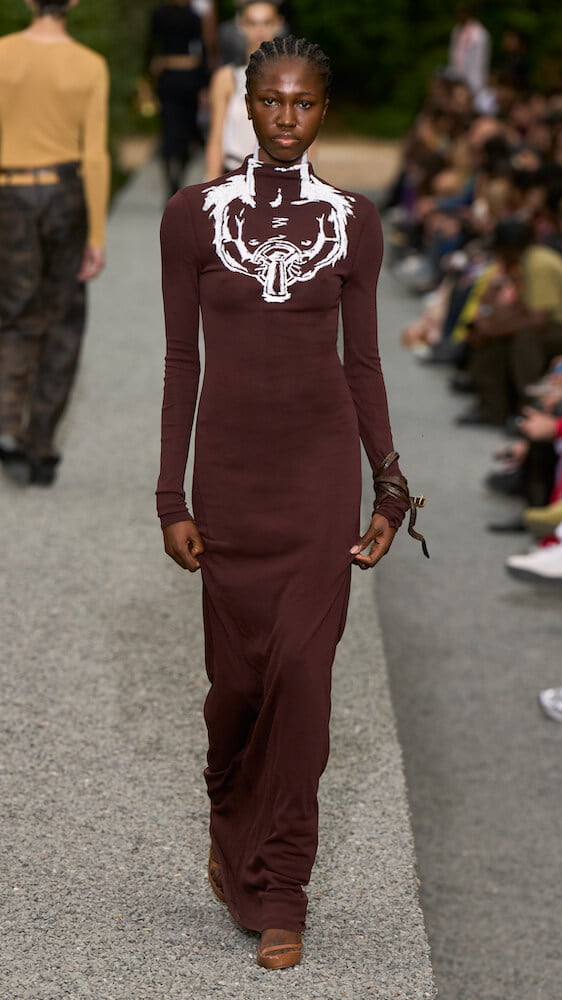 Glenn Martens is a master of manipulation; he creates to intrigue, confuse, and to entice desire. He's been able to take the warped technical brilliance of Y/Project to the mass market with his appointment as Diesel's creative director, and also to luxury's highest altitudes; the impact of Martens' Jean Paul Gaultier couture collection still reverberates across the industry. 
The designer joined Y/Project back in 2013. Yet the dawn of the 2020s has ushered in a newfound appreciation for his sheer talent, positioning himself as one of fashion's finest creatives working today. 
Y/Project's latest outing is a testament to this.  Held in the gardens of one of Paris' elite schools, models awkwardly stomped across a raised gravel catwalk. In they came wearing risqué crop vest tops suspended using fine metal wire, dresses which folded into angular formations like origami, and bodycon frocks and tops printed with bib-sized stencils of angry babies
A pillar of the Parisian label has always been denim, fashioned here into ankle-length skirts which jutted from the body, sack-like boots, and jeans that swirl into a hurricane of fabric. He also applies a new sailor-inspired Y/Project emblem to denim shirts and long sleeves, resembling that of a forgotten noughties brand you'd find buried somewhere in your local TK Maxx. 
There's always a sense of irony to Martens' design process. Be it cheeky middle finger earrings seen on models this season, or the brand's second ready-to-wear team-up with Jean Paul Gaultier. This time around, Y/Project pieces from old seasons came collaged, scanned and printed onto new JPG co-designs, whereby a pair of jeans and a tank top is actually a slip dress, or denim daisy dukes, upon closer, inspection is a miniskirt.
It's this topsy-turvy way of working which has garnered Martens a cult following. His creations challenge his customer, while also putting the power back in their hands to toy and experiment with their Y/Project purchases. And he does all this with a wink and a nudge.
Photography courtesy of Y/Project.