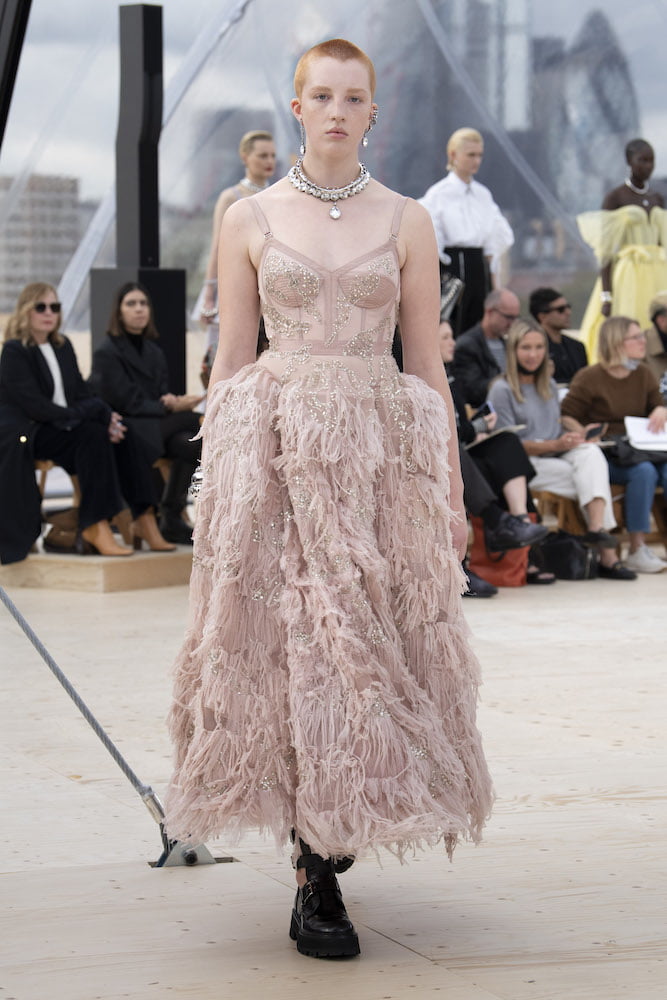 It was always going to be a special moment. This was the first live Alexander McQueen show in 18 months and the first time the brand had shown in London for years. Add to that, Sarah Burton's decided not to show within a regular fashion week setting, but opt instead for a mid-week show in a specially constructed biosphere bubble, perched on top of a multi-story carpark in London's docklands.
The city skyline – a jumble of historic and modern architecture, framed against a dramatic cloudscape – was a fitting backdrop for McQueen, a label rooted in London. Burton was inspired by the skies seen from the roof of her studio. She watched them obsessively during the long lockdowns, describing them as an "ever-changing, all-encompassing magnificence". That led her to storm chasing, and the idea of bearing witness to nature at its most intense: "To be at one with a world that is bigger and more powerful than we are," said Burton. She responded with cloud formation prints, billowing hems and sleeves, tailoring dripping in crystal raindrops and bodies enveloped in misty tulle.
As well as showing off her distinctive McQueen silhouettes, the show was a landmark for diverse casting, which in turn inspired a different approach to design from Burton and her team. Many of the models weren't models at all, and Burton approached creating this collection by responding to their distinct shapes and personalities. Rather than imposing a look upon a model, the process became collaborative and very human. "It made you focus on the individual. It became about this community of women that we've worked with for 18 months and how these clothes look on women," she said backstage of this empathetic and collaborative approach. If a look wasn't working on a certain girl, she'd get rid of it and make something else. "I made clothes for them as people. It was about them inspiring you as much as you inspired them. It's about treating each of them as an individual and enhancing their personality, and how they feel." Emotion. It's something Burton excels at in her staging, storytelling and clothes. Feeling is believing.
Photography courtesy of Alexander McQueen.