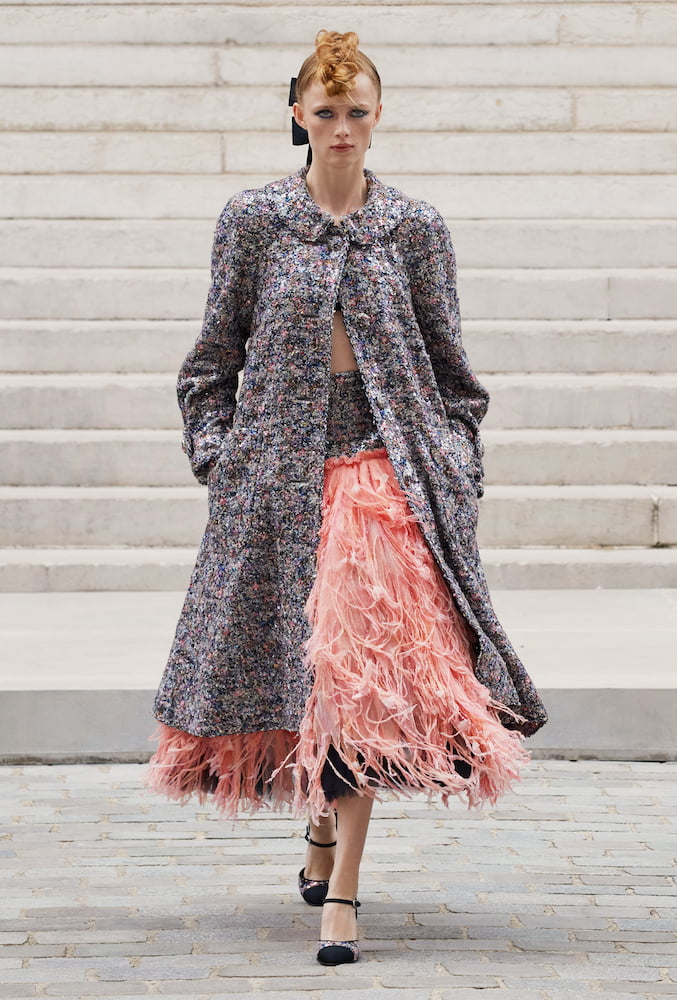 Virginie Viard was inspired by paintings for her joyful Chanel Couture collection that burst with decorative flourish. The designer referenced Marie Laurencin's Jazz Age portrait of Chanel and the work of the French Impressionist painter Berthe Morisot, who in turn was painted by her brother-in-law Edouard Manet. Translated into clothes, that meant painterly tweeds, woven from colourful ribbons which resembled brush strokes and highlighted with painterly dabs of iridescent sequins.
The models' tweedy suits and sweeping coats danced and glistened in the morning light as they strode through the inner courtyard of the Palais Galliera. The famous fashion museum is currently hosting a remarkable Coco retrospective Gabrielle Chanel: Fashion Manifesto. The craft on display was jaw-dropping, from a jacket bursting with fully embroidered camellias, coats festooned with 3D flowers and skirts made from playful pink feathers. Little camisole and bloomer sets provided a youthful alternative to big gowns, whilst silver tinsel boas made louche, white tweed trouser suits instantly dancefloor-ready. The ravishing prettiness of the colours and decorations added to the mood of joyful romance.
The show closed with a shower of confetti as the actress Margaret Qualley, dressed in a pale pink, long-sleeved satin bridal gown, tossed her bouquet into the audience.
Photography courtesy of Chanel.