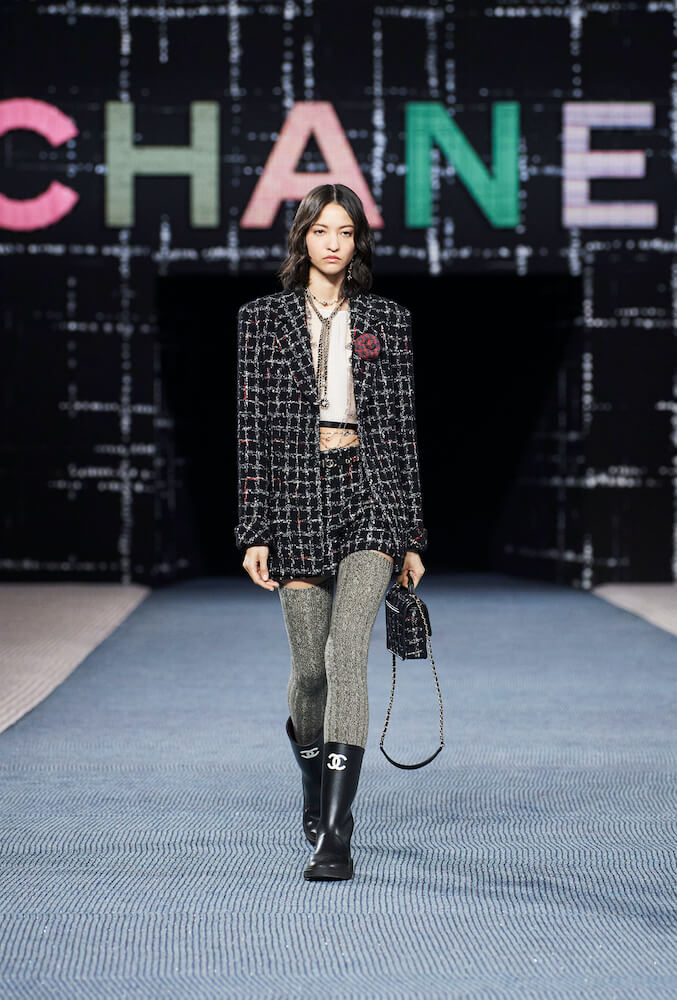 Tweed: it is the timeless heart of Chanel. Virginie Viard dedicated her whole show to the fabric, presenting her collection inside a tweed arena, where the walls, floor and seats were covered in the stuff. Gabrielle Chanel had first come across it in the 1920s, on hunting weekends with her lover, the Duke of Westminster. She adopted the country fabric, instructing her artisans in Paris to create sophisticated city versions which she then used for her iconic suits. Tweed became the emblematic Chanel fabric and the tweed jacket is an icon of the house.
The Tweed suit has been reinvented in every Chanel collection since. Warm, soft, comforting – the properties of tweed feel right in this moment. For AW22, Viard mined its country origins, shooting a teaser campaign on the banks of the river Tweed in Scottish Borders, where the fabric originated. She used a palette of heather pinks for mini-length, tweed coat-dresses worn over denim shorts with thigh high Chanel wellies – expect to see those boots go viral come the autumn. The classic suit was also reimagined in enveloping knit and styled with cosy tweed socks. With their swinging, bobbed hair, low-heeled sling-backs, tweedy mini skirts, and little leather shift dresses, the spirit of the 1960s art house ingénue also blew through this collection. It gave an upbeat, youthful feel to Viard's cosy, comfort dressing.
Photography courtesy of Chanel.