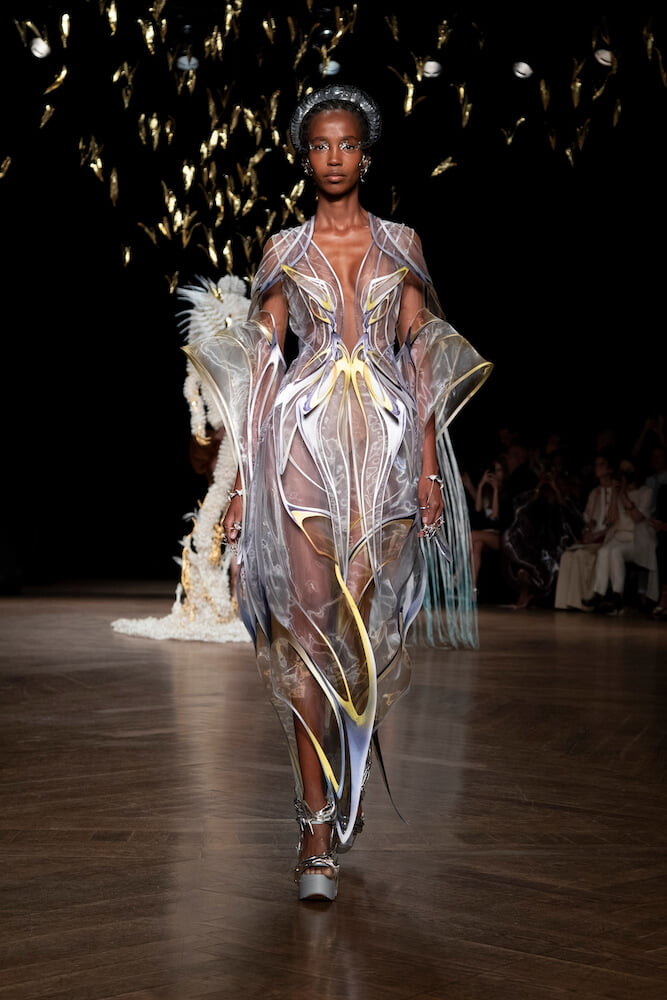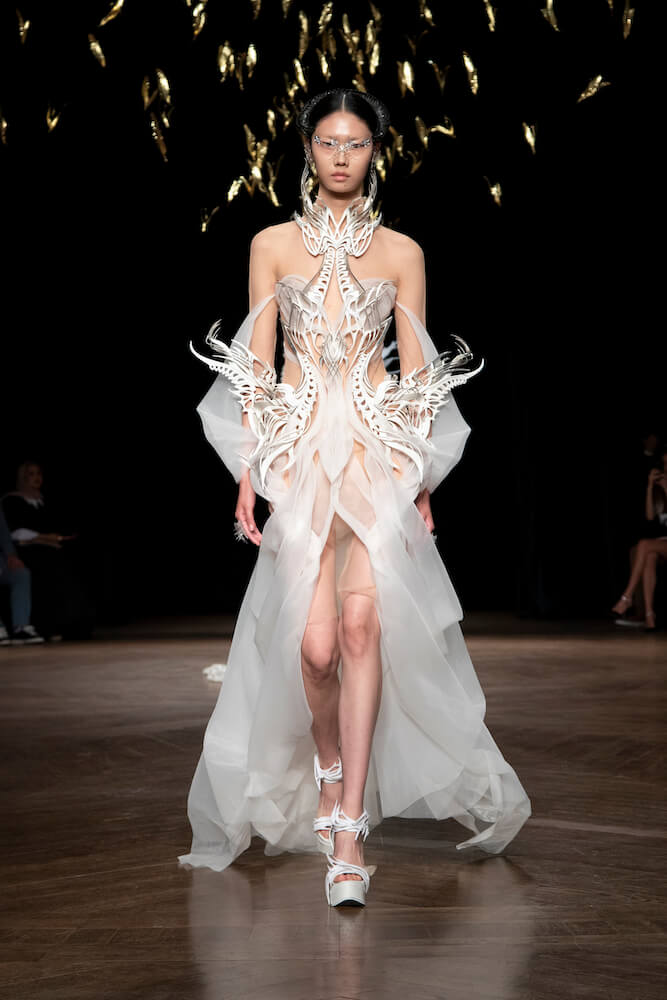 In fashioning the future, one must be introspective and retrospective – at least according to Iris Van Herpen. Her AW22 collection was inspired by the work of Ovid – the Italian playwright who, in his eighth century poetic magnum opus Metamorphoses, speaks of the place of humans amongst nature. From the proses Daphne, Arachne and Narcissus, Van Herpen crafted 16 looks and an additional three that were exclusive to the Metaverse. In lieu of the poems, she begged the questions: Who are we beyond our physical form? Where are we going as a species? How do we fit into a post-human reality? Is our digital form shaping our physical one? 
Dubbed Meta Morphism, the notion of post-humanism lingered in the collection, as Van Herpen navigated the ramifications of technology complicating both identity and reality as a result of our ability to create digital doppelgängers. 
Hand-executed couture techniques blended with 3D-printed constructions and like apparitions, transparent voluminous drapes enshroud the models, creating a cosmic web and further questioning the limits of the homosapien spirit. The parabolic collection felt curiously forward-facing with a certain milieu of optimism. Beiges and cream hues juxtaposed accents of dark blue, amethysts, ochre, metallic silver and copper, creeping into translucent layering, reflective textures and sinuous Grecian drapery. 
Pushing the limits of imagination beyond fathomability, the Dutch designer has proven to possess an idiomatic niche; her style is otherworldly – like swirling ethereal bacteria from outer space – and though her idiosyncratic technical wonders may defy the laws of physics, they are grounded by the biosphere. In fact, biodegradable materials were conjured through 3D-printing this season. So while a catsuit used left-over cocoa shell beans, laser-cuts and embroideries employed 100 per cent recycled Mylar and upcycled organza.
This is Iris Van Herpen at her best: eternally exploring the exponential expansion of our digital existence, all through immensely beautiful clothing.
Photography courtesy of Iris Van Herpen.