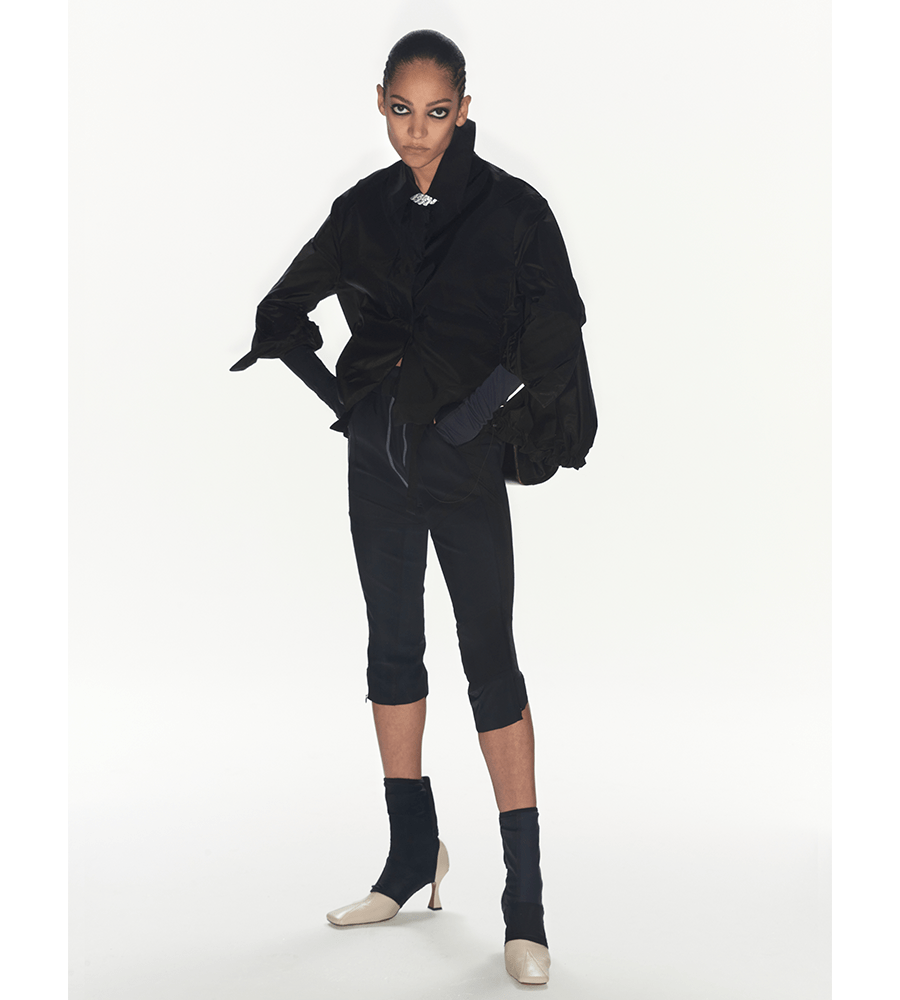 Having graduated just last year from Central Saint Martins, Estonian-born designer Johanna Parv has spent the past 12 months working at Burberry, producing a collection for Machine-A and developing her glamorous take on cycling garb.
The result of such dedication and devotion to her occupation has resulted in the launch of a new stand-alone capsule. Titled 51°30′26′′N 0°7′39′′, the designer presents the collection via a film which follows five women from different walks of life. "What I find the most inspiring is that they are all so brave and really don't let themselves distract in the way they live or dress because of the fact that they are cycling," says the designer. "It's really part of their lives and feeling, looking feminine is very important to them. They feel freer and empowered while cycling and definitely more connected to the city."
51°30′26′′N 0°7′39′′W is an elegant take on cycling wear fitted to inner-city life, named after London's coordinates. "Rather than writing London, I wanted to find an alternative way to do it, so using the location code seemed the most logical decision," says Parv.
In creating the collection, the designer spent days cycling around the city, talking to fellow women cyclists on the road. Their stories and desires when it came to their wardrobe fueled the collection entirely, with Parv creating a series of hybrids – be it skirt-trouser combinations or form-fitting tops made from elasticated sporty fabrics. The designer inserted zip openings across garments to allow the body to cool after finishing a gruelling ride, adding accessible pockets, removable sleeves and even hoods that have openings to poke your hair through. "I wanted to create garments which allow you to cycle but also look elegant after and before," says the designer.
Photographer : Ladislav Kyllar
Designer: Johanna Parv
Design Assistant: Selma Carlsson
Model: Donnika Anderson
Stylist: Hamish Wirgman
Styling Assistant: Kit Rimmer
Hair: Benjamin David
Make-up: Lynsk
Film
Director/Sound Design: Luke Clayton Thompson
Creative Direction: Johanna Parv
Interviews: Nini Barbakadze
Stylist: Hamish Wirgman
Assistant: Selma CarlssonFeaturing: Theresa Begon, Laura Foulds, Eve Lam, Pippa Roberts, Riyam Salim