What does an IT-bag make? A new shape, a genius solution for its closure or a totally extreme proportion? It's hard to find just one answer, especially when looking back at the past two decades of bag design. Some classics have contained their success throughout – think Hermès Birkin or a Chanel 2.55. Others, like the Louis Vuitton Speedy or the Balenciaga City serve as secret codes helping date a certain paparazzo shot to an exact moment in time. In the past few years though, the definition of an IT bag has moved on from being a bag of mass appeal and became more of a cultural phenomenon. Thanks to social media and the role of an influencer in the industry, the object has moved on from being just a fan favourite and into a tool for creating buzz around the brand. "It takes a lot of marketing doesn't it? But whether or not the person buying the bag realises it, they are buying it for the function – I think that's such a boring old lady thing to say but it's true," says Katie Hillier, a designer responsible for the first wave of IT bags in the nearly noughties.
Today, Hillier is designing watches and eyewear for Marc Jacobs, consulting for activewear favourite Lululemon and American lifestyle brand Shinola as well as running Hillier Bartley with her long-time partner Luella Bartley. And on top of all that, she is also the creative director of J&M Davidson, a somewhat forgotten British heritage brand founded in 1984 which was bought by a Japanese company Yagi Tsusho in 2013 and has since been on its way back into the (fashion) world. Hillier's part in that move forward is introducing the style she crafted through years of experience while forming a new, total vision of what JMD is today.
It's been two decades since Katie Hillier designed her first bag. At the time, as a recent graduate from University of Westminster, she started consulting for accessories brand Hogan after working with Stuart Vevers at Luella, capturing the cultural zeitgeist of the new millennium. "I didn't really know a lot about the handbag industry as such because I wasn't really that aware of it. At that same time that I was working at Luella, Stuart [Vevers] was working at Bottega [Veneta] and that's where we all met. Luella and I would go over to Italy and hang out with Katie [Grand] and Giles [Deacon] when they were preparing for the show and I just remember being in this showroom looking at the beautiful handcrafted accessories created for it, thinking how there's a whole other world and layer to this fashion business," Hillier tells me. The reason she even got her first gig at Luella after she gave a beaded gecko pendant to Grand for her birthday, after which the super-stylist wanted to include it in Luella's debut SS00 collection Daddy, I Want a Pony, along with a matching beaded belt which was the first accessory Hillier ever made.
And once you've joined the Katie Grand universe, you're there for good. Hillier and Bartley recognised how great they are as a duo and embarked on a joint trip to take over the industry. They started working with Marc Jacobs at the time of his commercial hey-day, Hillier on accessories and Luella on ready-to-wear, before embarking in their first role fronting the public as the co-creative leads of Marc by Marc Jacobs. Hillier's favourite bag of the time is her namesake one – the Hillier Hobo. "It wasn't necessarily the most stand out bag but it sure did sell a lot and it was a cool bag at the time. Whenever I go in the store all of the staff still are still like 'Ohh, Katie Hillier' which is quite funny." But as I talk to Hillier, it's clear that, while very much respectful of her colourful past, she is constantly focused on what's happening next in her career.
With so many different roles on her plate, she still doesn't recognise a big difference between designing for a brand that carries her name and consulting for someone else. "If I were designing something for Hillier Bartley, then I'd put a Hillier Bartley hat on and every decision that we make does go back to who that the woman. Is that the right leather for her? Is that the right bag? Is that exactly the right look? It's the same for every other brand – it's not about you designing your designs and then that brand using them. It's about using your knowledge and skill to be able to design something that works for a brand and that the customer will see it as a bag that's designed within that brand." It's a set of expert skills mixed with a lack of ego that have made Hillier the success story she is. 
At J&M Davidson, the main goal is to take the brand to a more global position without taking away from its current success in Japan. "What works there doesn't necessarily work across the globe even though us Westerners like to think that anything that happens in Japan is radical and forward-thinking. Actually, it's not always like that and just like everywhere else, you have brands that are more conservative and brands that are more high fashion." The challenge of her role as the brand's creative director, Hillier is using her design skills for the sake of changing the mindset of the audience, one step at a time. With a small team of around 15 people, it's not about completely reinventing the wheel and breaking the boundaries. "I think it's a bit like a mathematical equation that you have to do rather than just a design project. There's a kind of target customer we have over here and a price that we want it to be. And if you want it to be that price because that's going to be the best point, then you can't really do just anything. So, a lot of that needs to be figured out even before you're designing."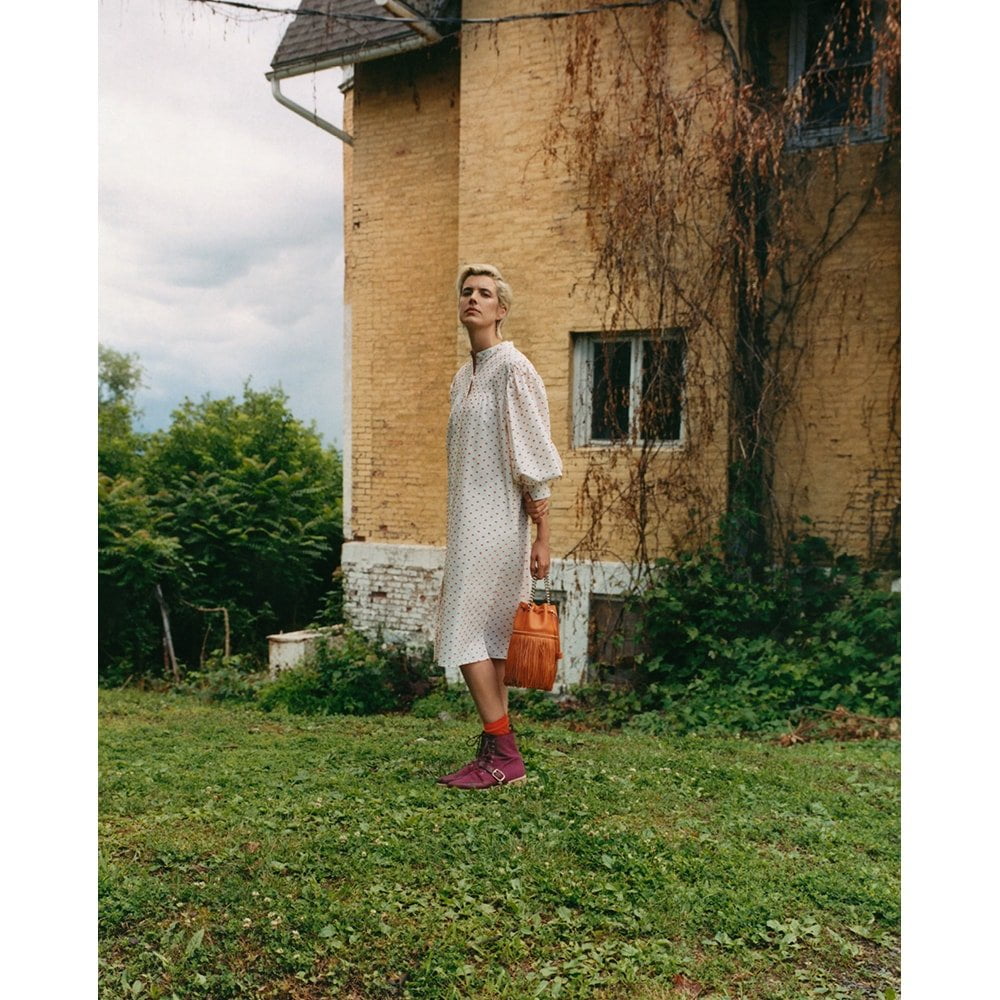 With her latest, second collection for the brand though, Hillier continues to push the boundaries of a contemporary, commercially-conscious brand. "Everything is developed and made in Japan only using Japanese fabric apart from a couple that we absolutely have to get from Scotland because that is literally the only place that you can get it. We are doing that because we are trying to be sustainable," she says. Boxy ready-to-wear that clearly reference the nostalgia the world came to love during her stint at Marc by Marc Jacobs. Hand-painted prints in full looks are matched with the bags, while a definite sense of masculinity showers across the whole story, including elements of men's tailoring, workwear and even pyjamas. The star of the collection is definitely the trapezoid-shaped tote bag, coming both in soft, monochrome leather as well as splashed with paint with a wooden handle. Simple yet recognisable
While some consider the era of the IT-bag over (at least in its original form), Hillier still recognises there are two clear goals in successfully designing an IT bag. Marketing aside, the two streams are separated just like our brains. One is the rational one: "it doesn't matter how pretty, cool, or clever the bag is – it has to function. Whether that means there's a crazy shoulder strap which actually does go across your body in the right way. And you do need to be able to put your phone in it." The other side is emotionally-led: "it just has to be a really compelling, beautiful object that maybe you're not going to wear everyday. I think you've gotta have both of those things really to make it successful. But it has to feel like a brand otherwise you may as well just buy a vintage bag." And there's nothing wrong with that? "Exactly. I do it all the time."