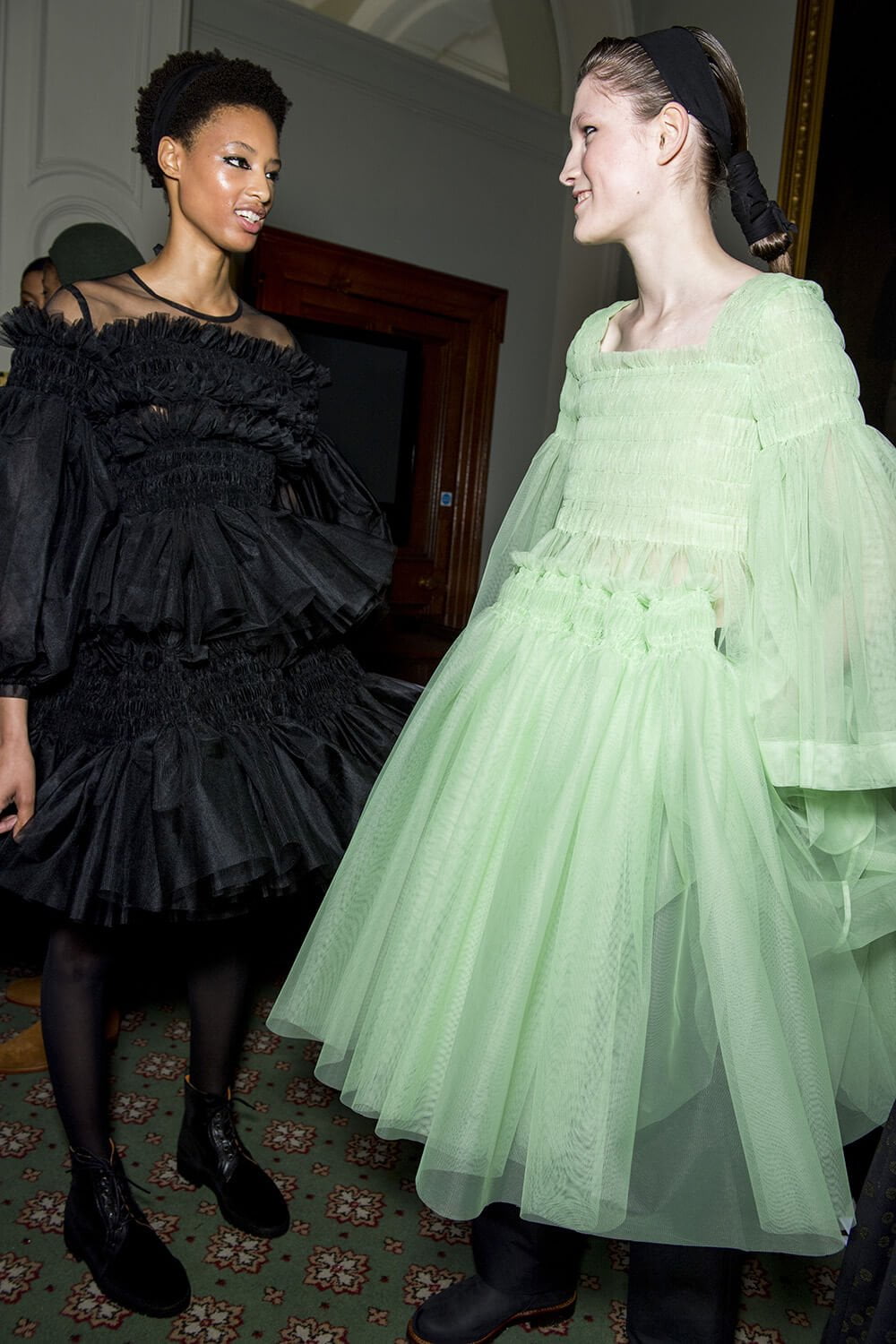 While some designers approach their collections scholarly, Molly Goddard looks at clothes in context of evoking emotion. This season's emotion: "something that makes you feel secure," she said backstage. But don't mistake this emotion-led spirit for frivolousness – there's absolutely nothing flippant about Molly's work.
Today, the British designer showed her AW19 collection inside the Durbar Court at the Foreign & Commonwealth Offices in Westminster. And there we were, under official security with red lanyards around our necks, waiting to see what kind of candy-like concoction Molly prepared for this season. The set design created by Simon Costin included an elevated catwalk platform in the middle of the monumental space, with built-in air vents in the floor, made to recreate a fresh, windy winter day. And there she was, that Molly Goddard girl walking against the weather. Instantly, something seemed different about her. Is it her hair? Perhaps she changed her scent? Whatever it was, she seemed a bit more mature. She's doe-eyed no more, but there's still plenty of her childlike character to pass around. The signature smocked tulle dresses were now worn over robust men's trousers, with heavy knitted socks and clogs (designed in collaboration with Penelope Chilvers). Knitwear played a big part in the collection too – argyle jumpers and tea-length skirts completed the winter wardrobe. One particular look – an asymmetrical fringe tunic made out of crystal mesh – was a new thing for this girl. Is that the direction she's going in the future? Perhaps. But for now, the Molly Goddard girl has got her vintage cushion nylon clutch bag – to carry all necessities and daydream when needed.
Photographs by Jason-Lloyd Evans.