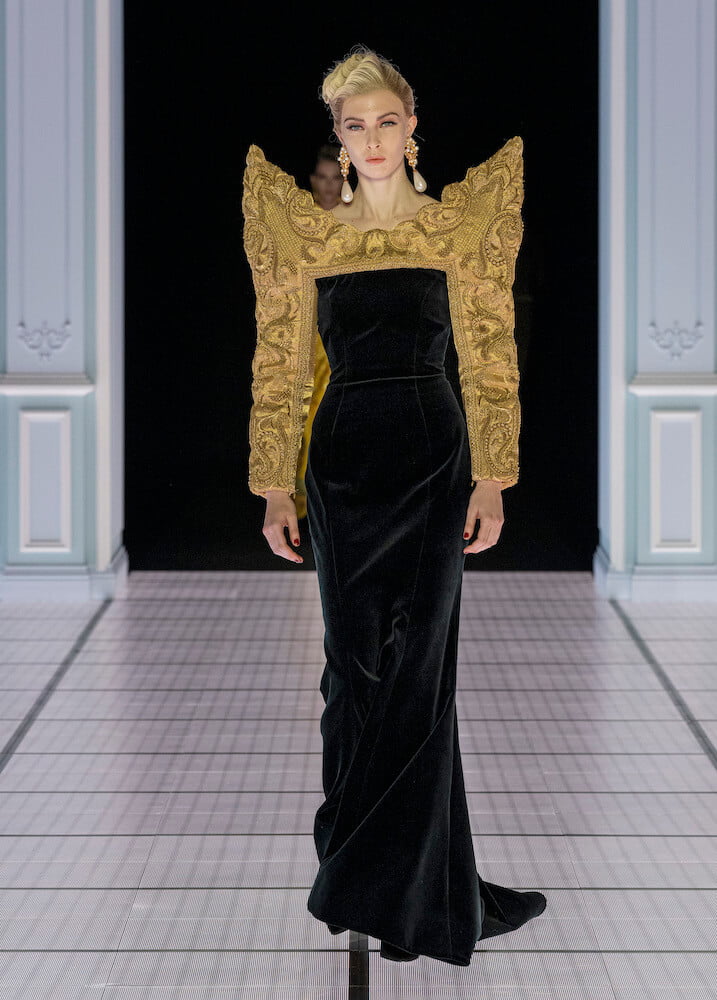 Imagine the Antiques Roadshow but make it fashion: that was the idea behind Moschino's wildly witty AW22 show. Inspired by Franco Moschino's famous cutlery brooches and jackets fastened by hot-and-cold faucet buttons, Jeremy Scott hit upon the idea of wearable antiques.
He imagined a grand mansion with all the usual trappings of wealth, transformed into fantastical outfits. Gowns were draped from Persian rugs, hats (ingeniously created by Stephen Jones) were shaped like fringed lampshades or golden candelabra and jackets were embellished with gilded ormolu embroidery. One model wore an coromandel screen as a dress, another sported a silver platter bustier, but they were both topped by a girl wearing a golden harp as a gown.
"I wanted to make it cinematic," said Scott of his staging which melded Kubrick's clinical classicism with Disney's surreal fantasia. The models walked on a white square of light to the 2001: Space Odyssey soundtrack and Scott took his bow in a red leather version of the iconic red space suit from the movie. As war raged in Ukraine, Scott conjured a blissful bubble of escapism and yet the weirdness of it all – the familiar made strange – rang true.
Photography courtesy of Moschino.