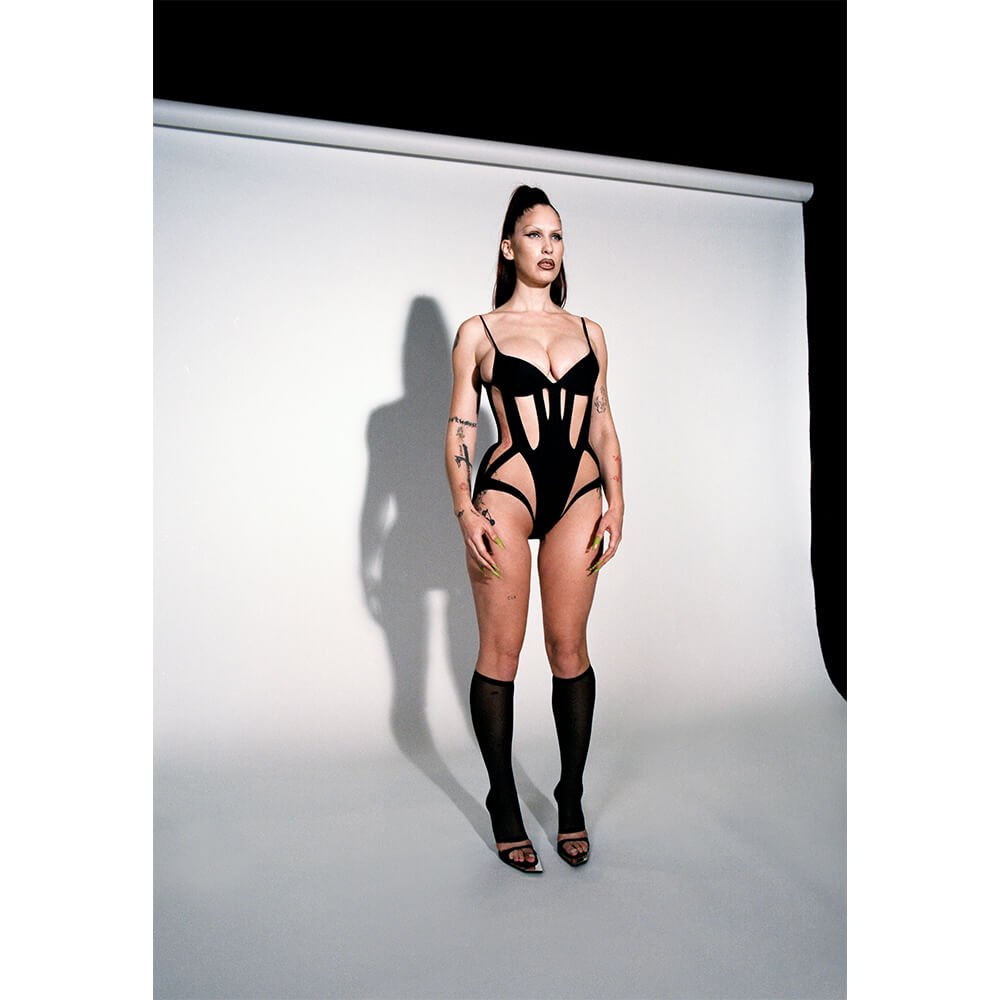 Casey Cadwallader strikes again. The Mugler designer has skipped the catwalk once more in favour of his newest, mini blockbuster. Through the pandemic, such films have propelled Cadwallader's vision for the storied house to the heights of Hollywood, with the biggest names in showbiz flocking to the designer to feel their own superhero fantasies; armoured in skin-tight, nude illusion Mugler bodysuits which are inclusive of all body types.
Though this season's flick comes with an extra dollop of Tinseltown magic. Working again with director Torso, the duo headed to Paramount Studios, where Mugler's courageous women kicked, dipped and hair-flipped their way through film set backlots. Joining Mugler's on-going cast of warriors – which includes everyone from Bella Hadid and Lourdes Leon, to Dominique Jackson and experimental musician Eartheater – is Megan Thee Stallion. Cadwallader recently co-directed the video for Stallion's single "Plan B", reuniting once more as the globally-adored rapper appears as a billboard starlet – clad in an ass-baring Mugler bodysuit fashioned from denim.
As the camera pans from Stallion, there comes the It girl, Chloê Sevigny – clad in a semi-sheer mini-dress – who poses before Shalom Harlow and Amber Valletta, both riding a state of the art film set camera as if it was a mechanical bull. (Mere minutes later, the two supermodels share a snog on the bonnet of a stretch limousine, proper hot-under-the-collar viewing.)
Throughout, both Mugler and Cadwallader signatures get a touch up. The brand's hit illusion bodysuits now come in rave-ready hues: flashes of orchid pinks and purples, vermillion, and coral, spread across razor-sharp cuts. Perspex hardware – a Manfred Mugler classic – also features across sculpted shirts and trousers, paired alongside XXL hoop earrings and Cadwallader's newest creation: the Hoochie dress, a gloved, asymmetric frock with plenty of cut-outs – offering glimpses of erogenous zones. No one does sexy dressing quite like Mugler.
Photography courtesy of Mugler.