The full-body jolt, the gasp, the hit. I had almost completely forgotten the lightning bolts of surprise and euphoria that seeing brilliant fashion can send through you – the memory of that sensation had faded away during the pandemic. This was until July 7th, when we were all sitting at the Balenciaga haute couture show.
Demna Gvasalia opened with eight black tailored suits, all of which were greeted by momentous silence – you could hear breath being held – throughout the newly-opened couture salon at Avenue Georges V. It was the third look that whacked me: a rigorously elegant single-button, hip-length tuxedo with a long column skirt. The jacket was broadly proportioned in the shoulder and expertly cut to skim the waist. There were wide-ish sleeves which had one-centimetre trompe l'oeil slivers of white shirt showing at the cuff. This utterly adult, perfectionist tailoring was interrupted by zero decoration – except for a single fringed crystal jewel pouring from one hand. Oh. My. God.
What's for sure: this was a very different picture from the apocalyptic Balenciaga show he put on in Paris in March 2020. I will remember that day forever. Sitting with sinister black water lapping at our feet, watching a projection of burning skies rolling above and feeling cold terror at the news of Covid-19 moving inexorably across Europe, I decided right there at that show to cut my trip short, fetch my bags and run. There were no masks, no social distancing, no hand-sanitising protocols, no talk of lockdowns, not even the faintest talk of a vaccine. Sickness and death were coming.
Armani Privé
The physical impact of being at that in-person show in July was one hell of a re-entry to Paris after 18 long months of Zoom communication through screens. For Gvasalia, it was a triumph at every step: a fierce and noble fusion of his own crystallisation of what dressing well means today matched with Cristobal Balenciaga's heritage. Reaching far beyond the cliché, it was a fashion sensation.
Emotions were more naked, more vivid, more all-over-the-place during that haute couture reunion in the season. Everyone was masked, double- vaxxed, not kissing or hugging, but really happy to see each other again – that was human and thrilling in itself. What I'll remember most about those first few days, though, is how it felt like walking around Paris had stripped off several layers of skin. With a year and a half of distance suddenly removed, what hit most was feeling the unfiltered explosion of colour and texture, the micro-detail of embroidery, the sound and movement of fabric swishing past before my very eyes. I mean, could there be any more of a psychedelic way of getting plunged back into viewing clothes than haute couture, with all the insanity of its handiwork and extravagance?
Christian Dior, Chanel and Armani Privé were all back, staging real-life couture shows in Paris with audiences. At Chanel, there was the retina-pinging experience of seeing peach-coloured ostrich feathers, perceiving the intricate 3-D depths of flower-embroidered jackets and the delicacy of the lace-and-ribbon-trimmed pastel nightie-bloomer as they passed by inches from our eyes. At Dior, it was a moving experience to witness Maria Grazia Chiuri showing the collection she dedicated, literally, to how haute couture binds together both the threads of the fabric and the communities of people who make it all along the supply chain of the house. At Armani Privé, we had the calming intimacy of sitting in a gilded salon on widely-spaced gold chairs, watching Armani's shimmering holographic silks and the dignified ease of his signature jackets and pantsuits pass by. It was almost as if nothing had changed.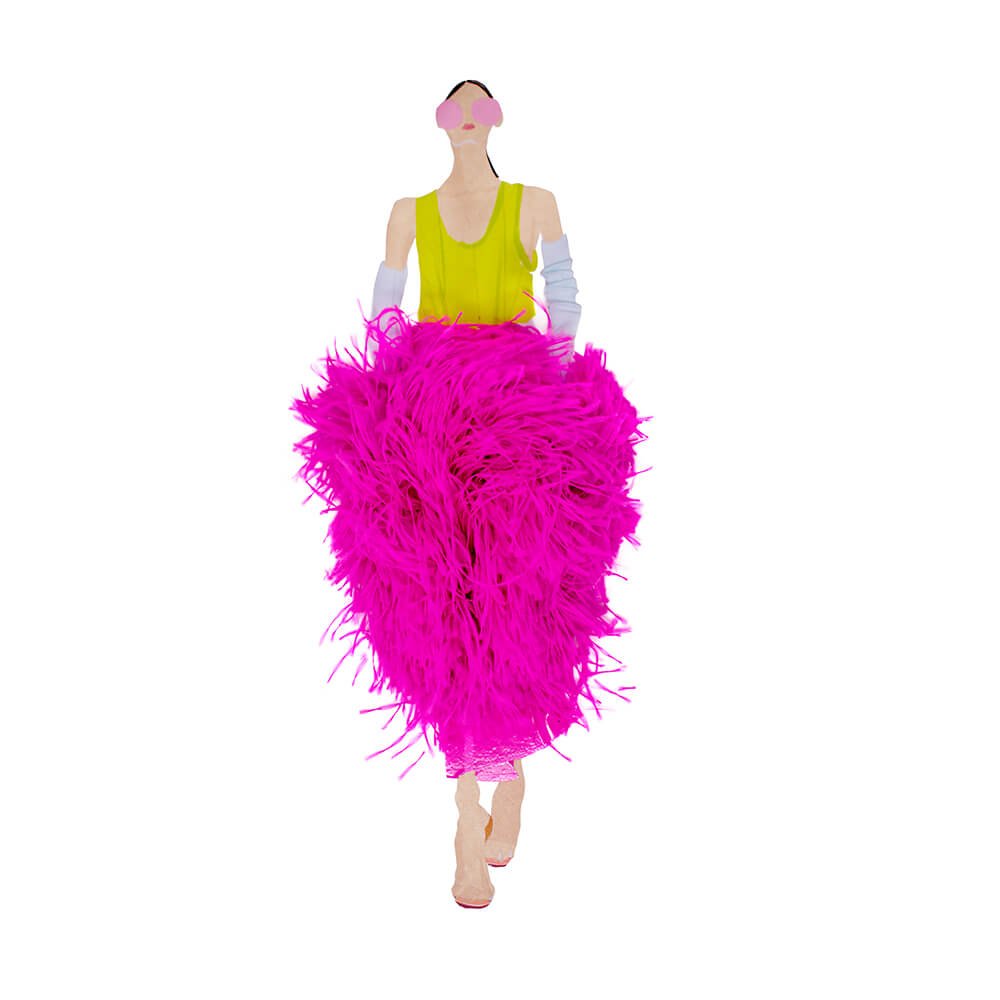 Valentino
Only everything has changed, of course. For one thing, haute couture happens all over the place now. The age-old formulas that used to pin down fashion weeks to gatherings in one place, time and format are now morphing and blurring. That's partly been accelerated by the effect of the pandemic but it's also due to the unstoppable movement that has all designers (major to micro) now deciding how best to command attention in their own created spaces. Digital-physical hybridity, in ever-shifting permutations, has become fashion's new reality.
In Milan, Kim Jones shot his Fendi couture on a set, evocative of the Roman architecture of the house's headquarters, and communicated all the spiralling fragility of his dresses and the intensely-worked mosaic surfaces (some of them embroidered with reclaimed fur) online. Pierpaolo Piccioli staged his spectacular Valentino couture show in Venice on a runway floating over the city's ancient shipyard. In front of a live audience, who were invited to dress in white, the drama of the occasion was carried through the livestream. The modernity of shapes (trousers, sweaters) and the wildly vivid saturation of colour – magenta, lilac, pink, pea-green, blue, absinthe yellow – built to a magnification and glorification of outsize gowns.
There was no mistaking it. All these shows – Balenciaga included – were fashion's first sightings of the surging impulse to reclaim and redefine glamour. Extravagance and hedonism as revenge against the dark times we're living through, most certainly. In real time, there was a rollercoaster intensity and weirdness to following all this. Rushing from real-life experience to online immersions, one moment you'd be exhilarated, uplifted and carried away then, in the next, thinking: this is surreal. For Daniel Roseberry, it was the perfect time – in the hysteria of these times – to come up with his arch-surrealist modern-girl interpretation of Schiaparelli's heritage. Amongst his collection (which was shown in an exhibition at Schiaparelli's salon on Place Vendôme), Roseberry designed a black dress which had a pair of 3-D gilded lungs – complete with filigree bronchi – suspended from a chain against a naked chest.
Schiaparelli
The topical meaning of that was mind-blowing when you thought about it twice. Subconsciously or consciously, all of these designers were somehow processing the collective trauma of living through the pandemic. Images of escapism, the drive to celebrate being alive, the encouragement to choose optimism, the need to forget and carry on – all were wrapped up in the very fabrics of this season's haute couture.
I'm still not sure how I'm processing it all myself. Is it basic human nature to rush on and block out what happened, and what's still happening? John Galliano was the only one who seemed to stop and acknowledge the existential struggle between humanity and the uncontrollable forces of nature in the film made for his Maison Margiela Artisanal collection. Named A Folk Horror Tale, its narrative swirled around a group of shipwrecked young people eking out some sort of time-travelling, post-apocalyptic, ritualistic life on a storm-lashed shore.
He described the clothes and the processes in detail in a videoed prologue: in-depth descriptions of experimentation, washing and shrinking, ideas transferred from blue-and-white Delft tiles and shopping in charity shops to find upcyled fabrics. Galliano is as romantic as ever, skilled to the fingertips through so many years of working in haute couture, driven by experimentation and discovery. Ultimately, though, his mission to transform the leftovers of the world into beautiful things felt infused with another kind of optimism – a modern idea of haute couture that young people could get behind.
Pyer Moss
Of course, couture – made to measure, designed for the fewer than 1 per cent of the world's super-wealthy – will never be for everyone. It's not for me, that's for sure, much as I want look three at Balenciaga. Even so, this was a season of high fashion which somehow signposted so much that's been going on down here on Earth. I can't make this into a neatly wrapped-up message, except, well: when fashion moments are as sublime as some of the ones that passed by this summer, then carpe diem. It felt good to be alive again.
Top image: Balenciaga. Collages by Blue Farrier. Taken from 10+ Issue 4 – BACK TO LIFE – out now. Order your copy here.
Balenciaga 

Chanel
Valentino

Dior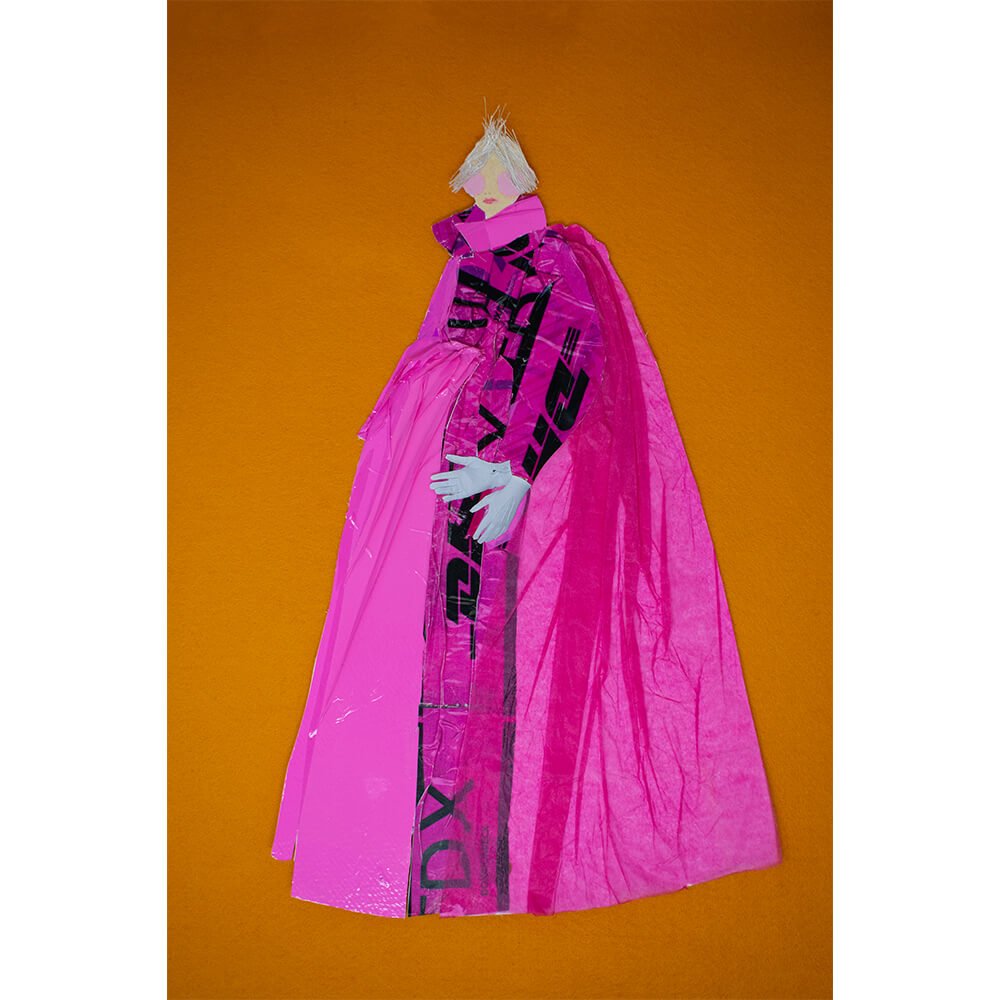 Balenciaga