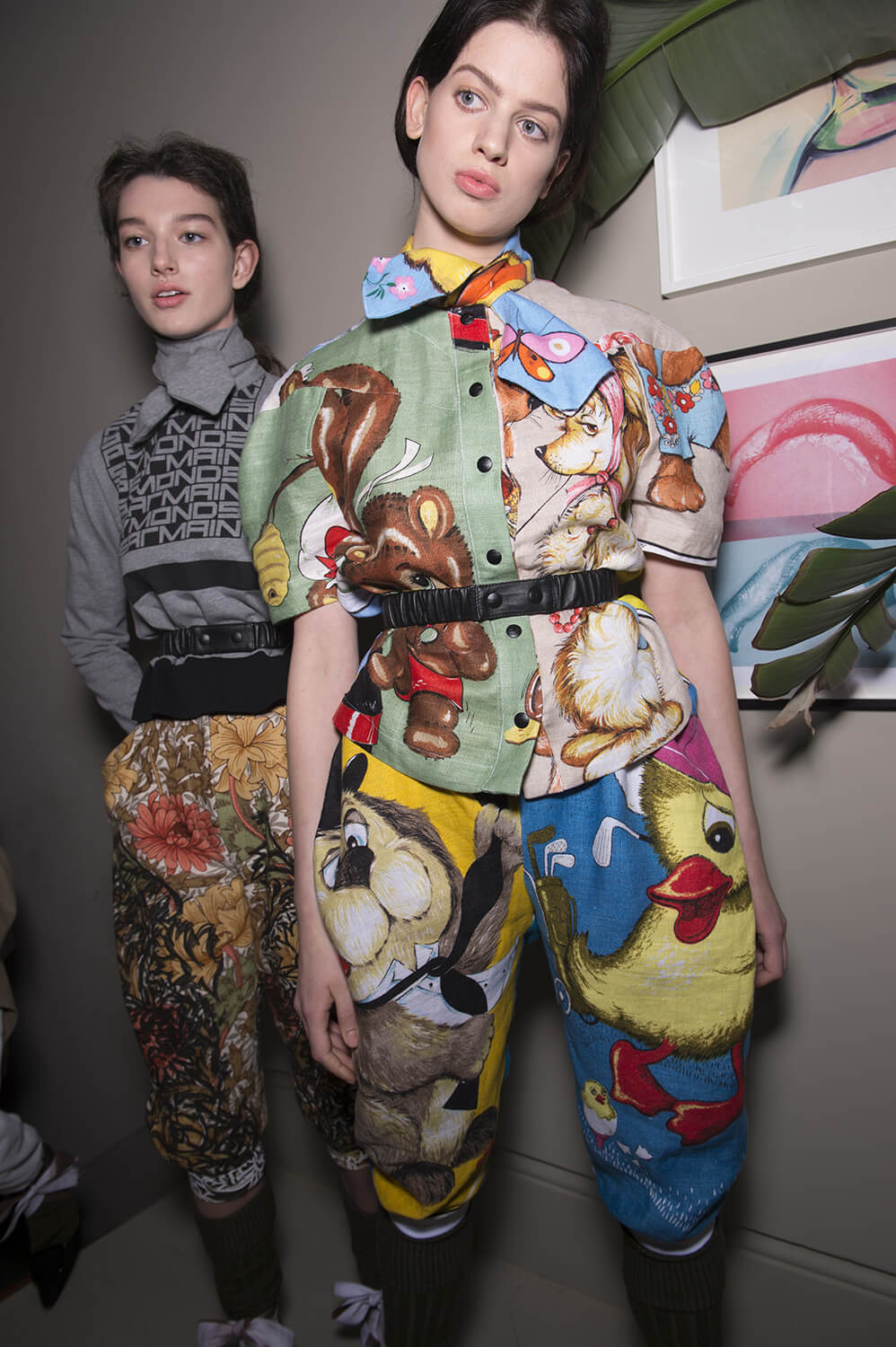 She's a power bitch and she's in control. Last night's salon-style show courtesy of stylist-designer duo Symonds Pearmain was one for the books. With the sound of a telephone line and a female voice saying "Hello, I'm calling on behalf of Mick Jagger," as the opening soundtrack, the mood was set. We're in 1980s Paris, only we're actually not. We're at Matches Fashion's 5 Carlos Place townhouse (also known as fashion's favourite event space), and Lily McMenamy is opening the show in her signature theatrical style, perfectly suited for this time-machine of a show. McMenamy actually served as the movement director for the show too, choreographing the fabulous cast in cheesy poses and sassy walks.
The spectacle part of the show was only the reflection of what Anthony Symonds and Max Pearmain produced in the collection. "Nostalgia, nostalgia, nostalgia," lauded Symonds backstage, as he reasoned the clearly 1980s-inspired happenings. The perfectly cut power suits came in printed jerseys and fine leathers, with snap buttons and matching belts completing the looks. Jodhpur-style trousers were something we haven't seen for a while, but are ready to embrace (again) anytime soon. Vintage tea-towel imagery – colourful cartoons of cats that you previously saw hanging on your grandma's oven handle – now extended in full garments. As a remix of Blondie's Rapture came on, and the parade got bigger and better, we got transported into the fantasy. The successful layering of context made us believe we're in a time capsule, and the intimate setting of just under 60 invitees (we're privileged, we know!) turned this experience into something monumental. With bobbing heads and these fabulous clothes on our minds, we exited into the night. Two words to remember – Symonds Pearmain.
Photographs by Jason-Lloyd Evans.