Ten Meets: Sander Lak of Sies Marjan
There are very few designers who can make you reconsider the entire way that you dress after a single meeting. 33-year-old Sander Lak, the man behind buzzy New York womenswear label Sies Marjan, is one of those – a declaration that we are wholly aware sounds like a typically bloated fashion overstatement. But really, when you have worn only the colour black for the remember-able past, it's quite the revolution when you're shopping for lilac sweaters around 32 minutes, or the length of a journey from the lobby of the Bulgari Hotel back to the office, after meeting him. Because when it comes to colour, he is a young master.
My first encounter with Sander, though, was a few weeks previous at Sies Marjan's Autumn 2017 show in New York. That show, the young brand's third, took place in the almost entirely unassuming location of the Hilton hotel in Midtown Manhattan – unassuming, save for the hotel's grand ballroom which Sander chose to stage the collection. The ballroom, a sort of exercise in 1980s artifice, was here re-carpeted in white, with paper stretched across the floor, creating this strange, artificial jewellery box of a space.
"We went to the Hilton, obviously not chic as a name but kind of an amazing space, and there was this ballroom, and old ballroom – one of the biggest in New York," Sander tells me back in London. "I walked in, and my team were all like 'no, absolutely not' and I was like 'we're doing this'. I really wanted it to be like a Tiffany box – a kind of hybrid between Vienna and Las Vegas, like a Laduree box directed by Kubrick."
It provided a backdrop for a collection that unfurled in Sander's signature haze of colour – a incredible symphony of mint green, melon, cobalt blue, orange, all the way to shiny Quality Street-wrapper purples, golds and pinks, the colour of the foil on a strawberry cream. Those colours were formulated on various textures of fabric – silks, lurex, cable-knit wool –  that wrapped or tied, sheet-like, around the model's bodies. Lines of seams twisted slightly, so too the ruches and zips, leading to this off-kilter silhouette, at once familiar and unexpected. The models that walked the show, from Grace Bol to Bella Hadid to Sasha Pivovarova, as well as Doutzen Kroes, who didn't, but sat front row, spoke of a young brand whose ascent has been hard and fast.
I'm talking to Sander in the lobby of another hotel, London's Bulgari Hotel, that sits just across the road from department store Harrods. Before our meeting he has been on the sales floor there talking the staff through his Spring collection as it arrives at the department store. Those conversations are important to him. Later that day he will be visiting some other London stockists, before heading across to Paris where he'll be taking sales appointments. In other words: it's all go.
London isn't unfamiliar to Sander. It's the city where his fashion career begun, studying the Fashion Masters at Central Saint Martins under legendary, and infamous, tutor Louise Wilson. "She was a force of nature," he says. "She was incredibly direct but also really in tune with understanding how people worked and what their strength was – without any bullshit she would be like 'stop doing this, you're horrible at it, do this, this is what you're good at, this is where you're unique'".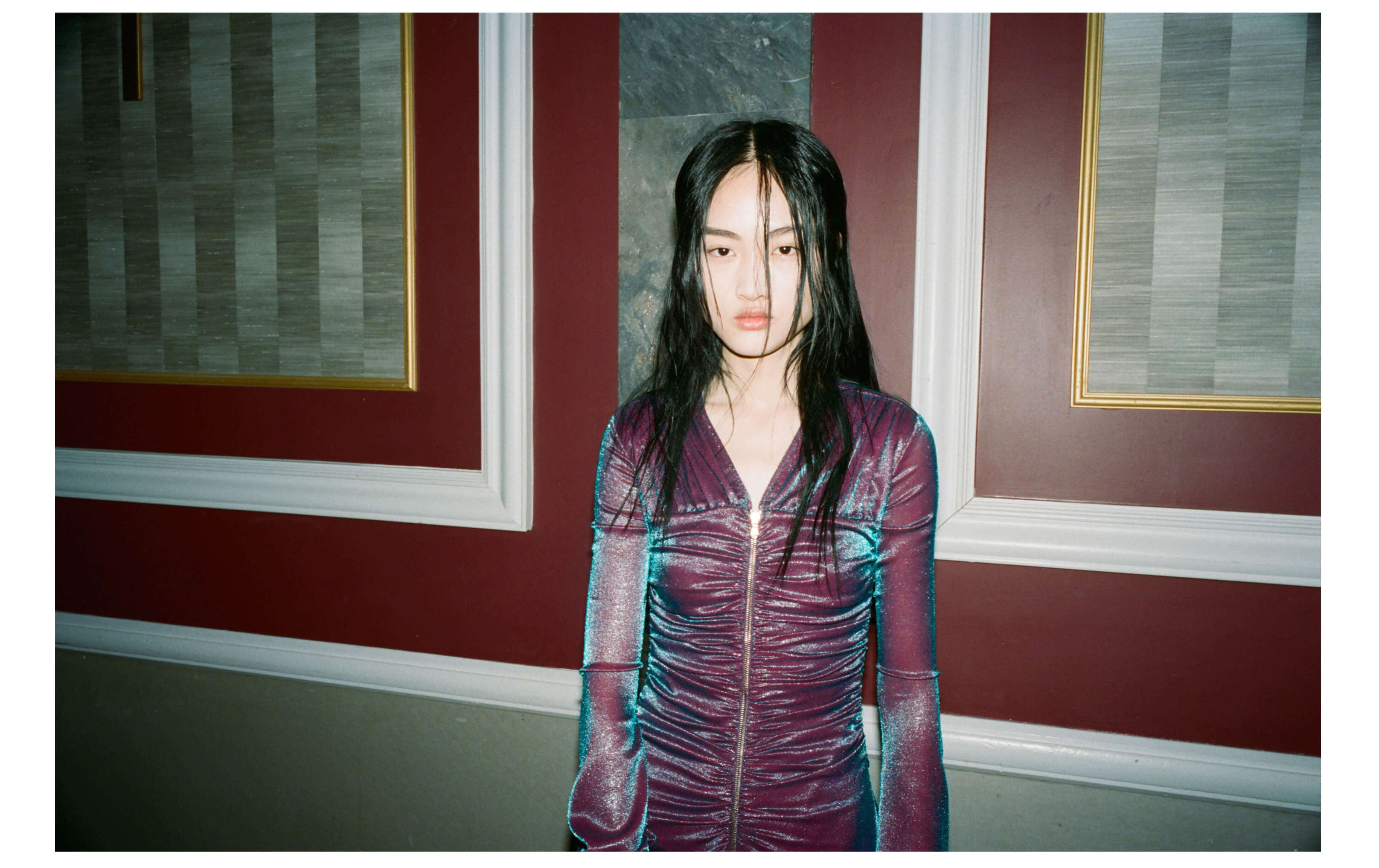 Those are words that have always stuck in Sander's mind, but he also credits her with learning the importance of gut instinct – part of the reason that after graduating he chose to work at established houses rather than pursuing his own label straight out of college, an idea he briefly toyed with. It just didn't feel right. "I really got into my first job, second job, third job… and I put the idea of my own thing aside, I didn't really think about it that much because I was really excited to be working for these great houses," he says. Houses like Marc Jacobs, Phillip Lim and Balmain, a career that culminated in a five year stint as Design Director at Dries Van Noten.
It's why, to the untrained eye at least, Sies Marjan has appeared, fully formed, from thin air – from his very first show he drafted in super-stylist Lotta Volkova and hosted a front row that included Stefano Tonchi, Cathy Horyn and Anna Wintour – but Sander was already a well-known name within the industry. "I could have done something where I was taking over a house, all those opportunities were there," he says. "But I think in the end I wanted to really start from scratch and really figure a lot of stuff out on my own."
It meant a move to New York, a move that he admits was partly down to the fact that it was, as he puts it: "where the money was." His investor, Joey Laurenti, had recently taken on an already dissolving Ralph Russo, offering Sander his ready-made infrastructure of pattern cutters and seamstresses, as well as the studio space itself.
And so Sies Marjan was born, the name coming from a combination of his mother and father's. His parents were formative forces for the Dutch designer, not least for the fact their life was wholly international – his late father working for Shell, meaning Sander was born in Brunei, before moving to Malaysia, Gabon, Aberdeen and then back to Holland where he spent his teenage years. From there, he's lived in London, Paris and Antwerp.
"I have a background that comes from living everywhere around the world – so this idea of nationalism, this idea of something being from one place doesn't really apply to me," he says. "So I didn't want to make it just a New York-based brand but I also didn't want to make it a European brand in America. It's more of a hybrid of everyone I have in the studio which is Americans, Europeans, Asians, Russians…"
And the US way of life has come to suit the direct way that he likes to work, liberated from the constraints of tradition that wrapped around him in European houses. "I think what is really nice about the American, and especially the New York mentality, is that everything is about new, tomorrow and today," he tells me. "It's not about history so much, it's not about heritage, it's not about how long you've done something and only then I believe you, it's very much just… GO"
I ask Sander how his collections begin, knowing that he dislikes describing his work in those brief soundbites that journalists push for backstage at shows. He particularly hates the word inspiration, that demand that each season should have a completely new concept. "I think this idea of every season being a completely different message was something that used to work. The customer wanted to have that new thing. Now it feels very old fashioned, it feels wrong to fool your customer into being a completely different person every six months," he says. "I mean, look at Gucci, look how successful they are sending that same message out over and over again in a different way. That's something that makes a lot of sense."
He can say this partly because his own collections at Sies Marjan begin not with a solid reference point, or anything physical, but with colour itself. It's his obsession. "We always start with colours, the first thing I do is make a colour card. The colour card is really abstract and is just a very intense process of looking at colours, seeing it on different types of materials, seeing it on different types of skins."
Sometimes these colours emerge directly from Sander's head, with no real explanation, other times he might have seen them somewhere – scraps of paper that he pulls out of a magazine or remembers from the sign of a Dunkin Donuts store. It's the way that these colours move together that invigorates him – shades sometimes soft, hypnotic, other times so bright that they hit you full force. "We look at which ones work with each other, fight with each other, make love with each other… all of these different kinds of ways of putting colours together," he says.
Over the course of our conversation, Sander frequently returns to his team. They are important to him. When he refers to himself in first person, which he rarely does, he catches himself and corrects to "we" to encompass the growing group of people he works alongside. It's important to him to keep them happy. Having worked in fashion houses where hours could be long and sometimes competitive, he's a firm proponent that Sies Marjan should operate within the traditional working day. And, on the rare occasion that overtime is required, he says that is entirely down to himself – it means he hasn't made a decision quickly enough.
"I think it's also something that I really see the results of it, I really see that my employees are so happy to be there and they work so hard," he says. "I also feel like in the end what we do is make clothes… it's really precious and we take it very very seriously but it's also a joy and it should be a joy."
The studio in which he works is unsurprisingly filled with colourful objects he's collected over the years. He admits having a vintage habit, much of which involves collecting furniture. Would he ever consider extending Sies Marjan beyond clothes? "I would love to! I feel like the story that we're saying with the clothes, I could already work on chairs and couches and teacups and all of that stuff." But he's also quick to add that there's plenty of time for that to happen. Because whilst the buzz may have come fast, he is happy to work slowly on making. "It's really about longevity," he says. "It's really about making this become what it becomes."
And business aside, Sander never wants to lose the excitement that he has for clothes. "It's nice to have this little bubble, this world that we're creating which is really fun, but also very real for us. It's not just a fantasy bubble – it's our reality, and that's really quite great."
Photographs by Kacper Kaspryzk, backstage at Sies Marjan AW17