Ten Meets Yolanda Zobel, The Artistic Director of Courrèges

Yolanda Zobel, Courrèges' artistic director
There's a big difference between a good and a great designer. While the first one might create beautiful-looking objects, the latter makes its audience feel a certain way, using design as an instrument to send a message into the world. André Courrèges was a great designer. When he launched his namesake label in 1961 after working with his master Cristóbal Balenciaga for over a decade, the Paris-based designer took fashion beyond the beauty and glamour of clothes. He instantly radicalised French fashion – the futuristic geometry of mini skirts and go-go boots was just a catalyst for a bigger conversation about the society around him. Instead of silk crepe de chine, he used industrial textiles like vinyl and Lycra. Graphic in cut, colour and shape, all of his designs carried a futuristic note, perhaps a natural reaction to the first ever Moon landing just a few years before. The silhouette of the decade was defined, and has since became synonymous with Maison Courrèges.
Exactly 50 years afters the debut of Courrèges, the house's founder and his partner/ wife Coqueline sold the brand, and in 2015 it relaunched with the cool kids on the (Parisian) block Sébastien Meyer and Arnaud Vaillant as the creative leads. The duo's approach to reviving the heritage house was an interesting one – taking archival looks and turning them into shoppable classics. Those graphic silhouettes which were groundbreaking the first time round were now being simplified into clothes that looked great on the rail. While there's nothing wrong with that, the abstract AC logo always stood for more. Perhaps that's why Meyer and Vaillant left the house after only six collections in order to focus on their own much-adored brand Coperni. That's where Yolanda Zobel comes into play. Announced in February 2018 as the houses artistic director, Zobel's was a name known just to few fashion insiders. But with quite an impressive (and eclectic) CV that included Acne Studios, Armani, Jil Sander and Chloé, the expectations were high. Many speculated, but only some actually knew what the debut was actually going to look like. However, as soon as her first look for the house turned the corner of the makeshift catwalk inside the Courrèges flagship in Paris last September, it was clear we were all in for a ride.
Courrèges pre-collection campaign; photographs by Harley Weir
"There was always something very intuitive and spiritual about his work," Zobel tells me over the phone about her first impression of André Courrèges. She is in Paris, finishing up the pre-collection which will be shown in June between men's Paris Fashion Week and the Haute Couture shows. Two big collaborations will be announced and while she can't tell me anything about them yet, Zobel confirms they will mark a big point for the fashion house and continue some of the founder's conversation from the 1960s. She implies that this will somehow relate to sustainability, a topic she tackled with her debut show in SS19 when it was announced that the production of the house's signature vinyl material will stop imminently. Instead, the 6000m of the textile they had on stock would be used in a countdown to a plastic-free Courrèges. "There is no need to do anything these days without a meaning because there is an overload of collections. I asked the question – what would Mr. Courrèges do today? He would not have continued with the plastic. Plastic was the symbol of the progress of that time, but what is there today that is a symbol of progress? What is the symbol of avant-garde today? Avant-garde is [about] making comments, making you happy, making you beautiful," she explains the decision. With only a few thousand meters of vinyl left, the plan is to make another drop of the La Fin Du Plastique capsule collection and then the story will be over. "It needs to move on – this is about a movement of like-minded people, and not a specific material."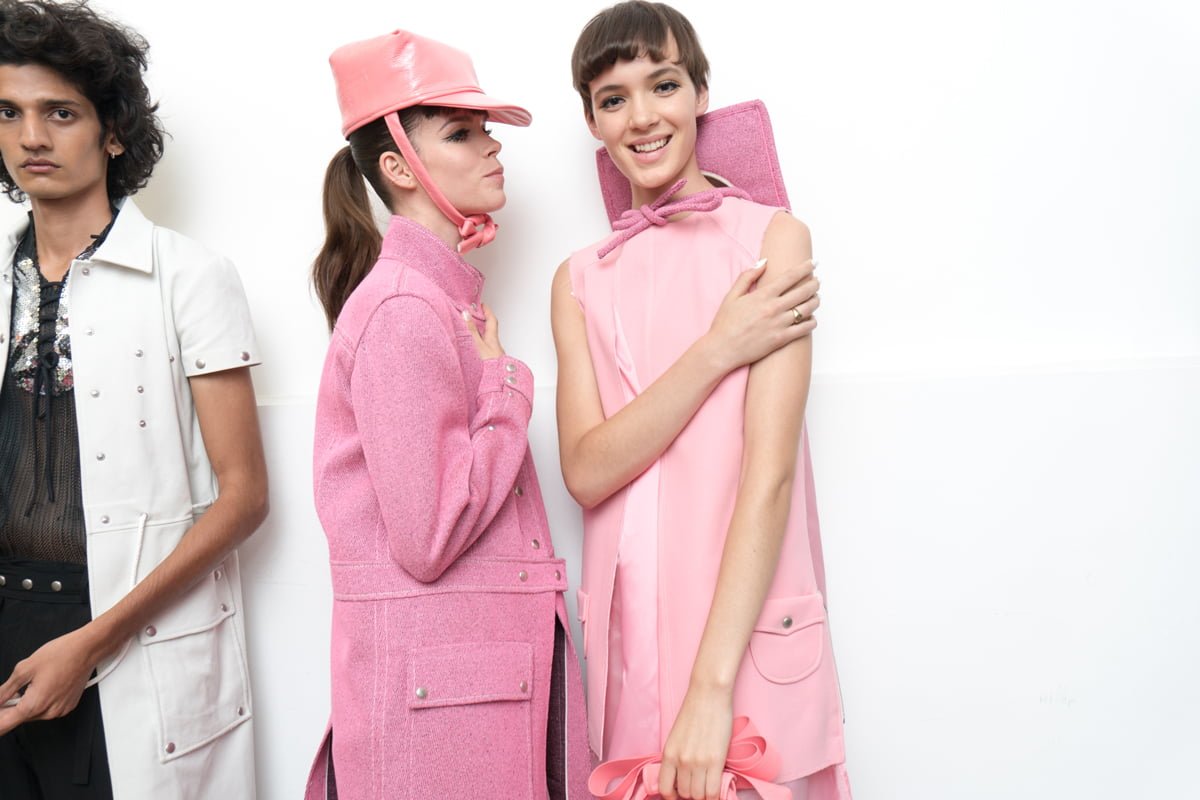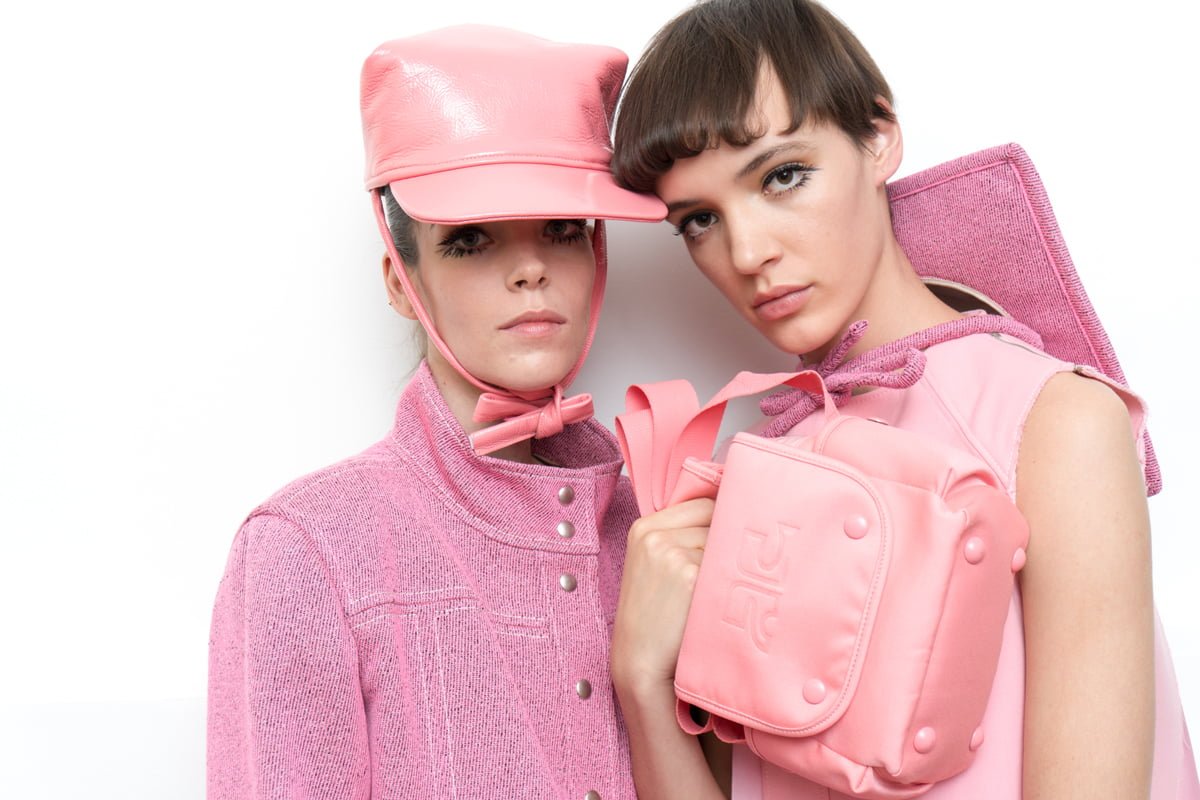 Courrèges SS19; photographs by Jason Lloyd-Evans
Her first two collections for Courrèges were both clear homages to the house's origins. While the first, SS19 one interpreted archival elements more directly, with piped square hats, mini dresses and bows, the sophomore one looked deeper into contextualising the brand in today's society. Held at Espace Niemeyer, the iconic Parisian headquarters of the French Communist Party, the AW19 show was a celebration of group power. Genders, generations and sexualities collided in harmony, creating a creative community that's freed of any preconceived notions of the society. It was idealistic and isolated in the same way André Courrèges looked at the world. "The way he was so against the bourgeoisie and against the dressing of the time and being so loud and emancipative. I could relate to that kind of energy of being a punk of his time," Zobel says. How does she see the challenge of designing for a house with such a clear idea, a visual language that goes beyond what's in front of us? "There's nothing that I attach or do that is not linked to the house in functionality or essentiality, in colour or material choice. I am a visitor trying to paint, I am putting myself into what this is, but it is a merging between me and this house. It sounds very natural to go into the archives, look at them nd hear some of these garments talk to you instantly. You just want to see them on, touch them and think about them. What was it back then? Why does it talk to me now? What do I do with this now?" She seems to have already answered her own questions with the two collections, and the evolution seen throughout only makes the audience excited for what is next.
Yolanda Zobel grew up in the south of Germany, "a beautiful place next to the lake of Constance at the border of Switzerland." Her father decided to move there for business in the late 1960s with his French wife, so Zobel and her sister became the first generation from her family to be born and bred there. "I never had this attachment to a place where my grandparents, and great-grandparents and great-great-grandparents are from – we are natural explorers and vagabonds," she tells me. That's what makes her the ideal candidate for Courrèges 3.0 – a nomadic approach allows creativity to flow beyond stern barriers of seasons and fashion shows. As her first collection hits the stores, Zobel finally gets the first customer's feedback: "It just makes me so happy – seeing the new clientele merging with the old clientele, both sharing the same space. I think it's trans-generational and that's one of the most beautiful things I am experiencing since I'm here."
Courrèges AW19; photographs by Jason Lloyd-Evans
When I ask her what she would be if she wasn't a designer, Zobel seems a bit startled. It's clear this was her purpose in life – "I am feeling very happy with what I do, and I've never had any doubts about that. It was a choice that came from myself and it was very strong, so I didn't have an alternative plan." She then teases idea of going away to Italy and starting her own restaurant. Perhaps a Courrèges eatery? "Oh my god, yes! I'm really into organic and healthy food and thinking of ways to elevate that without being salads and stuff." But until we get a chance to try some futuristic green recipes, we can indulge in the clothes.
Despite multiple male models in the show, a scroll down the brand's own e-tail platform makes it clear there's no divide between genders. "I'm not doing a menswear line – I just want to see some of these dresses on men," Zobel explains. That's perhaps the most powerful point her clothes make – an annihilation of borders without chaos. When you put on one of her Courrèges designs, it doesn't really matter who you are or where you come from. It's about coming together in unity of mindsets, working collectively on making the world a better place. "Even though there is something very specific in the dressing of women and dressing of men but that doesn't mean that they can't share the same ground or be more hand in hand. And it could help actually – fashion can help every man and woman come together again."